Sau Dhuni Teen Project: December Edit-a-thon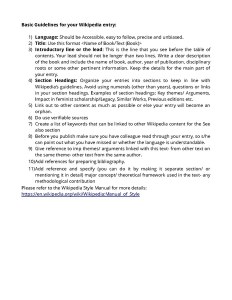 A guidelines shared with the participants. [freely licensed under CC-BY-SA 4.0 by Sheena D'Lima]
As part of the "Sau Dhuni Teen Project" a multilingual Wikipedia Wikipedia edit-a-thon was organised at the Women's Studies Centre, University of Pune.
Concept note:
The digital domain is becoming increasingly significant as a knowledge repository today. Especially relevant in this context is the online encyclopedia Wikipedia, which contains information on almost every topic under the sun and is used extensively by researchers. The fact that information from the Wikipedia is even used as a starting point of academic writing necessitates thinking about how this information is organized, or in other words, how we conceptualize Wikipedia as a knowledge resource. In the multilingual Indian context, generation of content in the Indian languages is a logical next step. It is with the intention of strengthening this knowledge network in the social sciences, that Women's Studies Centre, Pune University conducts content generation workshops with university researchers. The broad mandate of the digital resource generation workshop is to introduce university students to tools of collaborative knowledge production on the internet and methods for generating new online content in Indian languages under Sau Dhuni Teen Project. Also introductory session on Wiktionary.
Project aim:
Facilitate researchers to think critically about concepts and their associations
Involve researchers as active editors on the Indian language Wikipedias
Utilize Wikipedia as a platform to generate Indian language annotations of academic texts in Women's Studies and the Social Sciences
The organisers are also planning to engage the students in annotating one key women's studies text each through follow-up workshops and credit them as contributors to the "Annotated Bibliography project"
Project outcome:
9 female participants joined for this edit-a-thon and edited various articles on Marathi Wikipedia. The Marathi Wikimedia community being quite particular about the citations from Marathi-language source was somehow challenging as the participants struggled at times to find much information about many things notable. A simple step by step tutorial was created, printed and shared among the participants. Some of the participants showed interest in participating in the Train-a-Wikipedian programme that CIS-A2K is planning. Sheena D'Lima engaged with the participants by sharing her learning from Manual of Style for writing Wikipedia article.
More information about the event on Meta.
The views and opinions expressed on this page are those of their individual authors. Unless the opposite is explicitly stated, or unless the opposite may be reasonably inferred, CIS does not subscribe to these views and opinions which belong to their individual authors. CIS does not accept any responsibility, legal or otherwise, for the views and opinions of these individual authors. For an official statement from CIS on a particular issue, please contact us directly.