Report on the 'Open Access to Academic Knowledge' workshop
On Wednesday the 2nd of November, during Open Access Week, the Indian Institute of Science in conjunction with the Centre for Internet and Society held a workshop on Open Access at the National Centre for Science Information, in Bangalore.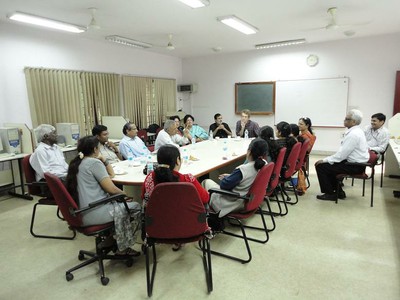 The purpose of the event was to discuss open-access (OA) among research institutions in Bangalore. A great mixture of institutions were represented - some which already had OA archives, and others which did not. The hope was to have an unstructured and open dialogue about various open-access questions, and to loosely follow an open-space technology format. 
Copyright and plagiarism
Before the meeting had officially started, a debate began on the question of whether OA increases plagiarism. There were some first-hand accounts of work being made OA and then copied by third-parties, in some cases for commercial purposes. This seemed like a concern for those thinking about setting up a repository, but the counter-point was offered that plagiarism might be reduced with OA because the work is more visible, and thus copying is more visible also.
A speech by Francis Jayakanth
Then we introduced ourselves and had a speech from Dr Francis Jayakanth (recent recipient of the EPT Award) on some Open Access ideas. Afterwards we opened for group discussion. Various attendants mentioned the importance Dr Jayakanth's speech for understanding the issues.
The benefit of Open Access is increased recognition
Several participants noted that most academic literature is available via inter-library loan (albeit more slowly than OA). The real benefit was seen to be not getting literature and ideas into the institution, but increasing the visibility of the institution to those outside.
The problem of motivating academics
Another common theme was a reluctance from academics to upload work once a repository was established. It was said that OA journals need to increase their impact factor in order to encourage usage, and that academics need to be more aware of all the resources available and the personal career benefits of using OA repositories.
Topics of discussion for next time
After the event there was an opportunity to describe some of things that we might discuss next time. One participant suggested we talk more about the National Open Access Policy and its future. Another suggested topic was more explanation from institutions which do have repositories on the best way to establish one, and what issues to expect. A final point that may be included next time is preservation - how to make sure that OA repositories are backwards compatible and equipped to store information over the long term. 
Conclusions
Attendance was fantastic, and we must thank Sridhar Gutam for his help. At the end of the meeting one of the attendants declared they would establish a repository within six months. Those who came were:
Indian Institute of  Horticulture Research
Dr. Leela Sahijram
Dr.  Dr. Akella Vani
Mr. S Thippeswamy
Dr. Chithiraichelvan
National Institute of Mental Health and Neuro Sciences
Dr. HS Siddamallaiah
Raman Research Institute
Dr. BM Meera
Ms. Vrinda J Benegal 
Indian Institute of Astrophysics
Dr. Christina Birdie
National Bureau of Agriculturally Important Insects
Dr. Kumud Tyagi
Dr. Ankita Gupta 
Mrs. M Pratheepa
National Aerospace Laboratories
Dr. Poornima Narayana
Ms. V Indrani 
Mr. BS Shivaram   
National Institute of Animal Nutrition and Physiology
Mr. Sivasankaramakrishnan 
Indian Institute of Science
Ms. Maheswari
Dr. Francis Jayakanth
Centre for Internet and Society
Mr. Royson Velankanni
Mr. Tom Dane
also attending was Mr Giridhar Khasnis, a freelance writer.
The meeting was held within the Indian Institute of Science, in Bangalore.

We recorded the meeting, and you can listen to it here:
The views and opinions expressed on this page are those of their individual authors. Unless the opposite is explicitly stated, or unless the opposite may be reasonably inferred, CIS does not subscribe to these views and opinions which belong to their individual authors. CIS does not accept any responsibility, legal or otherwise, for the views and opinions of these individual authors. For an official statement from CIS on a particular issue, please contact us directly.