Kannada Wikipedia Education Program at Christ university: Work so far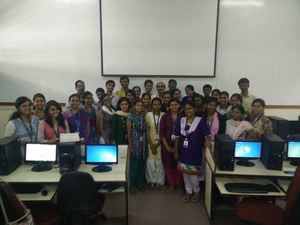 Women's Day edit-a-thon at Christ University. (User:Lahariyaniyathi, CC-BY-SA 3.0)
As you know we are working closely with Christ university in Bengaluru for the Education Programs in Kannada Wikipedia and Kannada Wikisource, we worked on redesigning the programme for this academic year 2016-17 based on the lessons learned from the earlier intervention.
Before beginning this programme, we provided training for campus ambassadors who in turn provided training to the faculty and fellow students. This new design of the programme allowed us to spend more time with the undergraduate students of various disciplines in Arts, Science and Commerce that are part of the programme. And this exercise resulted in improving the quality of the articles created by the students. So far, 218 second-year students in total have created 108 good quality articles in Kannada Wikipedia and 70 start class articles. The latter ones will need further work like adding images and citations. 20 of the articles are stub-start class articles, and 20 more are stubs of poor quality. The articles are still in the user sandboxes for the evaluation work and will soon be moved to the article namespace.
The freshman year students contributed in digitising books on Kannada Wikisource by proofreading about 2000 folios from four books.
How we did things differently this time?
Focus on multiple workshops that were conducted by multiple facilitators to ensure the series does not become monotonous. Facilitators included myself, some of the faculty and the Campus Ambassadors where the latter was useful for more peer-to-peer to learning.

Sessions were made more interactive and were spaced evenly that gave the students go through a learning curve.

Faculty support and engagement that was less last year was increased this year.
The views and opinions expressed on this page are those of their individual authors. Unless the opposite is explicitly stated, or unless the opposite may be reasonably inferred, CIS does not subscribe to these views and opinions which belong to their individual authors. CIS does not accept any responsibility, legal or otherwise, for the views and opinions of these individual authors. For an official statement from CIS on a particular issue, please contact us directly.