Francis Bags EPT Award for Open Access in Developing World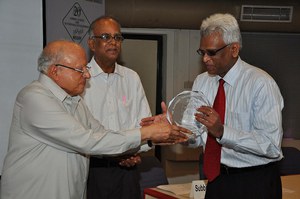 Dr. Francis Jayakanth receives the award from Prof. MS Swaminathan
The Electronic Publishing Trust recently announced a new annual award to be made to individuals working in developed countries who have made significant contribution for the cause of open access and free exchange of research findings. There were 30 nominations from 17 countries around the world and Dr. Francis Jayakanth from the National Centre of Science Information, Indian Institute of Science, Bangalore was selected for the inaugural EPT Award for Open Access in the Developing World by a committee that went through all the nominations.
The award function organised by the Electronic Publishing Trust for Development and the Centre for Internet and Society (CIS), Bangalore was held at the Sambasivan Auditorium, M S Swaminathan Research Foundation (MSSRF) in Chennai on 14 February 2012. Leading luminaries such as Prof. M.S. Swaminathan, Prof. Subbiah Arunachalam, Prof. G Baskaran and Prof. K Mangala Sunder participated in the award felicitation ceremony.
Giving the welcome speech, Prof. Arunachalam, distinguished fellow at CIS said that Dr. Jayakanth works for the Indian Institute of Science, Bangalore, has trained many students and helped a number of institutes to set up open access repositories. Prof. Arunachalam added that the event is being celebrated in India as the winner is from India and specified that it is being held at the MS Swaminathan Foundation as this was the institution that hosted the first workshop to promote open access. Prof. Swaminathan had a vital role in arranging funds for the workshop. About 50 people had learnt what open access was, how to set up open access repositories, how to use the EPrints software, etc. For this very reason it was decided to hold the event in Chennai and not Bangalore where Dr. Jayakanth is based.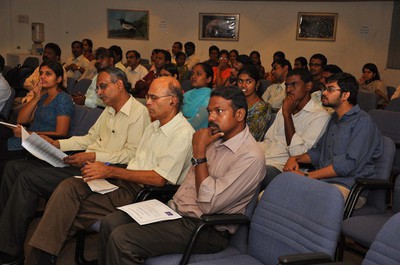 Felicitating Dr. Jayakanth, Prof. Swaminathan who presented the award added that it is important to highlight the contributions of those who really convert the concept of social inclusion to reality. He said that today every politician talks about inclusive growth. What is this inclusive growth, how do you convert exclusion to inclusion? Exclusion creates large problems, social problems, economic problems, etc. On a concluding note, Prof. Swaminathan said that the Prime Minister, Dr. Manmohan Singh has declared 2012-13 as the year of science and he hopes that there will be a new science policy and technology policy and that he hopes that a very important component of that should be methods of ensuring open access including open access to knowledge and open access to literature.
| | |
| --- | --- |
| | In his award acceptance speech, Dr. Jayakanth said that the atmosphere was very overwhelming and never in his two-and-a-half decade old career he had the opportunity to speak amidst such luminaries and added that it was a privilege and prestige to have received the award from Prof. Swaminathan, the father of the Green Revolution in India. He also added that no event in India or elsewhere is complete without the active participation and mentioning of the name of Prof. Arunachalam, the greatest advocate of open access that India has seen so far, and that he wouldn't have been here at the award ceremony but for the timely intervention of Prof. Arunachalam. |
Dr. Jayakanth concluded by saying that he would like to thank Prof. NV Joshi, Prof. Derek Law, Prof. Alma Swan, Prof. Balaram, Prof. N Balakrishnan, Prof. Giridhar, and Prof. TB Rajashekar, and particularly the students of the information and knowledge management programme at the National Centre of Science Information, Indian Institute of Science, who were responsible for the growth of a repository granting more visibility to the 32,000 publications that are part of the repository.
| | |
| --- | --- |
| | Prof. Mangala Sunder of IIT Madras and Prof. G Baskaran of the Institute of Mathematical Sciences, Chennai, also participated in the event. Prof. Sunder said that it is for the kind of information that we talk about, which we want to make public for which champions like Dr. Jayakanth have been working on the sidelines but working so efficiently to get institution after institution to convert what is known as a rigid framework into a flexible more open policy of bringing their scientific content to their intellectual information content. He said that he works in the area of content development from the point of view of education and he understands the difficulty of bringing material to the public. |
There are many issues, such as issues about copyright, issues about people owning the information, issues about people feeling very rigid on what they want to say in the public, etc. Dr. Jayakanth has gone through all these exercises for the last 30 years in slowly creating the "little after little" what are called the waterways to finally see that everyone benefits. The linking of science, knowledge and sustainable development to open access to information, open access to research and open access to content completes the whole cycle of knowledge.
| | |
| --- | --- |
| | Prof. Baskaran said that it is a very well deserved award and Dr. Jayakanth has definitely raised the bar for future awardees. Prof. Baskaran stressed upon the aspects of open access. He said that as a theoretical physicist he understands the need for open access very well. Physicists, when they have new research results place them in arXiv, the open access repository for preprints in physics. Some people wonder what if some physicists deposit all kinds of articles in the arXiv. Experience has shown that 99 per cent of the articles appear in good journals later. He added that once it is put in the arXiv, the whole world gets access and a bad paper will be noticed and commented upon by many. No one likes to be the author of such a paper! He urged that other sciences, especially the life sciences should have a repository similar to arXiv and requested Prof. Swaminathan to take the intiative at MSSRF. |
---
Dr. Francis Jayakanth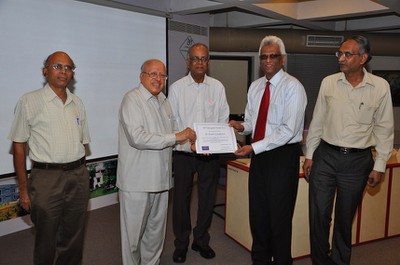 Dr. Francis Jayakanth is a library-trained scientific assistant based at the National Centre for Science Information (NCSI), the information centre of the Indian Institute of Science (IISc) in Bangalore. He has played a significant role in the establishment of India's first institutional repository (IR) (http://eprints.iisc.ernet.in). He now manages the IR and has provided technical support for establishing IRs in many other universities and institutes in India. He has been the key resource person at many events to train people in setting up IRs and open access journals. He has delivered presentations on IRs, open access journals, the OAI protocol, OAI compliance, and the benefits of open access to authors and institutions and the role of libraries. He has developed a free and open source software tool (CDSOAI), which is widely used. Dr. Jayakanth can indeed be considered an open access 'renaissance man', an advocate and technical expert in all aspect of open access development and an inspiration to all, both at the research and policy level.
See Francis's presentation on Who Benefits from Open Access to Scholarly Literature? [Powerpoint, 1523 KB]
See the video of the award function below:
---
The views and opinions expressed on this page are those of their individual authors. Unless the opposite is explicitly stated, or unless the opposite may be reasonably inferred, CIS does not subscribe to these views and opinions which belong to their individual authors. CIS does not accept any responsibility, legal or otherwise, for the views and opinions of these individual authors. For an official statement from CIS on a particular issue, please contact us directly.