The Relaunch of Creative Commons India
Wikimedia India, the Centre for Internet and Society, and Acharya Narendra Dev College invite you to the Relaunch of Creative Commons India in New Delhi on November 12, 2013 with the Minister of State for Human Resource Development Dr. Shashi Tharoor as the Chief Guest.
What is Creative Commons?
Creative Commons is a non-profit organization headquartered in Mountain View, California, United States, devoted to expanding the range of creative works available for others to build upon legally and to share. The organization has released several copyright-licenses known as Creative Commons licenses free of charge to the public. These licenses allow creators to communicate which rights they reserve, and which rights they waive for the benefit of recipients or other creators.
In simple words, Creative Commons helps you share your knowledge and creativity with the world.
Some more facts about Internet licenses
Ever wondered what "Some Rights Reserved" means?
Copyright grants to creators a bundle of exclusive rights over their creative works, which generally include the right to reproduce, distribute, display, make adaptations, perform, sell and so on. The phrase "All Rights Reserved" is often used by owners to indicate that they reserve all of the rights granted to them under the law. When copyright expires, the work enters the public domain, and the rightsholder can no longer stop others from engaging in those activities under copyright, with the exception of moral rights reserved to creators in some jurisdictions. Creative Commons licenses offer creators a spectrum of choices between retaining all rights and relinquishing all rights (public domain), an approach we call "Some Rights Reserved."
Is Creative Commons against copyright?
Absolutely not. CC has responded to claims to the contrary. CC licenses are copyright licenses, and depend on the existence of copyright to work. CC licenses are legal tools that creators and other rightsholders can use to offer certain usage rights to the public, while reserving other rights. Those who want to make their work available to the public for limited kinds of uses while preserving their copyright may want to consider using CC licenses. Others who want to reserve all of their rights under copyright law should not use CC licenses.
Relaunch
Dr. Savithri Singh, Principal, Acharya Narendra Dev College will be the Master of Ceremony and the Moderator for the sessions:
Time
Detail
16.00
16.30
Shashi Tharoor, Minister of State for Human Resource Development, Government of India: Initiatives of MHRD around Openly Licensed Content
16.30
16.45
Question and Answer Session
16.45
17.00
Sam Pitroda (TBC), Adviser to the Prime Minister on Public Information Infrastructure and Innovations: Creative Commons and Open Government Data
17.00
17.05
Question and Answer Session
17.05
17.25
Rohini Nilekani, Chairperson, Pratham Books: Creative Commons and Pratham Books Case Study (Including Question and Answer Session)
17.25
17.40
Moksh Juneja, President, Executive Committee, Wikimedia India Chapter: Creative Commons and Wikipedia (Including Question and Answer Session)
17.40
18.00
Lawrence Liang, Co-founder of Alternative Law Forum: Creative Commons and Open Access to Scholarly Journals (Including Question and Answer Session)

18.00
Tea
VIDEO
Registration
---
Please register here to attend the event: http://ccindia.doattend.com/ Registration is free.
Please carry a soft or hard copy of the confirmation email to the venue.
Seating will be on first come first served basis.
Invite to the Relaunch of Creative Commons India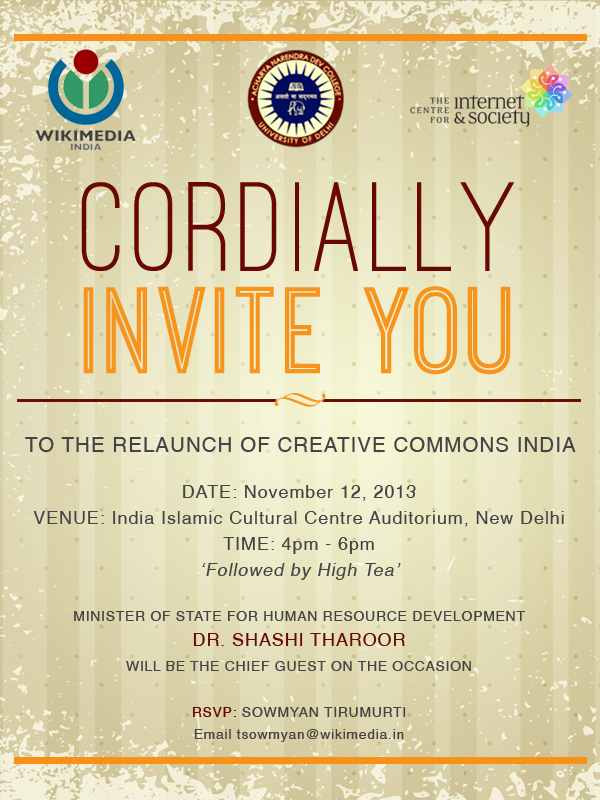 Link to the meta page on Wiki: http://wiki.wikimedia.in/Events/Creative_Commons_India_launch