A Wiki Workshop at Raj Kumar Goel Institute of Technology, Ghaziabad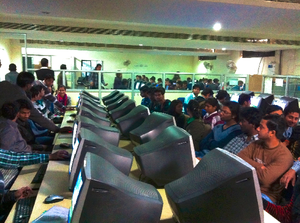 A picture of students doing wiki editing at RKGIT
The Centre for Internet & Society's Access to Knowledge team organized a Wikipedia workshop at Raj Kumar Goel Institute of Technology (RKGIT), Ghaziabad in collaboration with Metawings on January 17, 2013. Subhashish Panigrahi summarizes the happenings from the one-day workshop in this blog post.
As part of the soft skill development training program, RKGIT, an engineering college is working on a series of activities to empower the students with practical approach and competence for their professional life. We were invited to conduct a workshop for the students of mechanical engineering and help them understand the real reasons for  contributions to Wikipedia as a volunteer.
Some of the focus areas we set for the workshop were:
Number of students not to exceed 60 to make sure that we get enough time and space to interact actively and pay individual attention.
Number of coordinators to support with logistics to conduct the workshop smoothly.

Active participation of teachers.

Arrangement of internet labs with multiple IP addresses for smooth user account creation.
Around 65 mechanical engineering students from second and third year participated in this workshop. We began the workshop with an interactive discussion about their practical relation with Wikipedia as students and the usability and difficulties that they face. I presented about some important facts about Wikipedia and voluntary contribution in different ways. During and after the presentation students asked a lot of questions about the notability and authenticity of articles, collaboration vs. fights among editors, references and its significance, etc.
There was a short break to make way for students to settle in the internet lab for a hands on training session. We faced problems with the LAN and 3G network for mobile broadband which made this session longer than expected. There were problems for creating accounts because of the Internet explorer and X based systems and the students couldn't create their user accounts. So, we had to manage with them contributing anonymously from IP addresses. Despite these unexpected technical problems all of them edited various articles. Some of them tried to vandalize and observe the quick reversal of the vandals.

Subhashish presenting about Wikipedia to the participants
I had a discussion with the director about conducting more such workshops, especially technical workshops where students can code and contribute to MediaWiki.
Quick links:
Presentation
The views and opinions expressed on this page are those of their individual authors. Unless the opposite is explicitly stated, or unless the opposite may be reasonably inferred, CIS does not subscribe to these views and opinions which belong to their individual authors. CIS does not accept any responsibility, legal or otherwise, for the views and opinions of these individual authors. For an official statement from CIS on a particular issue, please contact us directly.