CIS-A2K: Work Accomplished on Konkani Wikipedia
The Centre for Internet and Society's Access to Knowledge (CIS-A2K team) is pleased to share with you the key accomplishments about the work it accomplished on Konkani Wikipedia from September to December 2013 in this report. In accordance with the Centre for Internet and Society's Access to Knowledge Program's (CIS-A2K) Konkani Work Plan 2013-14 the program has invested time and effort to build Konkani Wikimedia community and projects.
Highlights
Increased editing activity on Konkani Wikipedia
CIS-A2K has been organising different programs and workshops. The idea is to bring in as many volunteers as possible who can contribute to Konkani Wikipedia for years to come. We have organised these outreach sessions mainly in Devanagari, Romi and Kannada scripts. As a result of these programs we have been able to significantly increase no. of editors, consistently have minimum of 5-6 active editors per month and build a community of volunteers. You can also view level of editing activity on Konkani Wikipedia for the past few months in the chart below: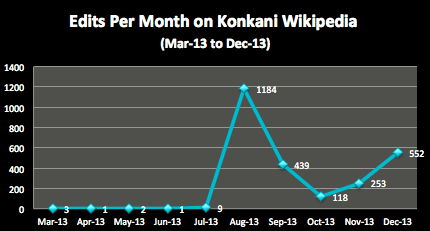 Above: Edits Per Month on Konkani Wikipedia (Mar-13 to Dec-13) (by Nitika Tandon, CC-BY-SA 3.0)
Increased number of articles on Konkani Wikipedia
Total number of articles increased from 150 in Sep 2013 to 315 in Nov 2013. The number of articles have doubled over a period of 3 months. We should keep in mind that out of those who edited in Devanagari; 95% of them were completely new to the input method and had to spend considerable time learning and practicing it.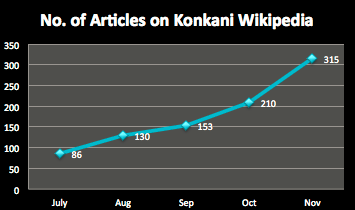 Above: No. of articles on Konkani Wikipedia (by Nitika Tandon, CC-BY-SA 3.0)
Translated Media Wiki messages
CIS-A2K organised translation sprint to help translate Media Wiki interface messages. We achieved translating 79% of these messages in Konkani Devanagari while all 100% messages have already been translated in Romi script
Re-release of Konkani Vishwaksh under Creative Commons License
Upon CIS-A2K's explicit request, Goa University has approved the re-release of Vishwakosh under Creative Commons License (CC-BY-SA 3.0) to make it freely available to public, giving them the right to share, use and even build upon the work that has already been done. This is a huge step to help preserve Konkani language and culture in the digital era. Konkani Vishwakosh is a four-volume hard copy encyclopedia (3632 pages) published by Goa University; a work that took over 14 years to develop. It encompasses the world's information in a nutshell with special emphasis and detailed information on Goa, Konkani, Goan culture, folklore, history, geography etc. To know more about click here and here
Initiated & Completed 30% of Konkani Vishwakosh Digitization Project
Goa University in collaboration with the CIS-A2K is digitizing Konkani Vishwakosh. 37 participants are enrolled in this project who are working to digitize the encyclopedia in a time bound manner. All 3632 pages of Konkani Vishwakosh will be digitized. The program started on 19th October and in just about 2 months 30% of the encyclopedia had already been digitized. You can monitor the progress of this project on Wikisource. Here are the links for Volume 1, Volume 2, Volume 3 and Volume 4. Please note that some of the participants firstly digitize the encylopedia either in their Sandbox or offline and then move it to Wikisource. To know more about the project click here.
Signed an MoU with Goa University
Goa University entered into a three year MoU with CIS for building Konkani Wikipedia. As part of this partnership, Goa University and CIS-A2K will work together to help build Konkani Wikipedia and community.
White paper by a Linguist
Fr. Pratap Naik, S.J. B.Sc., B.Ed. M.A. (Linguistics), M.Phil. (Linguistics), Ph.D. (Linguistics) has written a white paper discussing issues faced by Konkani language and his views on how it should be dealt on Wikimedia projects. We'll soon upload the white paper on Wikimedia Commons and make the link available.
14 Outreach session, over 450 participants, in 3 months
CIS-A2K organised about 14 outreach sessions and reached out to over 450 people to create awareness about Konkani Wikipedia and the community between Sep-Dec 2013. Details of these sessions can be found here.
Got consensus from field experts
Over the past few months CIS-A2K has spoken with Konkani Wikipedians (such as Frederick Noronha, Deepak D'Souza, Seby Fernandes) Konkani linguists (such as Fr. Pratap), professors from Konkani Department at Goa University (Dr. Madhavi Sardesai and Dr. Priyadarshini Tadkodkar), cultural experts (such as Prof. Alito Siqueira and Harriet Vidyasagar) and other experts to propose a solution for Konkani Wikipedia that faces a problem of usage of multiple scripts. To a great extent we have got consensus from different field experts that we should strive to create separate Wikis for each script, at least those which prove to be active.
Wikipedians Speak
One of the ongoing projects of CIS-A2K is 'Wikipedians Speak' which are small videos of Wikipedians that captures their expereinces, learnings and challenges. As a part of this project CIS-A2K published several videos of Konkani Wikipedians.
---
The views and opinions expressed on this page are those of their individual authors. Unless the opposite is explicitly stated, or unless the opposite may be reasonably inferred, CIS does not subscribe to these views and opinions which belong to their individual authors. CIS does not accept any responsibility, legal or otherwise, for the views and opinions of these individual authors. For an official statement from CIS on a particular issue, please contact us directly.