Twitter weekly Curation WeAreWikipedia brings one Wikipedian Every Week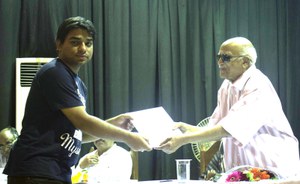 Diptiman being awarded by Padmashree Debiprasanna Pattanayak during Odisha Dibasa 2014. Photo: Biswadeep Mishra, CC-BY-SA 3.0 Wikimedia Commnons
WeAreWikipedia is an initiative to bring in voices of Wikipedia contributors (known as Wikipedians). One Wikipedian curates the Twitter based handle for a week and tells interesting stories from his/her communities that are unheard to the rest of the globe. Started as a personal project by our program officer Subhashish Panigrahi it has brought 18 Wikipedians across the globe including 6 Indic language communities.
This post is written by Diptiman Panigrahi, an Odia Wikipedian who curated @WeAreWikipedia during the week when the Odia community was celebrating Odisha Dibasa 2014 in March.
---
Kjʊ (ə) ˈreɪt/ (curate)
Select, organize, and present (online content, merchandise, information, etc.), typically using professional or expert knowledge.
Luckily I also got a chance to curate WeAreWikipedia on Twitter. WeAreWikipedia is the official Twitter handle of wikipedians from different linguistic groups around the world, in which appointed Wikipedians tweet information, what is happening in Wikipedia of different languages, new services about Wikipedia and achievements of Wikipedia and Wikipedians across the globe.
During the last week of March 2014, I got a chance and responsibility to handle @WeAreWikipedia. I am a volunteer in Odia Wikipedia. Odia is an Indian classical language. Coincidentally Odia Wikipedia was celebrating the Statehood Day of Indian State Odisha and Classical Status to 2500 years old language Odia. The main motto of this celebration was "How can we use Odia language more and more in digital media?" Subhashish Panigrahi, program officer, Centre for Internet and Society (CIS), told me to curate Wikipedia, for that week of the occasion. When I studied the rules and regulations for tweeting, I got to know that, it is not an easy job. I had to keep track on every tweet of whom the handle was following and who was following to that handle, related to Wikipedia. It was difficult to track Bangla Wikipedia because completion of every article was informed by a tweet by their volunteer. I have a Twitter account of my own but, I don't frequently use this. So I didn't know about tweeting technologies.
As the function was ahead, I have seen Subhasish Panigrahi and other active wikipedians tweeting frequently about what's going on in function in every particular time interval, as per the program time-table. So, I asked them "How you guys are doing so much of tweeting and organizing the function at a time?" Then they told about tweetdeck technology, a tool to schedule you tweet for future for any time and any moment. After that the work became 50% easier for me. I added my personal account to WeAreWikipedia account on tweetdeck, scheduled the tweet as per time table of the program. Now, the only work was to keep in touch with tweets of wikipedians regarding Wikipedia and other related tweets about Wikipedia. During the function, I  happened to tweet the updated pictures and extra information live from the venue. After that my friends asked me "Are you sure you are organizing the program? This was so since the  tweets were coming in every half-an-hour.  However, they didn't know that I was travelling here and there during the program for emergency requirements.
It was a wonderful experience curating WeAreWikipedia without even much time. Meeting the entire Wikimedia global community was even more fun when I was telling happenings of my own community. I hope to take part in more of such collaborative global issues like this.
The views and opinions expressed on this page are those of their individual authors. Unless the opposite is explicitly stated, or unless the opposite may be reasonably inferred, CIS does not subscribe to these views and opinions which belong to their individual authors. CIS does not accept any responsibility, legal or otherwise, for the views and opinions of these individual authors. For an official statement from CIS on a particular issue, please contact us directly.