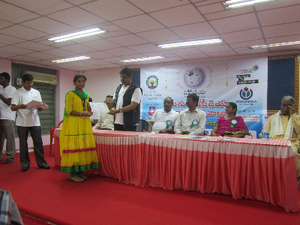 Telugu Wikipedia 10th anniversary,KBN college,Vijayawada (by Palagiri, CC-BY-SA 3.0)
Tewiki 10th anniversary celebration 2014, started on February 15 in Vijayawada at Kakaraparti Bhavanarayana College. It was co-organized by the Centre for Internet and Society's Access to Knowledge (CIS-A2K) team and the Telugu Wikipedia community. Ch.Arjuna Rao expressed his happiness on Telugu Wikipedias completion of 10 years and 55000 articles in Telugu on the inauguration of decade celebrations.
The full details are captured in the report published on the meta page. The following is an abridged version of the same in English.
---
The founding president of the Wikimedia India Chapter CH.Arjunarao , T.Vishnu Vardhan, Programme Director, CIS-A2K,  President of the decade ceremonial committee BK Viswanath. K.B.N.college officials Sambasiva Rao, Rajith Kumar and Krishnamurthy inaugurated the function by Jyothi Prajwalana.
Talking on the occasion the chairman of Andhra Pradesh official languages commission Buddha Prasad said that 2014-15 must be declared as the year of the Telugu Wikipedia and to make the most of it by more exciting activities. Telugu Wikipedia has put in more efforts than governments and universities to the culture of the Telugu language. Many great personalities served Telugu language and culture were remembered in this occasion including Lakshmanrao, Mallampalli.
Telugu Computer: Past, Present, Future of the Convention
Komarraju Laxmana Rao Visishta Wikipedian award-winner Veeven organised an awareness seminar. Veeven talked about how in 2004, a decade ago, the Internet Telugu writing, and reading had many problems, and how by the year 2014 they got eliminated in the sequence. He also touched upon the future development of the technology used in the Telugu language. He said that Microsoft Office, Libre Office, Adobe In Design, Adobe Photoshop, etc., will be used as the applications in Telugu. Today Telugu is expected to be used in mobile phones, i. Pods, and this justifies the use of Android in Telugu.
Convention on Wikidata
Rahmanuddin spoke about wikidata. He explained in detail how linking an article in all languages is the first step and linking diagrams and figures is the second step and showed participants that in the third stage classification is included. He explained it with examples of the mango tree and the word 'mother'. After this he showed how the link the particular article to the word. Thereafter he spoke about the app developed by Tamil students to link a particular word to the article and urged that people should start using these apps early on in their life as then only development in this field would be possible.
Experiences of Other Language Wikipedians
Some Tamilians shared their experience in developing Tamil wiki. They said that government and other organisations have helped a lot in developing Tamil wiki. Government organisations helped a lot in filing data in digital form. Many educational institutions have take part in this project. Some even proposed that Tamil wiki might be made a part of the education for students. They said that they shared this info about Tamil wiki to various friends and organisations.
Odia wikipedian Mrutunjay said that they attached the voice app feature to help with pronounciation. They attached the Odiya files to English words so that it will be useful for easy search. He also mentioned that there is a lack of creative writers in Odisha and that they are trying to overcome this problem.
Malayalam wikipedian K.Manoj said that from wikisource Malayalam remains the topmost Indian language for obtaining various data from a specific language. He said that over 200 books and 800 articles were included in the Malayalam wiki. They organised the structure in such a way that students will be able to use it from a very early age. These books in wikisource were used by many students.Konkani wiki. Darsan said that in 2007 they started the Konkani wiki. Goa students made a significant contribution to the development of this project. They uploaded 290 articles till now and they are trying to digitalise konkani wiki and other projects to help them develop.
Making a substantial contribution to the Telugu Wikipedia Nisar Ahmed also spoke about the developments in Urdu Wikipedia. He came to share his experience with others. He said that Urdu language was born in India and in the globalized Urdu wikipedia there are only 2 or 3 Urdu wikipedians from India. He also spoke of the experiences of an article on national anthem and about the views of the Pakistani community.He further discussed about the difficulties in work caused by different countries, the available options and how to solve those problems and gain experiences.
---
More pictures of the event can be found here.
The views and opinions expressed on this page are those of their individual authors. Unless the opposite is explicitly stated, or unless the opposite may be reasonably inferred, CIS does not subscribe to these views and opinions which belong to their individual authors. CIS does not accept any responsibility, legal or otherwise, for the views and opinions of these individual authors. For an official statement from CIS on a particular issue, please contact us directly.