Telugu Wiki Academy at Centre for Good Governance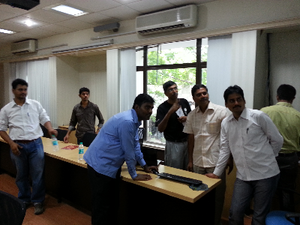 WMI Chapter's Founding President, Arjuna Rao and Telegu SIG Rahmanuddin Shaik conducting a hands-on session during the workshop
An account of the Telugu Wiki Academy organized for the staff of Centre for Good Governance, Hyderabad on April 9, 2013 at their Jubilee Hills premises.
---
This was planned as a pre-event to Telugu Wiki Mahotsavam 2013. Senior Wikipedian and administrator on Telugu Wikipedia, Arjuna Rao Chavala had built a useful contact with a staff at Centre for Good Governance (CGG), Hyderabad. Once Arjuna had planned to come for the Telugu Wiki Mahotsavam, he touch based with CGG and explored the possibility of organizing a Wiki Academy for their staff in Hyderabad. CGG primarily works with government departments and other stakeholders on issues of governance, identifying solutions, help government in developing actionable plans and support the implementation of these plans. CGG has majorly worked as a think tank for the government of Andhra Pradesh, since its inception and has also worked with other state governments in India and brings together the power of knowledge, technology and people. Arjuna, Rahmanuddin Shaik (Telugu SIG Chair) and T. Vishnu Vardhan (from CIS-A2K) undertook this Academy and another Wikipedian Pavithran joined the event
Karthik Subramanian, Programme Officer at CGG had organized for meeting with the Assistant Director of the CGG. During the meeting with the Assistant Director, we explained to him about the many possibilities of using Wikipedia as an open knowledge and information platform in Indian languages and how even CGG can put up its work on it to share with larger public. He raised questions about the authenticity of information on Wikipedia and the wiki model was explained to him. Following this, the Wiki Academy began with 20 participants. The Academy was mainly lead by Arjuna and Rahmanuddin.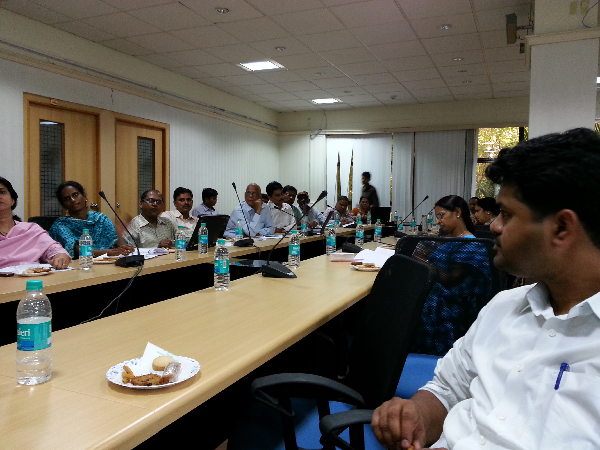 Workshop in progress. Interactions with staff of CGG on their queries pertaining to Telugu Wikipedia.
As many people did not turn up with laptops it was not possible for all the participants to practically use Wikipedia. Rahmanuddin helped various participants in creating User names on Wikipedia. Simultaneously during the hands-on session a discussion on various aspects of Wikipedia was held with some of the participants, who were senior retired officers from the Government of Andhra Pradesh. This was anchored by Arjuna and Vishnu. Other than the usual questions of how to ensure authenticity of contributions and vandalism to articles, the group offered suggestions on collaborating with various government departments in putting out relevant information on various aspects on Telugu Wikipedia.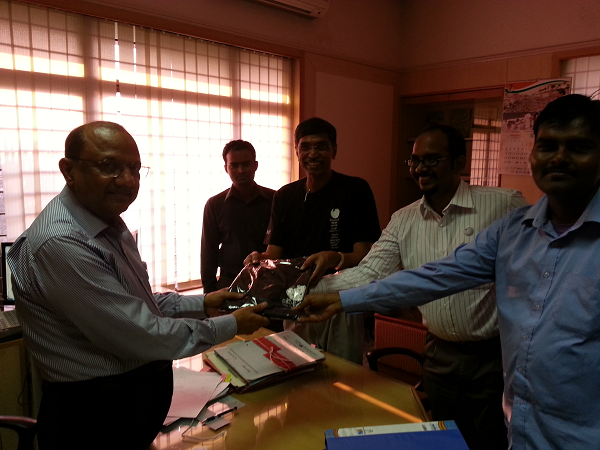 Director General of CGG being presented with Telugu Wiki Mahotsavam T-Shirt by Arjuna Rao, T. Vishnu Vardhan and Rahmanuddin Shaik
Further, a meeting was held with the Director General of CGG Mr. Sinha (see image above), who offered help in getting media held by the Department of Information and Public Relations, Andhra Pradesh in public domain and on Wiki Commons. Before concluding the Wiki Academy Telugu Wiki Mahotsavam T-shirt was presented to the Director General and Kartik Subramanain for hosting the Academy at CGG at such a short notice.
The views and opinions expressed on this page are those of their individual authors. Unless the opposite is explicitly stated, or unless the opposite may be reasonably inferred, CIS does not subscribe to these views and opinions which belong to their individual authors. CIS does not accept any responsibility, legal or otherwise, for the views and opinions of these individual authors. For an official statement from CIS on a particular issue, please contact us directly.