Random Hacks of Kindness Global December 2012 — A Report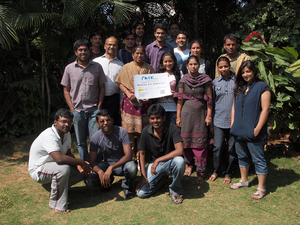 A group photo of participants from the RHoK hackathon in Bangalore
A Random Hacks of Kindness (RHoK) hackathon in Bangalore was hosted at office of the Center for Internet and Society (CIS) in Domlur on December 1 and 2, 2012. CIS, Amnesty International India Office, Greenpeace India Office, HasGeek, Yahoo Research & Development and SimpleTechLife sponsored the event.
---
This report has been prepared by Yogesh Londhe, co-founder of SimpleTechLife
---
Every human being seeks the joy of service! It is an innate drive in every person to use own expertise to serve mankind and that gives joy like no other. RHoK as a community provides that platform for the technology experts.
RHoK is a community of innovation using practical open technology to develop solutions for problems facing humankind. This is a community where technology experts and subject matter experts come together to improve human life by harnessing power of technology to solve real world problems especially in disaster management. RHoK achieves this through weekend hackathons hosted around the globe over same weekend twice a year.
On December 1-2, 2012, 30 cities in 18 countries around the world hosted RHoK hackathons. Bangalore and Pune joined in from India to hack for humanity along with like-minded hackers with heart from other countries.
RHoK Bangalore hackathon was preceded by a high energy reception hosted at CIS on November 30, 2012 evening 7 p.m.
The reception was a simple affair to get together some like-minded people to create the synergy for the weekend hackathon. It saw a series of keynotes by people of capacity ranging from technology subjects to the subjects like spiritual aspect of mountaineering and consultation as tool to bring out the genius in the group. The keynotes seeded ideas for meaningful conversation that followed over snacks afterwards. All the present tech experts and subject matter experts from development sector appreciated the idea of hacking for humanity.
The picture above was taken during the hackathon session at CIS.

Over the weekend the office of CIS was filled with frantic keystrokes and discussions to get some proof of concept that techies had in mind to be transformed into reality. On Saturday morning at 9.00 a.m. the subject matter experts presented the problem statement they were sponsoring and the techies chose what they want to solve and how they wish to do it.

After that the techies formed teams and started hacking over the weekend. Around 30 techies formed five teams, one team was working from Chennai. So totally six teams created the synergy over the weekend. The hackers made maximum out of the time they had over the weekend, some of theme stayed overnight at CIS to get some more work done.
At the end of the day and half of hacking the teams came up with their proof of concept / work in progress which was judged by a panel of judges.
The hacks developed at RHoK Bangalore on December 1 and 2 are as follows:
Help for Cause: This team was working with Sudhindra from Freenpeace. The idea of the hack is very simple to bring the NGOs (who need volunteer time) and weekend volunteers (who have volunteer time) together on technology platform including mobiles and web. The team worked over weekend to come up with iPhone app as a proof of concept.
Green Trails Project: This problem statement was presented by India Hikes. Trekkers go to the mountains for hikes, treks and take lot of necessary things along like bottles of water, food packets, etc., and many times leave the packets, paper, other debris behind in the hills polluting the hill's ecosystem. This team worked on gamification of incentives program for the trekkers who will clean up the hills out of goodwill or for incentives. The team came up with a nice web based application as proof of concept for the same.
Data visualization for NGO reports: Problem presented by Mr. Shemeer from Amnesty International India Office. This asks for data representation on map along with timeline to be available on web for creating awareness. One individual hacker worked on this to come up with a timeline to represent the report.
Micro Finance report customization: A team of developers from HP worked with Micro Finance Open Source (mifos) for extending the mifos platform functionality by developing a module to create a template to get custom reports for the micro finance institutions. The team came up with almost finished product in Bangalore and similar product developed by a team from Chennai who worked over the weekend from that location. One HP team joined in from Chennai to work on similar problem on mifos. HP employees from four locations around the world: Bangalore, Chennai, Dublin and San Francisco were working on MIFOS project at this RHoK, this whole HP-MIFOS project was coordinated by Social Coding for Good.
Missing children: A problem presented by Mr. Praveen a designer from Yahoo Labs. He narrated a story of his friend from Kanpur who was a roadside vendor. He lost his son and couldn't trace him in the city. This problem seeks to get a smart phone app where people will click snaps of homeless children on the road, railway stations, bazaars, etc. These photos will be stored on a server along with their location data and whenever some parents upload their missing child's photo, then the database of the photos will be searched for matching face and the location will be given. The team came up with server side app for uploading the photos and location data as a proof of concept.

Judging of the projects was done on Sunday evening at 5 p.m. For judging there was a panel of judges which included Mr. Vijaya Kumar Ivaturi an Angel Investor and expert in incubating new ideas, Mr. Jayanth a Director from Yahoo Developers Network, Mr. Arjun Majumdar of India Hikes, Ms Lydia Pinschter of Wikidata from Berlin, Germany, Mr. Shahzad Alam a development expert from Bihar Sherif in Bihar and Dr. Michael Brennan from Philadelphia, USA; Dr. Michael was in Bangalore as a member of RHoK global core team. He has a PhD in Computer Science and is an expert in online privacy. He coordinated the judging and kept the whole hackathon aligned with the vision of RHoK. Ms. Lydia had come to CIS to give a presentation about Wikidata and experiencing the spirit of RHoK stayed on to be one of the judges for the hackathon. The judges chose 'Help for Cause' and 'Green Trails Project' as the top two hacks. India Hikes declared that the team will get a complementary trek in Himalaya as a reward.

The hackathon ended on a high note and the hackers wish to continue the good work they started at the hackathon, the teams will be meeting over few weekends to finish the work and see it implemented in real life.

Praveen and Yogesh of SimpleTechLife coordinated all the logistics, planning and execution of the RHoK hackathon in Bangalore. The only recognition the hackers got for their participation was certificates from RHoK and bags sponsored by Yahoo. The food was sponsored by Amnesty International India Office and Greenpeace sponsored the snacks for the reception. CIS sponsored the venue, support staff and internet bandwidth.

The NGO partnership with RHoK was a good way to get real problem statements that can be solved and the solutions have high chance of materializing as useful apps.
---
A picture of the RHoK banner is given below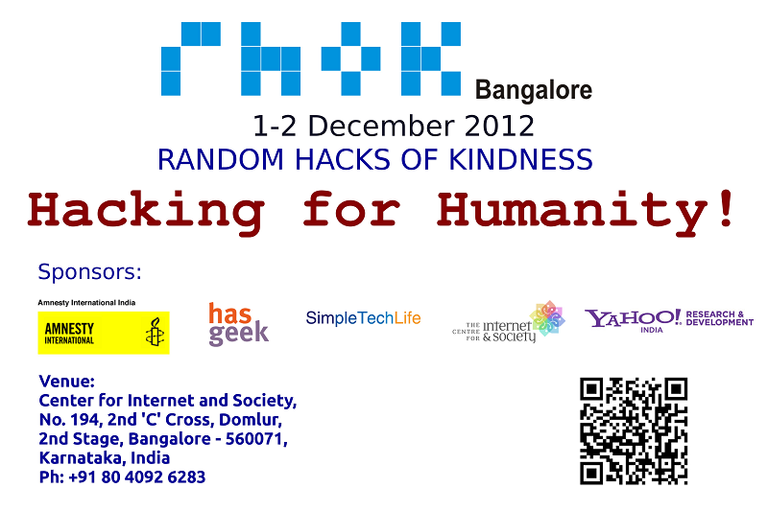 ---
For more pictures of the event, see the links below:
The views and opinions expressed on this page are those of their individual authors. Unless the opposite is explicitly stated, or unless the opposite may be reasonably inferred, CIS does not subscribe to these views and opinions which belong to their individual authors. CIS does not accept any responsibility, legal or otherwise, for the views and opinions of these individual authors. For an official statement from CIS on a particular issue, please contact us directly.