Open Government Data Study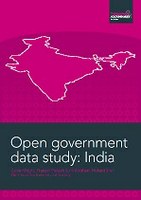 CIS produced a report on the state of open government data in India, looking at policy, infrastructure, and particular case studies, as well as emerging concerns, future strategies and recommendations. The report is authored by Glover Wright, Pranesh Prakash, Sunil Abraham, and Nishant Shah. We are grateful to the Transparency and Accountability Initiative for providing generous funding for this report.
Cross-posted from the Transparency and Accountability Initiative website.
Open Government Data Study: India
India provides one of the most fascinating examples of the use of open government data in a developing country context. It has one of the best right to information laws in the world and the government's approach to open data builds on this legacy of making open data relevant to Indian citizens. An estimated 456 million Indians live on less than $1.25 a day and a key issue for India, and other developing countries, is how open data can be accessible to them.
This paper reviews the progress being made towards open government data in India. Using case studies, it examines some of the pressing challenges facing the adoption of OGD in India. These include infrastructural problems, privacy concerns and the power imbalances that improved transparency can unwittingly create.  It also examines government attitudes towards open data and related policies and reviews the relationships between open government data, the media and civil society.
The authors argue that the Indian Government's responsibility should not stop short at just providing information, but also extend to making it available and accessible in a way that facilitates analysis and enhances offline usability – and ultimately makes it accessible to the poorest.
The paper concludes by suggesting technical and policy strategies to develop, promote, implement and maintain a robust open government data policy in India.
Download the report [PDF, 1.03 MB]
The views and opinions expressed on this page are those of their individual authors. Unless the opposite is explicitly stated, or unless the opposite may be reasonably inferred, CIS does not subscribe to these views and opinions which belong to their individual authors. CIS does not accept any responsibility, legal or otherwise, for the views and opinions of these individual authors. For an official statement from CIS on a particular issue, please contact us directly.