GLAM in India: 10 tips for successful GLAM projects
GLAM initiatives work as a gateway to unleash knowledge, decode archived documentation to build modern wonders and also educate people about their past cultural and scientific journey.
This was published in OpenGLAM on May 22, 2014.
---
In 2012, India celebrated its first GLAM project on Hindi Wikipedia at the National Handicrafts and Handlooms Museum, New Delhi. This museum houses a vast majority of Indian crafts - Pattachitra from Odisha, Bidri from Karnataka, colorful and intricate Banarasi sari from northern India and Saura art from indigenous tribes of Eastern India to name a few. It is also a workshop and home to many artisans and folk artists who live, paint, carve, sell, sing, perform and make a living being based in the museum as resident artisans.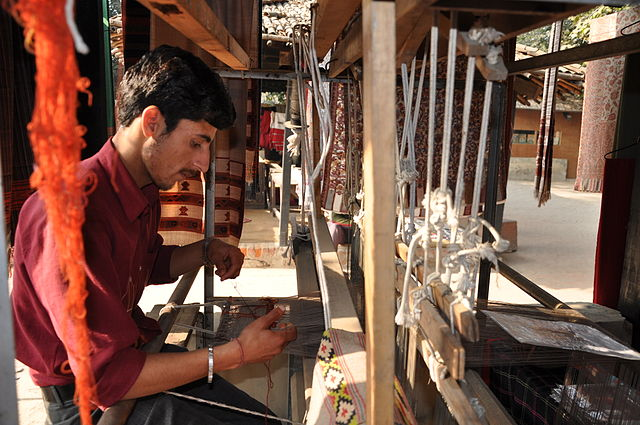 A weaver weaving a shawl using handloom (Anil Bhardwaj / CC-BY-SA 3.0)
For this project, Wikimedia India and the India Program were roped in to plan, design and have the Wikimedia community train staffers on how to document Indian crafts, from royal lineage to folk. This resulted in the creation of many Indian craft-related articles in the Hindi Wikipedia and English Wikipedia as well as images on Wikimedia Commons.
Based upon my first hand experience of working closely with the staffers and the Wikimedia community during this project, I would like to share a few tips that might help you while planning and implementing a GLAM project:
1. Show what is it in for them
Large, public entities like museums, archives and libraries can be hesitant to open their doors for free public access. While discussing the potential of a GLAM project, it is wise to explain how the project will bring popularity, highlight the work that institutes are doing and will in turn benefit the government in preserving the state's culture. Give examples of other such GLAM institutions which have gained public attention by adopting open strategies or by holding public events.
2. Show the institutions the big picture
Institutions often see their success in terms of number of visitors, number of media mentions or the number of sales (if they have some publications or a sales desk selling handicrafts or postcards for example). Tell them how an online presence could bring them local, national as well as international visitors, especially when they have an online presence in popular sites like Wikipedia or Wikitravel.
3. Push beyond your limits
Institutions operate in their own ways and often you might feel like you get stuck. Working with new staffers in a new institution is a big challenge and the pace of work cannot be smooth. What really matters is how much you impart your knowledge among the staffers and educate them about things that will be beneficial for the institution for continuing more GLAM projects in the future. 
4. Track work-in-progress
It is always crucial to have smart trackers. These could be as simple as a spreadsheet (Excel, Google, …) or a wiki table for a team's online tracking. You can of course always design your own. A database containing participant details with different colours for indicating progress in a project is a great way for assigning work, knowing strengths and learning about areas for improvement. Evaluating work internally by making use of smart charts and keeping deadlines is a must when there is a set of activities to be done.
5. Start with claps, swags in the middle, award at the end
Mobilizing volunteer contributors, especially government staffers, is always challenging. Outreach coordinators play a key role in keeping a group motivated enough to work collaboratively for a GLAM project. Participating staff members need to be given special attention during In real life meetups and gatherings, as well as specific guidance during training sessions. Fun games and activities that engage people help breaking communication barriers and build friendship. Swags also excite people to join. When a project starts rolling, keep different levels of excitement by giving different kinds of customized swags like caps, pens, stickers and buttons etc. Printed handouts that work like cheat-sheets are also useful. Creating levels to achieve and awarding the best achievers is another way of keeping people excited. Recognition drives!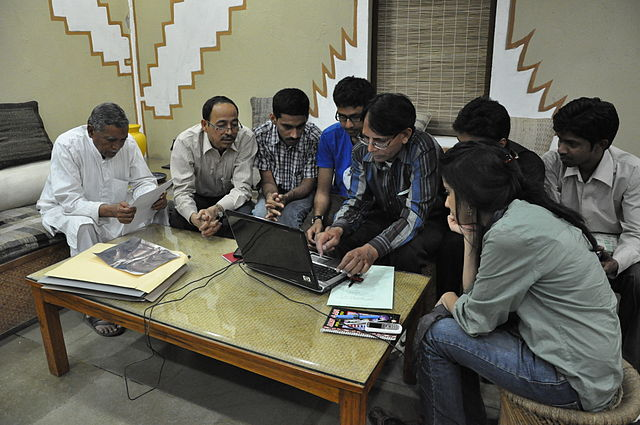 Staff being trained by GLAM coordinators (Anil Bhardwaj / CC-BY-SA 3.0)
6. Bring media attention towards the middle of the project
When a significant amount of work is done, break it to the media. Regional and national media coverage and few blog posts covering a project gives a lot of visibility to the institution and the people involved. This is in fact the best way to get internal administration level support for implementing a project. Interview some of the achievers, put them up on the project page and blogs and show those posts to them. Many people love to see audio-visual and printed news, and showing the participants their video interviews and published blogs is another way of letting them know about their great contribution.
7. Fail fast, think long term
If a GLAM project does not result in substantial success or sustains for long, it is essential to realize the fact that it is not an easy task to make changes to the system that is set over centuries. It takes time to mobilize and be brave to admit the failure. But it is also never really a failure when there is plenty of learning which others could benefit from before starting similar projects. Starting a new GLAM project is always an investment for the future. Milestones and even scars caused during the course of mobilizing an institution to open up its treasures for the public count and they, over time become parameters others consider.
8. Exit with a few leaders and chuck out way forwards
While working with a group of people, seek out for people who could lead a group and do specific work. This will not just reduce your workload, but will help to have a more decentralized focused work.
9. Document the flow
It is really really essential to document the work in a human manner. If resources permit, bring a professional to take candid shots, shoot a few interviews and B-rolls. You can also be frugal or hire a professional from the open source community for free and do the same. Documentation of learning, challenges and tips for others are essential things that you, as a good samaritan-community member could bring other GLAMers.
10. Empathy is the key
Over and above, empathy is the only key while dealing with real people in a real space. Connect to every person in a group, put yourself in their shoes and try being one of them: nothing works better in implementing a huge project. Knowledge transfer is a subset of the process of building a cordial relationship. Not all GLAM institutions have a system in place to educate their staff about technical aspects of archiving or renovating or developing skill-sets in general. Your presence should leverage the learning and knowledge that you would acquire from multiple levels.
The views and opinions expressed on this page are those of their individual authors. Unless the opposite is explicitly stated, or unless the opposite may be reasonably inferred, CIS does not subscribe to these views and opinions which belong to their individual authors. CIS does not accept any responsibility, legal or otherwise, for the views and opinions of these individual authors. For an official statement from CIS on a particular issue, please contact us directly.