Open Government Data in India (v2)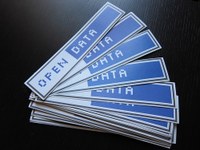 Open data stickers - CC-By-SA jwyg
The first draft of the second version of the Open Government Data Report is now online. Nisha Thompson worked on updating the first version of the report. This updated version of the report on open government data in India includes additional case studies as well as a potential policy (National Data Sharing and Accessibility Policy) that would create a central government data portal. The report was distributed for peer review and public feedback.
There are additional government case studies regarding e-governance and how they are changing the way data is collected and distributed. The report also looks at the issues around open data at the city and panchayat level and profiles new projects that are working to fill that void. It also includes a deeper account account of the global perspective on open government data and how India's experience with open data will be different from what the west is doing. Please do let us know what you think are deficiencies in the report, corrections that should be made, or even just general comments. Drop in a word even if you just find it useful. Please do write in to pranesh[at]cis-india.org by Friday, September 2, 2011. Download the [draft report].
The views and opinions expressed on this page are those of their individual authors. Unless the opposite is explicitly stated, or unless the opposite may be reasonably inferred, CIS does not subscribe to these views and opinions which belong to their individual authors. CIS does not accept any responsibility, legal or otherwise, for the views and opinions of these individual authors. For an official statement from CIS on a particular issue, please contact us directly.