Odia Wikisource workshop at New Delhi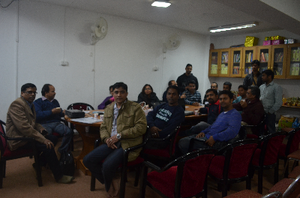 Participants of the Odia Wikisource workshop (by Subhashish Panigrahi, Creative Commons Attribution-Share Alike 4.0 International license).
The Centre for Internet & Society's Access to Knowledge team in collaboration with "The Intellects" organized a seminar in New Delhi on December 14, 2014. Subhashish Panigrahi gave a talk.
The seminar was on the Relevance of Bhagabat Tungi in the evolution of Odia language from Buddha era to digital age. After attending the event one of the participants Pankajmala Sarangi took great interest in Odia Wikisource which was then an incubator project. Since then she has digitized three books and is now proofreading Odia Bhagabata, an Odia language classic from the 14th century. Having the highest number of edits in Odia Wikisource, Ms. Sarangi took interest to build a community in Delhi. Another Odia Wikilibrarian Sitikantha Kheti also joined in to organise the first Odia Wikisource workshop in Delhi. These Wikimedians, a Delhi based group The Intellects  and CIS-A2K collaboratively conducted a workshop.
The Intellect's president Debendra Rout addressed the participants and broadly spoke about the goal of the workshop and long term plans in Delhi. Both the Wikilibrarians shared their experience on Odia Wikisource. The workshop started with self introduction of the participants followed by screening of a documentary "Odia: Silalekharu Mobile".
---
Video
---
A handbook with details on the project, Odia input and keyboard layout was distributed among all. Subhashish Panigrahi demonstrated Odia input and the process of digitization of books on Wikisource. Plans for more workshops and digitization sprints were also charted out.
The views and opinions expressed on this page are those of their individual authors. Unless the opposite is explicitly stated, or unless the opposite may be reasonably inferred, CIS does not subscribe to these views and opinions which belong to their individual authors. CIS does not accept any responsibility, legal or otherwise, for the views and opinions of these individual authors. For an official statement from CIS on a particular issue, please contact us directly.