An Odia Wikipedia Workshop at Sambalpur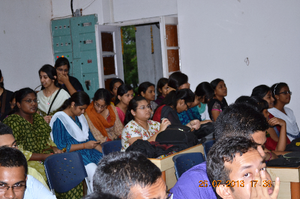 A picture of the participants from the Odia Wikipedia workshop at VSSUT Burla on July 26, 2013. Photo by User:Gorvachove, Wikimedia Commons
A training workshop for Odia Wikipedians was held in Veer Surendra Sai University of Technology, Burla, Sambalpur on July 26 and 27, 2013. The workshop was organized by Odia Wikipedian Gorvachove Pothal, with financial support from CIS-A2K programme. It was a part of the Access To Knowledge - Outreach Programs.
Hosted by Gorvachove at the Golden Jubilee Seminar Hall of VSSUT, the Odia Wikipedia Workshop was attended by more than 100 students and Professors of the university. He explained the many possibilities of using Wikipedia as an open knowledge and information platform. The members that attended the Workshop have received awareness about Wikimedia projects. An introduction was given to Odia Wikipedia with practical examples. (Using searching, editing, creating new articles). The wiki model was explained by Gorvachove upon questions/doubts from students. He explained how writing articles in Wikipedia can help students think critically, improve their writing skills, strengthen their research skills, etc.
On July 27, 2013, a hands-on session was conducted by Gorvachove. He helped various participants in creating usernames and writing one article about their "Village/Town" (part of the Edit-a-thon started on April 1, 2013) in Odia Wikipedia. The Workshop's objectives that have been achieved, namely:
Spread awareness about Wikimedia projects.
Importance of free knowledge sharing.
A group of enthusiastic students received technical orientation to conduct further workshops.
---
Important links:
Odia Wikipedia workshop page on Odia Wikipedia: http://or.wikipedia.org/s/gqw
Link to the pictures: http://bit.ly/13VNkzf
Media Coverage
Seen below are participants doing the Wiki editing at the workshop

Copyright note: Photo by User:Gorvachove, Wikimedia Commons
The views and opinions expressed on this page are those of their individual authors. Unless the opposite is explicitly stated, or unless the opposite may be reasonably inferred, CIS does not subscribe to these views and opinions which belong to their individual authors. CIS does not accept any responsibility, legal or otherwise, for the views and opinions of these individual authors. For an official statement from CIS on a particular issue, please contact us directly.