NIE Steps in to Grow Konkani Wikipedia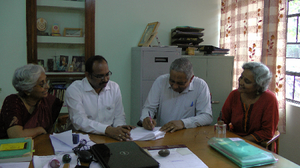 Principal Denzil Martins of NIE signing the MoU, overseen by Harriet Vidyasagar, T. Vishnu Vardhan and Gayathri Rao Konkar
The Centre for Internet & Society's Access to Knowledge team (CIS-A2K) signed a memorandum of agreement (MoU) with Nirmala Institute of Education, Goa to enhance digital literacy in Konkani in the education sector across Goa.
The Access to Knowledge (A2K) programme of CIS, in its sustained efforts to enhance the content and reach of Kokani Wikepedia (which is in incubation), has signed an MoU for a period of five years with Nirmala Insitute of Education (NIE), a Secondary Teacher Education College established in 1963 by the Society of the Daughters of the Heart of Mary in response to the then urgent need for trained teachers in post liberation Goa. The key objectives of this partnership are: a) to design, develop and execute a certificate course titled "Teaching in the Age of Wikipedia", which is aimed at middle and high school teacher-trainees and teachers; and b) to introduce Wikimedia projects into the pedagogic curriculum of NIE.
Both CIS and NIE share a mutual interest in conserving, developing and disseminating knowledge free of cost in Konkani, which incidentally is Goa's official language. Konkani as a language faces several challenges — it has no official script. The population who speak it are dispersed across the world and have little motivation to further the cause of Konkani, and there are few educational venues that offer a formal course to study Konkani or offer Konkani based curriculum. NIE Principal Dr. Denzil Martins welcomed this MoU and said that "it will guide our teacher-trainees to upload relevant information in Konkani that can be freely accessed by the local population" and "provide the volunteer-trainees with skills that they will be able to use to contribute and enhance the free knowledge in Konkani". The MoU was signed by Dr. Denzil Martins from NIE and T. Vishnu Vardhan (Programme Director, Access to Knowledge, CIS) in the presence of staff and students of NIE and volunteers Harriet Vidyasagar and Gayathri Rao Konkar. Dr. Rita Paes, ex-Principal of NIE who worked to forge this MoU sent her best wishes.
CIS-A2K since 2013, has worked to develop partnerships with key educational institutions to promote and grow Konkani Wikipedia. It has previously worked with NIE to design and implement a program to enroll 100 B.Ed. students to increase the amount of information available in Goan villages and towns on Konkani Wikipedia. A2K has also been instrumental in convincing Goa University to re-release Konkani Vishwakosh (encyclopedia) under CC-BY-SA 3.0 , making it freely available to public, giving them the right to share, use and even build upon the work that has already been done.
The course 'Teaching in the Age of Wikipedia' will enable the teacher participant to have a) a comprehensive understanding of changes due to digital technology to the knowledge domain; b) an introduction to various openness movements that inform the discourse on Open Educational Resources; c) exposure and training to participate on open knowledge platforms like Wikipedia; and d) practical examples and best practices of using Wikipedia and sister projects within the classroom context. The parties will also co-design and jointly implement programmes to introduce Wikipedia in the NIE curriculum. The curriculum for this workshop is positioned within the context of indian languages (particularly Konkani) and school education to ensure that any learning is practical and can be applied within the teachers immediate pedagogic environment. Speaking about the relevance of this course Gayathri and Harriet (who have been associated with NIE as volunteers) mentioned that "the Goa government has handed out tablets to all school going children in Goa. In order to use them effectively in the classroom will require teachers to rethink their role and teaching methodologies and this course is an important step towards that". Agreeing with this Denzil Martins feels that this course "will provide the teacher-trainees with ideas and inputs for using Wikipedia in creative ways in the classroom".
This partnership could bring huge momentum and scale for the growth of Konkani as participants who graduate from this course will as teachers act as anchors and mentors to teach and assign Wikipedia editing assignments in their respective schools and classrooms.
As Gayathri feels "such courses once fine tuned should be made available to teachers from all over the country and should be part of the package for introducing the digital technology in the school system.  Today it ends with setting up computer labls in schools or distribution of hardware to students - they may have a 'computer teacher' but the class and subject teachers never become part of these new initiatives. Only when this happens can we move away from 'teaching computers' to using computers as tools to learn and teach, which is the primary objective of digital technology in schools".
CIS will develop this open course and welcomes anyone to partner in this effort, which will be made available for anyone to use it within their context. The efforts to build free and open knowledge platforms like Konkani Wikipedia will continue and partnerships like NIE will play a crucial role in building a robust knowledge society in India.
The views and opinions expressed on this page are those of their individual authors. Unless the opposite is explicitly stated, or unless the opposite may be reasonably inferred, CIS does not subscribe to these views and opinions which belong to their individual authors. CIS does not accept any responsibility, legal or otherwise, for the views and opinions of these individual authors. For an official statement from CIS on a particular issue, please contact us directly.