A Kannada Wikipedia Workshop at Hubli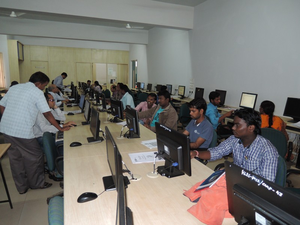 Participants are seen learning wiki editing in this picture.
On Sunday, July 21, 2013, a day-long Kannada Wikipedia workshop was conducted at Hubli by the Centre for Internet and Society's Access to Knowledge (CIS-A2K) team. This blog post throws more light on the workshop.
On June 13, 2013, a Kannada news channel, Suvarna News 24x7, telecasted a panel discussion on Kannada Wikipedia. I participated as a panelist in the programme along with M.G. Harish, who is an admin of Kannada Wikipedia. In the panel discussion, the anchor Shetty asked us whether we conduct workshops to help people edit Wikipedia? I said yes, and also confirmed that if people (from whichever place they may hail from) want training on editing Wikipedia then I am willing to travel to that place and do a workshop.
One week after the programme was telecasted, one V S Hiremath called me from Hubli and requested me to conduct a Kannada Wikipedia workshop at Hubli. Many rounds of discussions took place. One condition that I had put forward was that participants should come with their own laptops and internet connections like data cards, dongles, etc., for the workshop. Unfortunately, majority of the people willing to participate in the workshop didn't have laptops albeit having desktops and internet connections in their homes. So we had to make alternative arrangements and the workshop was conducted at the computer lab of  KLE Society's Institute of Management Studies and Research. The logistics were arranged by V. S. Hiremath of UNV Associates.
Above is a picture of Dr. U.B. Pavanaja at the inauguration of the workshop.

The programme was scheduled to start at 10 a.m. Due to the monsoon season, it was raining heavily. People started to come in a bit late. Hiremath had scheduled an inauguration and media briefing for the workshop. Dr. Prasad B.Roodagi, Director of IMSR, presided over the function. The inauguration was done by Sheelavantar of Hosa Digantha. Since Dr. Prasad B.Roodagi came almost one hour late, the workshop began late.

The actual hands-on workshop started after the tea-break at 11.30 a.m. People were very eager to learn about editing Wikipedia. There were 22 participants.

Wikipedia has a condition that only 6 new editors can register per day for a given IP address. The lab had static IP address. Once, 6 participants had registered, the remaining couldn't register.
So the rest registered using my laptop during lunch break. I taught them the features of Wikipedia, searching for a topic, posting new articles, formatting, inserting links, images, references, etc. Participants got to know all of these by using their respective sandboxes. Towards the end, I also showed them Kannada Wiktionary, Kannada Wikiquote and Kannada Wikisource.
Above is a group picture of the participants from the workshop.
The results have been positive. About 1-2 persons are adding new content to Kannada Wikipedia. Hope that the remaining participants will also add content over a period of time.
A special thanks to V.S. Hiremath for doing all local arrangements and giving wider publicity. Without his active interest and participation, the workshop wouldn't have happened.
---

Click here for more pictures from the workshop. Press coverage from leading newspapers like Times of India, Deccan Herald, VijayaVani, HosaDiganta, Vijaya Karnataka, Prajavani, and Samyukta Karnataka can be dowloaded from the zip file below:
Press Coverage (Zip folder, 4.5 Mb)
The views and opinions expressed on this page are those of their individual authors. Unless the opposite is explicitly stated, or unless the opposite may be reasonably inferred, CIS does not subscribe to these views and opinions which belong to their individual authors. CIS does not accept any responsibility, legal or otherwise, for the views and opinions of these individual authors. For an official statement from CIS on a particular issue, please contact us directly.