Journalism Students of the SDM College Ujire Enrich Karnataka's Folklore And Folk Art in Kannada Wikipedia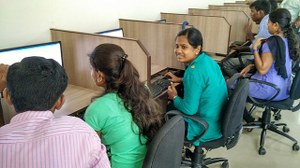 Student-editors editing Kannada Wikipedia during the workshop. Image by U.B. Pavanaja, freely licensed under CC-by-SA 4.0.
As part of an ongoing partnership with the Shree Dharmasthala Manjunatheshwara (SDM) College Ujjire, with active support from a few Kannada Wikipedia editors, CIS-A2K began an outreach programme so that the journalism students could help many Kannada readers about Karnataka's rich folklore and folk art.
Both first year and second year students of Master of Communication and Journalism (MCJ) of SDM College participated in this workshop. Out of 35 participants, 11 were female. Students had discussed already about enhancing Kannada Wikipedia articles on folklore and folk art forms of Karnataka. About 20 new user accounts were created and the students have started creating articles in their user sandboxes which they will later move as articles upon enhancement with vital information. Some of the students chose to find existing articles and add more information to them. Long time Kannada Wikimedian S N Vasanthkn. from Dharmasthala helped as resource person to help the new editors with Wikipedia editing. However, as first timers, many struggled with the encyclopedic way of writing and maintaining neutral point of view. These students will be mentored by Vasanth as he is visiting them every Monday.
More details from the event page.
The views and opinions expressed on this page are those of their individual authors. Unless the opposite is explicitly stated, or unless the opposite may be reasonably inferred, CIS does not subscribe to these views and opinions which belong to their individual authors. CIS does not accept any responsibility, legal or otherwise, for the views and opinions of these individual authors. For an official statement from CIS on a particular issue, please contact us directly.