Odia Wikipedia: Three Years of Active Contributions Gives Life to a Ten Year Old Project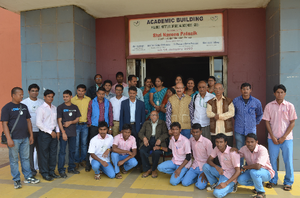 Group photo of Wikipedians during Odia Wikipedia 10 celebration at KISS (by Subhashish Panigrahi, CC-BY-SA 3.0)
Odia Wikipedia has carved its mark as the largest online encyclopedia in Odia language that is edited by a volunteer editor community.
---
This was published by HASTAC on January 31, 2014.
---
By 29th of January this year it is 10 year old and 5000 articles rich. Though this was started as one of the first four Indic language Wikipedias. In 2011 there were only 550 articles with practically no contributors. The initial Wikipedians struggled to reach out to more people. Luckily, with more people coming on the Internet – primarily on social media platforms, collaboration became easier. Odia Wikipedia's facebook page and group became the social gateway to get used to working within the Odia language. This is one of the languages which has very little online presence when it comes to having content as Unicode text. Many people still struggle with the outdated pirated operating systems installed in their computers which added more hurdles in the way of all the community led Wikipedia outreach programs. There has been more developments in recent days in language input and online contribution in Odia. More people started searching for online content using Odia in Unicode. This is where Odia Wikipedia played a crucial role in promoting a massive growth in content which is reflected in the readership. Monthly page views which remained consistently low over the years started growing from less than 1000 to more than 400,000 and at times hitting the 500,000 mark. This is the highest among all the websites that have Odia content. With a variety of new projects and more contributors than ever, Wikipedia Odia happily celebrated its its 10th anniversary over two days. Odia Wikipedians gathered in two different educational institutes; Kalinga Institute of Social Sciences in Bhubaneswar on the 28th of January and Indian Institute of Mass Communication in Dhenkanal on the 29th.
Day 1
First day of Odia Wikipedia 10 began with the traditional Chhena poda by noted linguist Padmashree Dr. Debiprasanna Patnaik. Kalinga Institute of Social Sciences (KISS) has recently collaborated with The Centre for Internet and Society for the resource gathering, documentation and archival of 62 tribal communities of Odisha and neighboring eastern Indian states and initiating Wikipedia projects in the indigenous tribal languages. The first few phase of the workshop brought about 15 students pursuing their masters in Arts, Science and Commerce disciplines and 10 faculty members.
This project also will also dovetail into the Mother Tongue based Multilingual Lab that has been set up in the institute to foster educational materials in tribal languages. Dr. Patnaik spoke to these contributors about the native languages and the importance of documenting language and cultural heritage online. Subrat Prusty, General Secretary of Janasammilani and founding member of Odia Biswabidyalaya gave a talk on the factors that have diminished the native languages and how collaborative efforts could revive dying languages through a 5000 word free-license dictionary in Odia. With the audio recording of Dr. Patnaik introducing himself, Odia Wikipedians inaugurated the Voice intro project as the first Indic language project. Odia Wikipedians interacted with the students and teachers at KISS to get their inputs on the kind of knowledge imparted by introducing Wikipedia editing. Later these will streamline the process of writing to the linguistic team for pledging for the classical language status of Odia.
Day 2
The second day of Odia Wikipedia 10 was celebrated in the Indian Institute of Mass Communication (IIMC) Dhenkanal campus . Students who had participated in the series of Odia Wikipedia workshops earlier in the year took part in this event. Sampad Mohapatra, a TV and print media journalist inaugurated the event by lighting Dipa and cutting a birthday Chenapoda. Mohapatra shared his experiences on how the entire media industry relies on Wikipedia for collecting information and how contribution in regional languages will benefit the students through more job availability in the regional media. Professor Dr. Mrinal Chatterjee who heads the institution shared the way accessing knowledge is slowly moving to internet based search. He discussed strategies of how bringing more online content in regional languages will help the academia and the students. Usha Padhee, Secretary of Mass Education Department, Odisha Government distributed awards to the top Wikipedia contributors. She later presented on the role of media in educating society and Open Educational Resources in new tools of imparting knowledge.
The views and opinions expressed on this page are those of their individual authors. Unless the opposite is explicitly stated, or unless the opposite may be reasonably inferred, CIS does not subscribe to these views and opinions which belong to their individual authors. CIS does not accept any responsibility, legal or otherwise, for the views and opinions of these individual authors. For an official statement from CIS on a particular issue, please contact us directly.