Expanding the World of Telugu Wikipedia – CIS-A2K and ALC join hands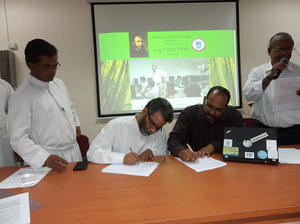 CIS-A2K and ALC sign the MoU in Vijaywada (Picture taken by Rahmanuddin Shaik, CC-BY-3.0 License)
Students and faculty of Andhra Loyola College in Vijayawada aim to enhance Telugu Wikipedia through increased contributions to Wikipedia and make it available under free license.
The Access to Knowledge (A2K) programme of the Centre for Internet and Society (CIS) in its quest to catalyze the growth of open knowledge movement in Indic languages recently added another feather to its cap by signing a memorandum of understanding (MoU) with Andhra Loyola College (ALC) in Vijayawada on August 14, 2014 to work collaboratively to improve Telugu Wikipedia and Telugu Wikisource.  College Principal Fr. G.A.P. Kishore, Vice-Principals Fr. P. Anil Kumar and Fr. Rex Angelo, correspondent Fr. Raju signed the agreement with CIS-A2K programme director T. Vishnu Vardhan.
The MoU signed with ALC is for a period of five years and encompasses four activities:
Open knowledge creation in Telugu across various disciplines on Telugu Wikipedia: ALC faculty and students will be trained by CIS-A2K staff and interested Telugu Wikimedians to understand the principles that govern Wikipedia in order to generate quality entries. Faculty from Botany, Physics, Statistics, Ethics, Religion, Telugu Literature, and Music will work with CIS-A2K. Each of the faculty in the coming months will come up with a plan to generate open knowledge in Telugu in their respective disciplines.
Content donation and digitization on Telugu Wikisource: ALC through its networks will help CIS-A2K to bring Telugu content under CC-BY-SA 4.0 license. The Telugu department of the college expressed keen interest to work with CIS-A2K in digitizing historical Telugu content and to make it available on Telugu Wikisource. Various competitions will be planned in the future.
Creating a free software environment at Andhra Loyola College:  400 machines within various labs on the campus will be converted into FOSS systems with free and open source software including support for Telugu and other Indic languages. It should be noted that all the existing computers of ALC are run on proprietary software. As a pilot initiative CIS-A2K has already converted 30 systems in a lab and named it as Loyola FOSS Lab.
CIS-A2K to revise the FIT (Fundamentals in Information Technology): A mandatory course for all undergraduate  students which will introduce students to FOSS, Openness and Wikipedia. This is an outcome of the FOSS orientation done by T. Vishnu Vardhan and Rahimanuddin Shaik during the two workshops that were held at ALC.
CIS-A2K will put every effort to involve Telugu Wikimedians and FOSS community in taking this collaboration with ALC forward. CIS-A2K will also create a project page on Telugu Wikipedia to actively document and publicly share the detailed plans and progress. More updates will also be shared on this website.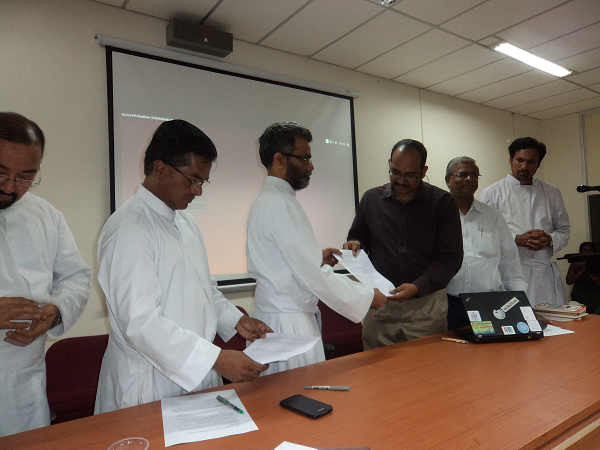 Above: Representatives from ALC and CIS-A2K seen during the signing ceremony.
The signing of the MoU was done at a public event  in the presence of students, faculty and management of ALC and various representatives from media. The media covered this event enthusiastically. The Hindu coverage can be found here and Eenadu article coverage is here.
The views and opinions expressed on this page are those of their individual authors. Unless the opposite is explicitly stated, or unless the opposite may be reasonably inferred, CIS does not subscribe to these views and opinions which belong to their individual authors. CIS does not accept any responsibility, legal or otherwise, for the views and opinions of these individual authors. For an official statement from CIS on a particular issue, please contact us directly.