Creative Commons Casestudies, Featuring Status.Net
The Centre For Internet and Society and JAAGA organised a CC Salon on 02nd December, 2009 at 7.30pm.
Creative Commons Casestudies, Featuring Status.Net
CIS and JAAGA organised a CC Salon (http://wiki.creativecommons.org/Salon) by Jon Phillps on Creative Commons Casestudies, Featuring Status.Net
Venue: JAAGA
Time: 7.30pm
The aim of this get together was to share knowledge and experiences of alternative copyright licensing.  Artists, lawyers dealing with copyright licensing and others are encouraged to highlight their own work, experiences and queries about Creative Commons and other alternative licenses.
An abstract of the presentation and the bio of Jon is given below.
ABSTRACT:
Creative Commons Casestudies, Featuring Status.Net
Creative Commons is a well-known nonprofit organization that increases sharing and improves collaboration. Its key tools are six licenses that fit between public domain and complete control, copyright, to give you control over how your work is shared with the world. This presentation explores high level case studies that use Creative Commons licenses to make a successful project. The key featured case study is Status.Net, a new status updating hosted service and open source software that uses Creative Commons licensing for content.
http://wiki.creativecommons.org/Salon
BIO:
Jon Phillips is a community and business developer contributing to society and building meaningful relationships. In 2002 he helped launch the open source drawing tool, Inkscape and founded the Open Clip Art Library. From 2005 until 2008 he built Creative Commons' community and business development projects and is currently a Creative Commons Fellow. Currently, he is growing the media company Fabricatorz with Cantocore Art Exhibitions, Laoban Open Soundsystems, and is recently assisting with an upcoming re-launch of Status.Net (Identi.ca). He is known for growing successful open communities globally, leading international business development in Asia (particularly China), and developing Open Marketing.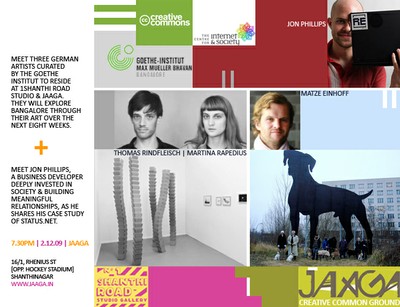 Videos
The views and opinions expressed on this page are those of their individual authors. Unless the opposite is explicitly stated, or unless the opposite may be reasonably inferred, CIS does not subscribe to these views and opinions which belong to their individual authors. CIS does not accept any responsibility, legal or otherwise, for the views and opinions of these individual authors. For an official statement from CIS on a particular issue, please contact us directly.