Bangalore RHoKed to Create 8 Apps for a Better World!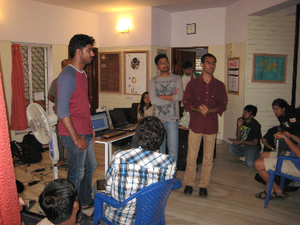 Picture of participants from the RHoK event in Bangalore
The Centre for Internet and Society (CIS) on June 1 and 2, 2013 hosted a Random Hacks of Kindness (RHoK) event at its office. Yogesh Londhe shares with you a post-event report.
Bangalore joined 41 cities around the world to host the RHoK hackathon. RHoK is a growing community of innovation building usable open technology solutions to real world problems. This is made possible by hosting weekend hackathons twice a year where experts from development areas pitch real world problems to the hackers/tech-experts and then hackers form teams choose their problems and hack over the weekend to create a proof of concept to solve part of the problem with technology.
On May 31 an RhoK reception was hosted at CIS. The reception was attended by 40 people including many registered hackers. The reception program was series of keynotes on various themes of RHoK vision and work. There were keynotes ranging from user experience to agile planning to experiences in Himalaya to philosophy of social impact of technology. Of course the major attraction of the evening was the keynote by Jacob Appelbaum of Tor project. He spoke about tor, ooni-tor and some other technologies in encryption that can help human right and environment activists. The audience got a real treat when he took up questions from the audience and spoke in details about each question. Apart from the keynotes there was a successful launch of 'Project Bachchao' at the reception. This was very special because 'Project Bachchao' started as a hack (led by Chinmayi) at the June 2012 RHoK Bangalore, travelled to Grace Hopper Women's hackathon in Bangalore, got incubated by Geeks without Bounds and came as a first release of first product to launch at RHoK reception. Everyone congratulated Project Bachchao team on the launch!
Hackathon
The RHoK hackathon in Bangalore attracted 40 hackers on day 1, who took up 9 challenging hacks, after 2 reviews on day 1 and idea exchanges, eventually 8 hacks came out at the end of day 2.
There were 7 problem statements pitched at the Bangalore RHoK!
Accessibility cloud by Voice Vision (accessibility to web surfing for visually challenged)
Green Trails Project by India Hikes(a reward system to encourage cleaning up of Himalayan treks)
Disaster Recovery and You D-R-Y (online knowledge-base of disaster scenarios with solutions that worked before-during-after the disaster to save/protect lives and property)
Season Watch by Nature Conservation Foundation(visualization of data about blossoming/fruiting/seeding patterns of trees to watch effect of climate change on seasons and patterns in trees)
Bangalore Green Cover (an app to map and track trees around the Garden City <aka Bangalore> with an aim to make people fall in love with trees)
Missing Children (a mobile app to create open database of children seen begging at signals/stations that will allow searching by facial recognition in case people wish to search for missing child)
NGO accelerator by Saket of myshareplex.com(a match making for NGOs and volunteers to appeal for/donate time/materials)
The teams took up some of those and few of their own problem statements and presented following hacks at the end of the hackathon:
Glow Green & Save Life: This is simulation of traffic situation where Ambulance needs to get priority right of way to be able to reach nearest Hospital in shorted time. Satvik & Akash took up this project and developed a simulation using Google Maps and Java Script. This nice simulation shows how the traffic signals will be controlled for letting the Ambulance pass on priority basis.

The project is completed and can be extended to add other traffic and more number of ambulances.
Season Watch:  This is a data visualization hack. A data set of 60,000 trees from one state of India was given to this team and the team built and app to visualize the data on various parameters, including Google map visualization of the trees. This app allows users to upload current photos of the trees, data related to the tree like blossom, fruits, types of insects, birds, animals eating leaves/fruits, growth of the tree, etc. It was a lot of work and the team took up all of it enthusiastically, eventually they were able to finish most of the work of data visualization and the representative of NCF was very happy to get the results of the work.

The project is almost completed. The team is mostly students who will be busy with their examinations this month, so they will coordinate with NCF in July and finish the work. Meanwhile NCF may use some of their work in their existing website.
Green Trail Project: This problem statement was repeated in this RHoK hackathon from last one. One team, mostly students of IIT-Kanpur took this up and started working on it. They worked closely with a representative of India Hikes and they were successful in building the framework and most of the functionality visualized by IndiaHikes.

The project is almost completed and the team has discussed with India Hikes about meeting over next 2 weekends and finishing the work and launch and test it. India Hikes is willing to take the team to Himalaya for a trek to test this project.
Non-Profit Accelerator: Saket Bhushan of myshareplex.com brought this problem statement himself and worked on this problem statement alone. This app is online match making app for NGOs and volunteers. The NGOs using this app will be able to post their requirements in terms of volunteers and material. The volunteers will be able to contribute by their time and material. No money donations are managed by this system at this stage. This app is part of a whole NGO management (mini-ERP for NGOs) system developed by Saket <myshareplex.com/np>

This project is finished and will be implemented by Saket very soon.
Talking LCD (assistive technology for visually challenged): this problem statement was derived from  a problem statement defined by Voice Vision of Mumbai. Mr. Muthu of Enable India took this problem statement and made some changes to it. He eventually decided to make a screen reader for LCD/LED screens that can help visually challenged employees to work with the screens (e.g. Visually challenged gas station attendant). The team planned to work with Raspberry pi hardware to prototype the LCD screen reader for faster and cheaper prototype.

The team was able to finish coding proof of concept and Mr. Muthu plans to take this forward as problem statement owner.
Missing Children: Problem statement taken from last RhoK hackathon. The team worked on Windows phone app that will allow the users to take photos of children begging at signals/railway stations. The photos will be uploaded to online photo database (flickr/google/picasa/...) with location and time data. The people searching for missing child will then upload a photo, the app will use facial recognition software on server side and give suggestions matching the photo with location and time, thus helping the search.

This project is almost finished and can be implemented soon. Android / iPhone version need to be developed.
Bangalore Green Cover: Problem statement presented and hacked by Chinmayi and team. This team worked on an Android app that will allow users to take photos of trees around Bangalore city. The app will then map the tree on Google map and create a dedicated page for the tree. The user can then keep posting updates about the tree regularly. The aim of this project is to make people fall in love with trees.

The team finished the project and aims to launch this project soon.
Frequent traveler miles for bus commuter: Problem statement presented by Emaad, Rachee, Bhuvanesh and hacked by them. They developed an Android app that allows user to take a photo of their local bus ticket, the app will upload it to their profile on the server and give them few credit points based on the distance traveled/value of the ticket. The users can accumulate the points and hopefully some company / local transport authorities will then reward the traveler for the points. The aim is to encourage people to take public transport.

The app is almost ready to be launched.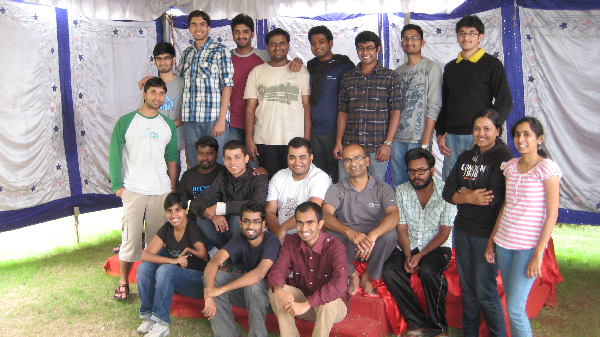 A group photo of the participants at the RHoK event held in Bangalore on June 1 and 2, 2013
All the team enjoyed the hackathon and wish to finish their work, so that is can be used and have social impact. We can see the impact of RhoK on participants in following tweets:
"There was a time when i coded for marks & then to make money. But felt very proud aftr completing the hack GlowGreen&SaveLives @RHoK_bang"
"I've changed in a day! I'm new man! New goals! Goodbye past! #RhoK welcome future!..."
The local sponsors for Bangalore RHoK are:
Center for Internet & Society – venue and food sponsors
Simpletechlife – event partner
ThoughtWorks – swags/ goodies sponsors
The Better India, YourStory.in, theAlternative.in – digital media partners
See the event photos at: http://www.flickr.com/groups/rhok/
The views and opinions expressed on this page are those of their individual authors. Unless the opposite is explicitly stated, or unless the opposite may be reasonably inferred, CIS does not subscribe to these views and opinions which belong to their individual authors. CIS does not accept any responsibility, legal or otherwise, for the views and opinions of these individual authors. For an official statement from CIS on a particular issue, please contact us directly.