A Kannada Wikipedia brochure for newbies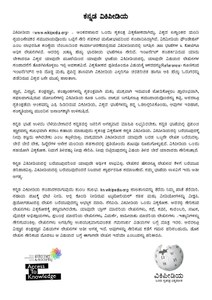 Kannada Wikipedia brochure preview. (User:Pavanaja, CC-by-SA 4.0)
This brochure has been created keeping readers and new Wikipedia editors in mind. This would come handy to learn editing Kannada Wikipedia and creating/editing articles in Kannada.
What does it contain?

How Wikipedia is world's largest free and open encyclopaedia?
Did you know that "anyone can edit Wikipedia"?
How Wikipedia helps in preserving the knowledge and taking it to the next generation. For our languages to survive and grow, it is very important to bring world knowledge in our language. Wikipedia helps in expanding that knowledge repository as anyone can contribute to Wikipedia.
There is no financial gain by writing in Wikipedia. It is very easy to start editing Kannada Wikipedia. Open kn.wikipedia.org, check the help file, tutorial file & videos, start editing in your sandbox (learn more about the Wikipedia sandbox).

No poetry, blog, story, criticism, writing about self, advertisements of any sorts, etc are not allowed in Wikipedia

Download this brochure from here.

The views and opinions expressed on this page are those of their individual authors. Unless the opposite is explicitly stated, or unless the opposite may be reasonably inferred, CIS does not subscribe to these views and opinions which belong to their individual authors. CIS does not accept any responsibility, legal or otherwise, for the views and opinions of these individual authors. For an official statement from CIS on a particular issue, please contact us directly.