India Blocks News Website Pages for 'Spreading Fear' over Assam Violence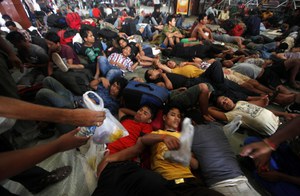 Refugees from violence in India's northeastern states (Reuters)
Access to more than 300 internet web pages including some published by Telegraph, Times of India and Al-Jazeera blocked.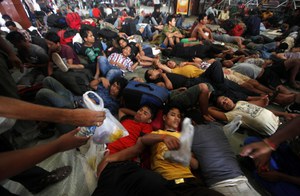 Refugees from violence in India's northeastern states (Reuters)
---
This article by Gianluca Mezzofiore was published in International Business Times on August 24, 2012. Pranesh Prakash is quoted.
---
The Indian government has blocked more than 300 internet web pages including ones published by the Daily Telegraph, Australia's ABC and Al-Jazeera claiming they contained "incendiary" material likely to spread panic.
Internet experts said the move might be illegal as the Indian government interfered with hundreds of website, including some Twitter accounts, blogs and links to certain stories.
Internet posts, phone text messages and fake video clips have allegedly spread rumours that Muslims were poised to attack the Assamese population in Chennai, Mumbai and Pune. More than 10,000 Assamese workers fled to their native state in northeastern India.
The content, bound to fuel tension between Muslim migrants and Assamese workers, included images that falsely portrayed the relief effort for the 2010 Tibetan earthquake disaster as Burmese Buddhists walking among their Muslim victims.
The mass exodus from southern cities followed clashes in Assam between the Bodo tribe and Muslims. At least 80 people were killed and hundreds of thousands were displaced.
The Telegraph reported that India blocked its pages including a photo-gallery of Reuters and AFP news pictures that documented "attacks by Burma's Buddhist Rakhine community on villages which had been occupied by Rohingya Muslims, who had migrated from Bangladesh several decades earlier".
Among other news outlets blocked were The Times of India, the Dainik Bhaskar and FirstPost.
"The government has gone overboard and many of its efforts are legally questionable," Pranesh Prakash, who studies internet governance and freedom of speech at the Centre for Internet and Society, said.
"The government's highest priority should have been to counter the rumours and it did a really bad job of that."
Victoria Nuland, spokeswoman for the US State Department, said it was urging the Indian government "to take into account the importance of freedom of expression in the online world" while addressing its security concerns.