Facebook's Delicate Dance With Delhi On Censorship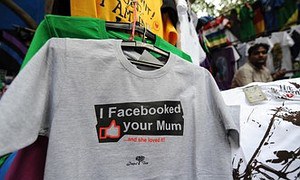 A T-shirt referencing the social networking site Facebook is seen on sale at a roadside stall in New Delhi on May 14, 2012. (Image credit: AFP/Getty Images via @daylife)
At the end of last week, a hashtag briskly rose across India: #Emergency2012. It was a reference to the 21-month stint, beginning in the summer of 1975, when then PM Indira Gandhi determined democracy an inconvenience.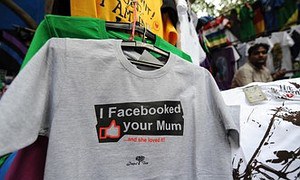 A T-shirt referencing the social networking site Facebook is seen on sale at a roadside stall in New Delhi on May 14, 2012. (Image credit: AFP/Getty Images via @daylife)
---
Contributed by Mark Bergen, the post was published in Forbes on August 29, 2012. Sunil Abraham is quoted.
---
This time around, the government launched a jumbled attempt, following ethnic violence in the northeast, to stem rumors behind a panicked exodus. They blocked over 300 sites and axed at least 16 Twitter accounts, including those of political opponents and journalists. Many of us found our cell phone texts suddenly, with no announcement, cut off after five missives.
It was hardly the Emergency of 1975. The government's actions were far less draconian than three decades ago. But, back then, there were no foreign internet companies to complicate matters—and, it seems, absolve the government.
In response to the recent charges, Delhi claimed that there was "no censorship at all." As the communications minister, Kapil Sibal, put it, "Facebook and Google are cooperating with us."
Under the circumstances, shutting down the incendiary hate speech online was warranted, explained Sunil Abraham, the director of the Centre for Internet and Society (CIS) in Bangalore. The process was just incredibly inept. "There were so many things they did wrong," he told me when I asked about the government's response. And the reaction can be tacked onto a very recent history of Delhi issuing sweeping, usually empty, threats of censoring U.S. internet companies.
"Perhaps the Indian government has wasted, frittered a way goodwill," Abraham continued. "It has cried 'wolf' so many times that this time the internet intermediaries are not taking them as seriously as they should."
His group analyzed the sites shut down last week, pointing out the "numerous mistakes and inconsistencies that make blocking pointless and ineffectual." It's clear that the censorship was also opportunistic—used to stamp out political parody Twitter accounts—and counterproductive. Among the sites blocked was a Pakistani blog debunking the rumors behind the whole exodus episode.
Abraham criticized the government for coming to the intermediaries with broad demands first, rather than directly to Twitter, Facebook and Google. That approach, coupled with earlier censorship demands, may strain the trust between the ruling coalition and the web giants.
Still, Facebook has every reason to keep Delhi happy. This year, the number of users in India hit 32 million—a 85 percent jump from the last. The total is expected to nearly double next year, leap-frogging Indonesia for the title of second largest market. An overwhelming chunk of that growth will come from mobile users. As this solid report from Forbes India shows, the company is still struggling here, as it is in the U.S., to turn those new users into ad revenue:
Indian businesses spent Rs 2,850 crore on digital advertising as of March 2012, a number that's expected to grow to Rs 4,391 crore next year, according to a report by the Internet Mobile Association of India/Indian Market Research Bureau (IAMAI/IMRB).

…But Facebook has not been able to capture much of this share. Mahesh Murthy reckons that businesses spent about Rs 150 crore on Facebook marketing, but only a third went to Facebook's own kitties in the form of ad revenues. The rest went to social media marketing firms which handle Facebook accounts.
That's not to say that the company will discontinue its aggressive efforts. It likely will not be deterred by policies that attack free speech—Zuckerberg's empire has long been accused of complacency with censorship. It's India'sinfamously unpredictable tax policies toward foreign entities that would conceivably slow the company's expansion.
There's little reason to suspect, then, that Facebook, Google and the western web behemoths will not continue to cooperate with Delhi moving forward. And much of that cooperation should come not as blatant censorship but covert surveillance. According to the Google Transparency Report, India has made over 2,000 data requests and 100 removal requests, third only to the States and Brazil. As the mobile revolution soars, that number will surely rise.
On Monday evening, Christopher Soghoian, a D.C.-based privacy analyst, spoke at the CIS before a crowd of young Indian law students and activists. Despite the shoddy security default of internet firms, he said, they can impose limits on government surveillance. "When these companies receive requests from where they don't have an office," he claimed, "they refuse." Two years ago, Facebook India opened its first office in Hyderabad.
Soghoian advised his audience to push for privacy and transparency standards in India. He shared the story of the long-fought battle for encryption protection with Facebook in the U.S. Yet, he admitted that security provisions can falter when a government is bent on policing the internet—and a company is bent on cooperation. "If you can force companies to hand over the keys," he said, "then encryption is useless."