Namaste, Mr. Eric Schmidt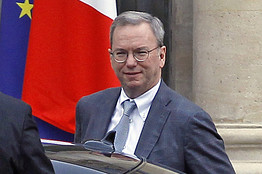 Eric Schmidt arrived at the Elysee Palace for a meeting with French President Francois Hollande in Paris, France, Oct, 29, 2012.
An article by R. Jai Krishna published in the Wall Street Journal on March 20, 2013 quotes Sunil Abraham.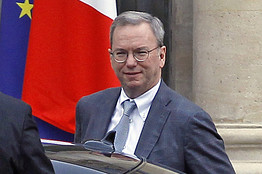 Eric Schmidt arrived at the Elysee Palace for a meeting with French President Francois Hollande in Paris, France, Oct, 29, 2012.
---
Read the original published by the Wall Street Journal on March 20, 2013.
---
Sandwiched between a January visit to North Korea and a stop in Myanmar at the end of this week Google Inc.'s GOOG +0.42% executive chairman, Eric Schmidt, is visiting India until Thursday.
The world's largest democracy might seem to have little in common with the two authoritarian states.
But free speech advocates say recent developments in India are troubling and observers are waiting to see whether Mr. Schmidt addresses them during two  events over the next couple of days.
At issue is a debate in India over the limits to free speech. In 2011, India's government, angered at the spread of inflammatory material online, passed a law that allows it to hold Internet companies liable for "offensive" material posted by users.  Parts of the law are being challenged in India's Supreme Court, which has yet to rule.
In December 2011, India's then-telecoms minister, Kapil Sibal, urged Google Facebook Inc. FB -2.67% and other Internet companies to screen derogatory material from their sites. The requests came amid official anger over content that parodied Prime Minister Manmohan Singh and Sonia Gandhi, president of the ruling Congress party, as well as other leading politicians.
A journalist, Vinay Rai, subsequently filed criminal cases in a Delhi court against Internet firms including Google, alleging material they hosted was defamatory, obscene and promoted enmity among different religious and ethnic groups. The companies are challenging the validity of the case in a higher court. The lower court is expected to begin hearings next month.
Google and the others deny wrongdoing. Google has said it makes unavailable to Indian users any content that violates its terms of services or local laws.
Mr. Schmidt is unlikely to address the ongoing lawsuits. But he might take the opportunity to push India to reconsider its position on free speech, say activists.
"He will obviously make a case..but the government is unlikely  to take it seriously," said  Sunil Abraham, executive director at the Bangalore-based Centre for Internet and Society. "It's much more complicated."
Mr. Schmidt is set to speak at two technology conferences – one organized by the country's software industry body, the National Association of Software and Services Companies, or Nasscom, on Wednesday, and another by Google on Thursday.
Paroma Roy Chowdhury, a spokeswoman for Google India said: "The Google India team is very happy to host him here."
Mr. Schmidt's India visit follows his private visit to North Korea in January where he urged its officials to drop barriers to global Internet access if they hope to develop their economy. He is likely to travel to Myanmar on March 22, after his India trip.
Google is facing other legal challenges in India. They include a federal anti-trust probe on alleged anticompetitive practices by Google's online advertising business. Google says it has done nothing wrong.
For Google, India is an important market for its Internet services as well as mobile-devices software Android.
Market research firm ComScore Inc. SCOR -0.41% said in June that Google reached 95% of online users in India. "Visitors spent 2.5 hours on Google sites, with YouTube accounting for a major share," it said.
More and more Indians have started taking to the Internet to express their views. India has about 62 million people in urban areas using social media platforms, according to a recent study by the Internet and Mobile Association of India, a trade body, and market-research agency, IMRB. That is expected to rise to 66 million by June.
Demographically, the report said, the "highest proportion' of social media usage was among young men and college students, representing 84% and 82% of the total internet users, respectively.
Last year, New Delhi issued a series of guidelines on how government departments should use social media to reach out to people and to ensure public participation in policy framing.
The ruling Congress-led coalition government has now started embracing these networks.
For example, Finance Minister P. Chidambaram earlier this month interacted with citizens during the annual budget proposal using social media platform Google+.
For many, this was seen as a move to counter Gujarat Chief Minister Narendra Modi's use of online platforms during his successful re-election campaign late last year. Mr. Modi, widely expected to be named the prime ministerial candidate for the main opposition Bharatiya Janata Party in 2014, is scheduled to attend Google's event Thursday.