India's Internet Curbs Under Legal Cloud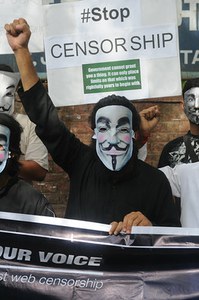 Activists protest censorship of the Web, in Mumbai, June 9.
India's crackdown on the Internet has caused much debate. But was it legal?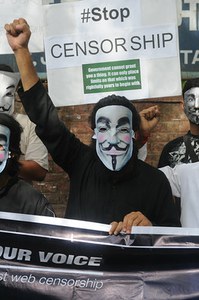 Activists protest censorship of the Web, in Mumbai, June 9.
---
This article by Rumman Ahmed and R Jai Krishna was published in Wall Street Journal on August 25, 2012. Pranesh Prakash is quoted.
---
India's government says its moves this week to block websites, Twitter accounts and news portals was necessary to reduce simmering tensions over ethnic violence in the northeast of the country.
Authorities have far-reaching powers to do just that, laid down in rules framed in April 2011 under the country's controversial new IT law.
But those rules state authorities must give companies 48 hours notice before blocking Web pages. In cases of emergency, New Delhi can block first and inform a special government committee within 48 hours. That committee must notify the blocked sites.
Many of the sites that India blocked or sought to block,  including Twitter accounts of anti-government commentators and mainstream news organizations, say they were given no forewarning of the actions and weren't contacted afterwards, either.
Indian news website Firstpost.com and Kanchan Gupta, a newspaper columnist who is critical of the government, were among those who faced blocks. Mr. Gupta and First Post Editor-in-Chief R. Jagannathan both said they were not contacted by the government either before or after the blocks.
The Home Ministry this week provided lists of around 300 web pages, including Twitter accounts and news stories, to the Ministry of Communications and IT, which then ordered Internet Service Providers to block them.
Kuldeep Dhatwalia, a Home Ministry spokesman, confirmed the lists. The government, he said, was not bound to give notice in an emergency situation.
The government's reading of the IT law is unlikely to win it any friends among those who say the government is curtailing Internet freedoms.
"It seems the government is yet to have a well planned strategy in place to counter threats to public security and law and order events arising out of viral distribution of malicious content via social media networks," said Anirban Banerjee, an associate vice president at CyberMedia Research, a New Delhi-based information technology research firm.
India's government has defended its conduct by saying the blocked Web pages and Twitter handles were inciting communal hatred amid recent violence between Muslims and northeasterners in the state of Assam that has cost almost 80 lives.
The government says some off the sites hosted fake pictures purporting to show violence against Muslims in Assam. In fact, many of these pictures showed Muslim refugees from Myanmar, authorities say.
"We are only taking strict action against those accounts or people which are causing damage or spreading rumors. We are not taking action against other accounts, be it on Facebook, Twitter or even SMSes. There is no censorship at all," the Home Ministry said in a statement Friday.
"We decided on taking action because there were pictures of Myanmar etc. online, which were disturbing the atmosphere here in India."
Critics, though, say the government also targeted Twitter accounts that were critical of Prime Minister Manmohan Singh, giving a political tinge to the censorship.
Some commentators said the government asked Internet Service Providers to block sites without invoking any laws.
"The four orders that were sent to the ISPs don't say under which section or under what power these orders are being sent," said Pranesh Prakash, a lawyer and program manager at the Bangalore-based Centre for Internet and Society.
"They were sent without invoking any statute or without invoking any law. The orders just say that those on the list would have to be blocked immediately. It doesn't say these have be decided by whom, under what provision or what law," Mr. Prakash added.
One telecom operator said on condition of anonymity that the government has not sent any new lists since Aug. 21. Google Inc and Facebook Inc. say they are working with the government to take down offensive content. Twitter Inc. has not commented.
The latest clampdown comes as public-interest groups are pressing the government to scrap the latest Web censorship laws. Critics say the rules not only limit free speech but also expose Internet companies to unfair liability for material posted by Web users.
"In the 21st century, you cannot censor  your way to public tranquility," said Mishi Choudhary, lawyer and director of international practice at New York-based Software Freedom Law Center.