Will the Copyright Law Help the Starving Artist?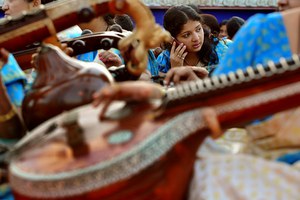 By law, producers are no longer allowed to keep all the royalties to songs, lyrics or other works of arts. Now, these rights will have to be shared with the artist who created them.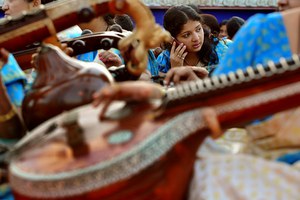 This article by Margherita Stancati was published in the Wall Street Journal on May 28, 2012. Pranesh Prakash is quoted in this.
"I remember when Ustad Bismillah Khan" – a legendary Indian classical musician – "came to me and said that he did not have money to pay his rent," Indian Human Resources Minister Kapil Sibal recently told Parliament.
At the time, Mr. Sibal said he solved the problem by writing him a check.
The government hopes that changes introduced to India's 1957 Copyright Act will allow composers and other artists to do away with such acts of charity. Parliament passed the bill amending the copyright act last week.
By law, producers are no longer allowed to keep all the royalties to songs, lyrics or other works of arts. Now, these rights will have to be shared with the artist who created them.
Earlier, "artists would typically give all the rights to the producer. It was called a work for hire," says Anish Dayal, a Supreme Court lawyer who specializes in media and entertainment legislation.
The amendments to the act means that "even if they want to give rights to producers, they can't," adds Mr. Dayal.
The way the law phrases this is a little confusing. An amendment to section 18 of the act says that authors of literary or musical works featured in movies shall "receive royalties to be shared on an equal basis" with others who have copyright over the work (such as producers.) It's not clear whether "equal basis" means 50% or whether it depends on the number of people with whom the royalties are shared.
The amended law also makes it compulsory for radio and broadcasters to pay royalties every time they air a recording.
The biggest impact of these changes will be on India's film industry, especially on the lyricists and composers of Bollywood music, who have long lobbied for rights over their work.
Before the amendments were given a green light, Bollywood lyricist Javed Akhtar described the condition artists worked in as "bonded labor." Recently addressing lawmakers in the upper house of Parliament, where he holds an honorary seat, Mr. Akhtar shared a long list of cases of famed Indian musicians and composers who lived and died in penury. He named Shailendra, a popular 1950s Hindi lyricist, and Omkar Prasad Nayyar, a composer of movie scores.
For Paromita Vohra, a Mumbai-based documentary filmmaker, said changes to the law mark a first step towards making art production "more equal" by giving artists more rights over their work. "It's about time," says Ms. Vohra, who last year made a film on copyright in the world of art.
"Those who have the money are more powerful than those who make the arts. The act recognizes this, it addresses a power balance," she adds, describing this as a "philosophical change" in the law.
But she says this alone is not enough. "Lawyers are good at circumventing the law," she claims. Still, artists willing to fight for their rights "now have the law to fall back on," she adds.
Stronger labor unions, Ms. Vohra says, would make it easier for artists to make the most of the new legislation. "When that happens, I think the law will be very helpful."
Not all were pleased with the changes on royalties. Adarsh Gupta of Saregama, a music production company, said the law is "extremely unfair to the film and music industry" and that it paves the way to litigation.
Other changes introduced in the act include tighter regulations on cover versions, including a clause that raises the time period after which covers are legally allowed from two to five years.
Critics say these restrictions are excessive and at odds with art produced in the digital era.
"This ignores present-day realities," Pranesh Prakash of the Centre for Internet & Society wrote in his analysis of the amended copyright bill. He used the example of the hit tune Kolaveri Di, which was covered countless times. "The singers and producers of those unlicensed versions could be jailed under the current India Copyright Act, which allows even non-commercial copyright infringers to be put behind bars," he adds.
The act also removes copyright requirements for Braille or for other works of art adapted for people with disabilities.
What the amended law does not include is a clause that many in the Indian publishing industry feared may have made them redundant. The proposed amendment would have allowed non-Indian publishing houses distribute their books in India, removing the territorial exclusivity of local publishers. This clause did not make it in the final version of the law.