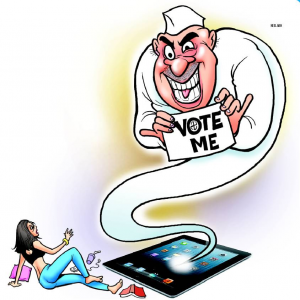 In September 2009, a freshly re-elected Congress took exception to a light-hearted tweet by its newly inducted minister Shashi Tharoor, chastising him not only for causing offence but also for being too quick to air his views on social media.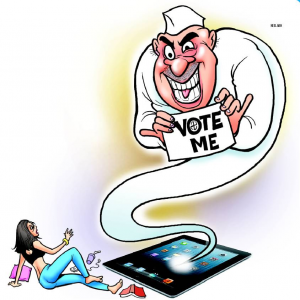 ---
This article by Rukmini Shrinivasan was published in the Times of India on April 27, 2013. Sunil Abraham is quoted.
---
So much can change in less than four years.
Rocked by allegations of corruption, and with anti-incumbency firmly setting in, the Congress is struggling to reconnect with voters, and is belatedly embracing social media. Tharoor has had the last laugh;his social media activity has earned him praise and is being emulated by others in his cabinet.
As political discussion spills over from the neighbourhood tea shop and coffee house to Facebook and Twitter, their potential impact on electoral politics is something that those in power and those hoping to get there are taking very, very seriously.

The BJP runs its social media operation out of its headquarters in Delhi. Most of the party's top leaders have an official Facebook page and a verified Twitter handle, while others, including octogenarian L K Advani, blog.

The Congress is late to the party;it does not have an official Twitter account and has such a halfhearted Facebook presence that it isn't immediately clear that it's official. But it seems to be waking up - young leaders including Deepender Hooda are now part of a social media strategy team, and the younger cabinet ministers are enthusiastic social media adopters.
Rural India Logs On
Despite representing a largely rural, relatively impoverished constituency, 48-year-old Biju Janata Dal MP Baijayant Panda is a Twitter natural. "Rural Indians are slowly beginning to get more active online and I am beginning to interact more often with my constituents there. In fact, particularly on Facebook, there are already a significant number of Odia users, from all around the world, but also those living in my constituency, " Panda says.

Simultaneously, social media entrepreneurs are responding to what they see as an area of huge growth. The Australian web-based citizen-politician interaction platform OurSay has just come to India (see interview on page 5). In the run-up to the elections, Twitter and Google are both reaching out to politicians and civil society organisations in the citizen engagement game and have pitched town-hall style interactions to several politicians, including union cabinet members and state governments.

Social media entrepreneur and analyst Mahesh Murthy believes that Indian social media users have discovered the wonders of political engagement online. "Only now are they figuring out that the real news doesn't seem to get out on traditional media - and more importantly, that their response on traditional media (at best, a letter to the editor) is puny in comparison to the impact they can have via social, " he says. Moreover, says Murthy, the impact is not online alone. "The Nirbhaya case, the Palghar case, the recent child rape case - all would have gone generally unnoticed a few years ago. Each of them, thanks to social media, became a cause to rally around. Add to this disclosures under RTI, NGOs becoming more transparent, online petitions and more - the staid and set political world of India is undergoing the first wave of massive, irreversible change. "
Such evangelism about the potentially transformational impact of social media was echoed in a recent study which claimed that Facebook users could swing elections in 150 constituencies in the next Lok Sabha election. Apart from being statistically flawed, the study also failed to look beyond the number of people on social media, to the kinds of conversations they are actually having.
A Broadcast Medium?
With some exceptions, the majority of politicians on Twitter and Facebook use it as yet another broadcast medium for purely one-way traffic, a rare few respond to the hundreds who leave comments on their Facebook and Twitter posts. So while Gujarat chief minister Narendra Modi might have asked the FICCI ladies to get in touch with him on social media, what he omitted to mention was that he never responds.

Most politicians and parties are not doing a good job of engaging with citizens through social media, agrees Sunil Abraham, executive director of the Bangalore-based Centre for Internet and Society. "Most of them are still outsourcing this function completely. This reminds me of the early days of email in large corporations and government offices when every email was printed before it was read by its recipient and the response dictated and recorded using shorthand before it was entered into the computer. This approach will not work with social media users. Personal involvement will be one way to improve results, " says Abraham.

Arvind Gupta, who sold off his analytics firm to run the BJP's IT cell from its Lutyens' Delhi headquarters, disagrees. "The volume of responses on Twitter or Facebook make it impossible for Sushmaji [Swaraj] or Modiji to respond to them all, but they often meet online supporters offline too, or highlight insightful comments on their blogs, " says Gupta.
Younger leaders tend to be better at online interaction. So while 89-year-old Karunanidhi of the DMK has a Twitter account but follows no one, the party's youngest MLA, TRB Rajaa, has five Facebook pages and a Twitter handle, and replies personally. "I get several hundred messages on Facebook in a day, but I try to respond to at least half, especially those who are raising grievances, " he says.
Some times, the proximity of a politician to the blaze of online outrage can force action. "When (IIPM director) Arindam Choudhary got a remote district court to ban a UGC web page, social media turmoil spurred first Shashi Tharoor and then [minister of state for information technology] Milind Deora and then the government into action - and the case was challenged and the ban was overturned, " says Murthy.
Influencing First-time Voters
But the big question remains - in a country where the internet is for a privileged few, is it too early to start talking of social media playing a role in electoral politics?
Sanjay Jha who runs the website Hamara-Congress. com and is a member of the party's social media strategy team, believes the impact will largely be on youngt voters. "It will have an impact on first time voters of urban India as also on voters who are unsure about their political leanings, " he says.

"Social media like mainstream media will influence its users. Internet users are still roughly around 10% of the population. However, they are elites and can influence wider offline discourse. Social media may have other benefits as it would help make the elections more transparent and free from manipulation, " says Abraham.

"One has to be careful - we don't know yet how many people on Facebook are registered to vote, and how many more will do so in time. We also need to understand better the ability of a youth on Facebook to influence his parents' and family's voting choices, " says Murthy.

In number terms, Murthy believes that social media will have some impact on 8-15 % of the electorate come 2014. "The 2014 elections will be a turning point. But I sense the 8% to 15% will more than double by 2019 elections - and that will be a moment when social media is far, far more important. The smarter parties and politicians will realise this and start making investments and efforts right away, " says Murthy.

Gupta strongly believes that a segment of the population that is politically engaged online but will not come to dharnas nevertheless votes, and should not be dismissed. "You often see people who make "I voted today" their Facebook status, " he says. Moreover, citizens politically engaged online are influencing each other and changing minds, he says.
Party Time
Many in politics also believe that besides the voter - who makes his or her decision based on a complex matrix of reasons - social media plays an important role in helping the leadership of parties connect with and energise their cadre and supporters.

"At the very least, social media will bring interested volunteers and party-workers closer to public representatives by making direct interaction possible. Certain candidates, even independent and otherwise lesser fancied ones, will have a shot at mobilising supporters at rallies, even though they have far fewer traditional resources to do so, " says Panda.
Rajaa agrees. "Not just voters, many motivated cadre also use social media to keep in touch with our youth wing and with the second-rung leadership, " he says.
---
With additional reporting by Kim Arora.
---