Wikipedia writes a new script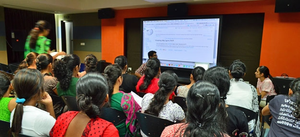 Wikipedia is available in over 30 Indian languages. Add Konkani to that list. The Centre for Internet and Society has just completed a programme of training students to write for Konkani Wikipedia.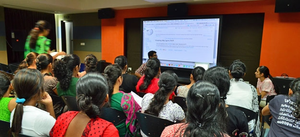 ---
The article was published in the Goan on August 24, 2013.
---
They sat listening to Subhashish Panigrahi, learning how to seamlessly flow from English to Konkani. Panigrahi walked around the room, 40 sets of eyes and ears followed him eagerly, latching on to his every word. Then the team moved into a small conference room at the new Central Library, where they sat down to work on a few articles in Konkani. The reason: Because Wikipedia has a new language – Konkani.
When on February 4, 1987, Konkani in Devnagri script was declared the official language of Goa according to the Goa Daman and Diu Official Language Act, 1987, little did the officials know that one day, one of the largest web-based encyclopaedias would want the encyclopaedia to be available also in Konkani for the 30, 00000 or so Konkani language speakers over the world.
Wikipedia, a multi-lingual, web-based, free content encyclopaedia is available in over 30 Indian languages and several languages of other nations. The project to begin a Konkani Wikipedia began in 2006. "Sadly, even after seven years of inception, Konkani Wikipedia has only 90 articles," says Nitika Tandon, of the CIS-A2K (Centre for Internet & Society, Access to Knowledge) team. The CIS is a movement for open access to web-based information. "Rather than being open receivers of knowledge, we want people to be active producers of knowledge," she adds. The CIS has selected five Indian languages to uplift and Konkani is one of them.
Carlos Fernandes, the Curator of the Central Library said, "We supported it because this will maintain the culture and develop the language using technology. Articles in Konkani language will be available to people all over the world and thus should one want to research something in Konkani, his search will not be limited to the books of the library." Another project by the CIS team to make Konkani more well-known is digitising the 4-volume Konkani encyclopaedia published by the Goa University. "This encyclopaedia will be uploaded by this team and will be available under the creative commons licence," says Dr Gopakumar, the university Librarian.
The programme covered aspects like how Wikipedia works, how to edit articles, how to type in Devnagri, how to create a new article, etc. "We are learning how to about editing and writing in Wikipedia. The 40 students are of MA part 2, and the group is divided into two. The first 20 will work on the first two days and the others will work on the last two," says Fr Luis Xavier Gomes who is doing his MA in Konkani at Goa University. Fr Gomes will be writing on Konkani tiatr and Konkani cantar after having researched and referenced about the same.