The disabled also grapple with copyright issues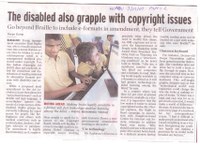 An article in The Hindu by Deepa Kurup - 03rd December, 2009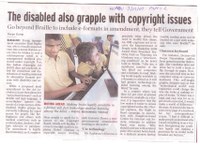 Go beyond Braille to include e-formats in amendment, they tell Government 
MOVING AHEAD: Making books legally available in e-format will fuel technology-enabled learning among the blind.
BANGALORE: Young management executive Hari Raghavan, who is visually impaired, runs into a moral obstacle every time he wishes to read a contemporary novel or a management textbook protected under copyright. For, the Indian Copyright Act (1957) does not explicitly allow for conversion and distribution of reading material in alternative formats persons with disability can access.
While a proposed draft amendment to the Act includes a clause that allows for "specialised formats" such as Braille and sign language, it nevertheless ignores the needs of a large section of the disabled. Rights groups are currently lobbying for equal access for people like Mr. Raghavan and others with medical conditions such as cerebral palsy, dyslexia, multiple sclerosis or paralysis. The amendment is legally discriminatory as it requires these people to apply for licences to the Copyright Board, which will finalise licence terms and royalties, explains Rahul Cherian, a copyright lawyer working with Inclusive Planet, a non-governmental organisation working in this sector.
'Use technology'
Mr. Raghavan's dilemma is precisely what drives the need to modify this clause. An IBM employee set to receive the Empowerment of People with Disability 2009 Award from President Pratibha Patil on Thursday, his blindness was a "deteriorating condition" so he never took to Braille. "Like me, a significant number of the 'late blind' use computers and e-formats to read. Making books legally available in e-formats is critical as it will fuel greater technology-enabled learning among the blind," he says.
In a country where less than 0.5 per cent of printed material is available in e-format, it is imperative that the law makes it easier to access copyrighted works, Mr. Cherian explains. His Right to Read campaign, in association with Bangalore-based Centre for Internet and Society, attempts to address these very issues. "Why should a person with cerebral palsy who cannot hold a book or a dyslexic person having trouble reading print not be treated on a par with someone who uses Braille?" he asks.
Onscreen keyboard
For instance, 26-year-old Deepa Narasimhan suffers from spinal muscular dystrophy. Her condition does not allow her to hold a book or flip through its pages. However she can read text on her computer using an onscreen keyboard. This self-taught graphic designer says in this "technological world" such legislation could change the way she looks at making copies of books. "If there was a legal and easy way for us to get a book converted, it would make a world of difference," she says. At present she has to scan every page of a textbook for her correspondence course. "I find it difficult to make people understand why I need everything in an e-format. Recognising my condition legally and making a provision for us would really broaden our horizon."