India's social media "spring" masks forgotten protests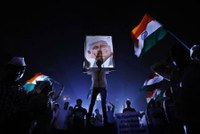 A supporter of veteran social activist Anna Hazare holds his portrait on the ninth day of Hazare's fast at Ramlila grounds in New Delhi August 24, 2011. Credit: Reuters/Adnan Abidi
Irom Sharmila has been on hunger strike for 10 years to protest against military abuses, force-fed by tubes through her nose. But the tragedy for the world's longest hunger strike is that she is on the wrong side of India's digital divide.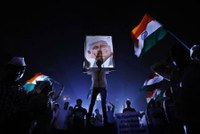 A supporter of veteran social activist Anna Hazare holds his portrait on the ninth day of Hazare's fast at Ramlila grounds in New Delhi August 24, 2011. Credit: Reuters/Adnan Abidi
Twitter, Facebook and aggressive private TV have helped rally India's biggest protests in decades to support civil activist Anna Hazare, a digital groundswell of a wired middle class that echoes the Arab Spring and has taken a Congress party-led government of elderly politicians by surprise.
But Sharmila, who has been on a hunger strike in Manipur to demand an end to the army's sweeping emergency powers there, has only managed a small following, a footnote in media coverage.
"We also once tried to take our fight to New Delhi ... but we did not get support from the rest of the nation," Sharmila told Tehelka magazine.
She must be frustrated. The Hazare phenomenon has rallied Indians from the start with social media. Hazare's India Against Corruption website says it has had 13 million phone calls of support. Its Facebook page has nearly 500,000 "likes".
Its leaders have tweeted each step of the whirlwind crisis, whether describing their arrests in real time or negotiations with the government, outmanoeuvring Prime Minister Manmohan Singh and his ministers at every step.
"Protest at PM's residence: 35 people detained, taken to Tughlaq Rd. PS, hundreds still there, come if you can #Janlokpal," twitter user @janlokpal sent its followers in just one example of how the movement was rallying support.
Cases like Sharmila expose the digital divide of Asia's third largest economy and underscore how a growing urban middle class may be getting its political voice heard while millions of poor remain off the digital protest map.
"This is the first time digital social media has resonated with such a large number of people," said Nishant Shah, head of research at the Centre for Internet and Society think-tank.
"But this is far more of a middle class, urban movement, than a national movement. Many people in India are excluded from it."
Twitter and Facebook are barely used in many of India's social causes, including battles over land rights that are one of India's most pressing problems involving millions of farmers.
Huge social issues in India, from caste discrimination to high food prices, from the building of dams to protests by farmers against nuclear power plants, have failed to create the kind of digital mobilisation that Hazare enjoys.
A Digital Divide
India's internet users have grown 1,400 percent between 2000 and 2010, behind only China and Vietnam among Asian countries, according to a report by Burson-Marsteller, a consulting firm.
But that masks India's low base. Internet penetration is around 8 percent in India, the lowest among major Asian countries. That compares with nearly 40 percent in China.
Out of a population of 1.2 billion, there are only 29 million people active in digital social networks. A report by Maplecroft consultancy warned that India was lagging other BRICs, Brazil, China and Russia in "digital inclusion".
"India, for example, the wealthier, more affluent segment of the population, primarily based in urban areas, has embraced the use of modern communications technology," the report said.
"The vast majority of the population has, however, been excluded from this process."
Those statistics highlight that while the middle class has found a voice, electorally the centre-left Congress party will still need to pander to its traditional vote base of millions of farmers and poor Indians ahead of a 2014 general election.
Congress, in power for most of the life of independent India, has failed to use social media tools. One minister lost his job for tweeting too frankly, in a sign of government unease over the web, and the party lags behind an opposition that has embraced Twitter.
Libya Overshadowed
So far, private TV channels have provided 24-hour coverage of the protests -- the news from Libya is hardly to be seen. Urban Indians with mobile phones in hand have dominated rallies in the open grounds where Hazare was on his second week of fasting.
Small protests across the country, from demonstrations outside ministers' houses to rallies outside metro stations, have been organised through Twitter and Facebook.
An app that can be downloaded on to smartphones running the Android operating system gives users the latest news on the campaign for a tough "Jan lokpal", or anti-corruption bill, and details of the latest meetings.
"Social media has been huge for us, it has a life of its own," said Shazia Ilmi, in charge of Hazare media strategy.
Even before Hazare was arrested last week, organisers had prepared a pre-recorded video from him that went on YouTube.
The movement does have deep roots and social media has widened the protests, if not caused them. Many of Hazare's protests have also been through word of mouth. Corruption also affects the poor more than middle classes with endemic bribes, whether permission for street food stands or driving licences.
"It's not an up and down, national movement. It is largely a middle class cause," said Sagarika Ghose, a novelist and journalist at the CNN-IBN news television channel.
"But it's hugely important one. For a younger generation, corruption has become a catch-all phrase for the failure of development."
Some activists are already criticising Hazare as a hype of an elitist social media.
"Those thronging the Ramlila grounds or marching in support of Anna in the metros are not necessarily 'the people' of the country, and it is dangerous to take the two as identical," academic Prabhat Patnaik wrote in The Hindu newspaper.
(Editing by Paul de Bendern and Alex Richardson)
This article by Alistair Scrutton was published in Reuters on  25 August 2011.