When revolutions go viral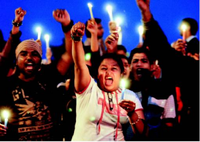 Thanks to Facebook and Twitter, the urban Indian youth, famously detached from the goings-on in the country, came out on the streets to support the anti-corruption movement - not only here but abroad as well. TOI-Crest looks at the anatomy of a modern protest movement.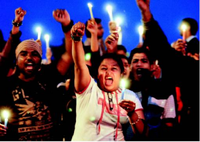 I try to change my display picture, update my BBM status and send out a tweet as often as possible. I feel like I really need to do my bit for the country, " a college student was overheard saying outside Mumbai's Azad Maidan where protests against the anti-corruption movement are still under way. Once used to reconnect with long-lost school friends or to post vacation pictures, social networking sites have surfaced as the new forum for political activism. The world's attention is now on the potential of the digital sphere in historical revolutions as witnessed in Egypt and Tunisia. Though set in a vastly different political context, and used to different ends, the power of social media to drive citizen action in India has become apparent as Team Anna's call to action resonates through the Internet. 
From earlier this year at Jantar Mantar to the culmination of the protests when Anna Hazare became a household name, the anti-corruption movement has harnessed technology and social media tools to engineer large-scale protests. Not only has the movement deviated from traditional methods of mass mobilisation, but it has also brought young urban India into the fold of political activism. Ritesh Singh, a third-year computer science student at IIT Khargapur, created the 'India Against Corruption' Facebook page in December last year. Since then, the page has gathered more than four lakh supporters. There are also several regional chapters and over 150 unofficial Facebook pages devoted to Anna Hazare and India Against Corruption. 
The 'Students Against Corruption' group has been encouraging students to use social media for the cause by sending out messages such as "Students should share and promote this page for the goodness (sic) of the nation . . . This is the thing dat we can do for our nation. . . This is wat India needs. . . Promote it, share it, blog it, discuss it . . . then feel the change. " Petitions, calls to action and encouragement to join Hazare's fast also became commonplace in the last three months. The blog post '10 Ways to Support Anna Hazare on Social Media' by social media manager Sorav Jain has been shared 256 times on Facebook. 
Relying on symbolism such as Gandhian photographs and references to the freedom struggle, Team Anna has created a media phenomenon. Text messages such as 'Behri sarkar ko janta ki aawaz sunai nahi de rahi hain! Lets show ppls anger!' and 'ANNA ki aag shuru ho gayi hai, Inquilab Zindabad' have helped in creating mass support. Meanwhile twitter has been abuzz with dialogue, support and reactions to the protests, as Anna Hazare's campaign became the top trending topic in India over the past few weeks. While the image of Hazare meditating at Raj Ghat became iconic on August 15, 2011, Team Anna's voice was heard on the TV, on mobile phones, YouTube and even on T-shirts. Developers are in the process of launching an India Against Corruption game, India Against Corruption mobile applications, India Against Corruption browser toolbars and more. 
Though digital activism is often criticised as passive armchair activism or slacktivism, the use of technology in organising social protests has brought a different kind of activist on the street: young, urban India. "It's not as if what is happening is new, but it is happening on an unprecedented scale, " says Nishant Shah, research director for the Centre for Internet and Society, Bangalore. "Traditional media has also done this in different ways, but in the past the protesters have been the disenfranchised. The use of social media has mobilised a new constituency - it has brought the urban middle class to the street. However, the use of such tools is producing a different kind of exclusion. There is a noticeable lack of poor urban people in the protests. This is not the representation of 1. 2 billion Indians as it is being made out to be. " 
The use of social media has garnered support for Team Anna from the unlikeliest parts, catapulting 'India Against Corruption' (IAC) into a global phenomenon. Young Indians living in places like New York, Singapore, London and Hong Kong are tweeting, facebooking, organising and gathering to talk about Hazare and his cause. Some young professionals have even taken time off from their careers to fly down to India and physically support the cause. 
Sunil Khaitan, an investment banker working with Deutsche Bank in Hong Kong flew down last Friday to attend the protests at the Ramlila ground and address the crowd at Mumbai's Azad Maidan. Khaitan, 28, is originally from Kolkata and graduated from IIM Bangalore in 2006. "I was involved in the Right to Information movement in 2005, have been in touch with Professor Trilochan Sastry at IIM Bangalore, and have been tracking this movement from the days of Jantar Mantar, " he says. 
Khaitan is also active in the Hong Kong chapter of IAC, which organised a meeting on August 21, 2011, attended by over 300 people. "There is a clearly outlined process on the IAC website which tells you how to conduct a meeting, " says Khaitan. "As the news channels are not available in HK, so many people are not aware of the real cause. So we talked about the points of contention and showed videos with Arvind Kejriwal, Kiran Bedi and Hazare addressing the crowd. " He argues that harnessing social media has helped get people from different walks of life involved with the Hazare movement. 
Social networking sites have also helped create a close-knit Indian community in Hong Kong. "Anna has also made a big point about the youth being present in the protests, and it is easier to connect with the youth through social media, " says Khaitan.
"Peer pressure also comes into the picture in that age group - people want to get involved to appear impressive to their friends. " But though technology has brought a new demographic of Indians into the realm of protest, it manifests its power through the oldest form of networking - word of mouth.
This article was published in the Times of India (Crescent Edition) on 27 August 2011, read the original story here