Peeping Toms In Your Inbox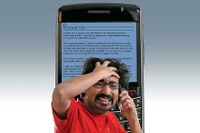 Nothing's safe any more—not your mobile number, nor your e-mail—as they're put on offer for the benefit of telemarketers, writes Namrata Joshi and Neha Bhatt in an article published in the Outlook.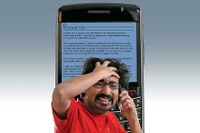 It was Saturday morning and Sneha Gupta wanted to book a table for dinner at a Delhi restaurant called Rodeo. So she called up a telephone directory service and procured the restaurant's phone number, firmly nixing the operator's seemingly casual offer to also provide numbers of similar restaurants. But that wasn't the end of the story. The next day, Sunday brunch with her extended family was interrupted by calls from sundry restaurants enquiring if she'd be interested in hosting parties and events—at a discount.
"Instead of enjoying the food, the company and the conversation, I was busy ticking off these guys. Why were they assuming I wanted to organise a party? How did they get my mobile number to blatantly infringe on my private family time?" asks Sneha. She got no answers from them, but the sequence of events is clear: the telephone directory service sold Sneha's contact details to marketers who broadly assumed, from her Rodeo outing, that she was a party animal, and decided to bombard her with similar offers.
Something similar happened to media professional Raghav Agarwal. He paid off his bank loan for a car in two-and-a-half years instead of the stipulated five, happy to stop living off credit. But from the next day, he was inundated with calls offering him bigger and better credit for everything—from house to car to education. "It was awfully distracting to deal with this while trying to meet deadlines," he recounts. The fact that he had paid back the loan ahead of time had, by hook or by crook, reached financial outfits who used the information to serenade what they saw as an attractive catch.
For Kuhu Tanvir, these attentions come laced with a hint of menace. The film student was startled to find herself receiving unsolicited calls from unknown vendors offering to maintain the water purifier installed in the recesses of her kitchen. "It's scary to think," she says, "that there are people out there who even know which products you've bought for your house." It was equally unnerving for film producer Gaurang Jalan to have his personal details passed on to data-miners by none other than a prominent Calcutta club ("strangers now call you on your birthday, offering schemes"). All those out there accosted by calls offering car insurance just at the time their policy is up for renewal will know exactly how they felt....
8 Ways In Which You're Being Intruded Upon
Privacy is being redefined in India, with the lines between the public and the private blurring not just for celebrities but also for ordinary citizens...
Personal details like your phone number, date of birth, credit history, bank loans, insurance policies, white goods purchases, favourite restaurants and nightclubs are bought and sold among cellphone operators, banks, shops, telephone directory services, credit card companies, hospitals, hotels, elite clubs and even your locality's residents' welfare association.
Unsolicited telemarketing calls, spam SMSes and e-mails intrude incessantly on your private space, time
Your online purchases and searches, archived e-mails and documents are being tracked for marketing purposes. Social networking groups and search engines stand accused of sharing user information and contact details.
Personal pictures, information about relationships on social networking sites are being misused by online predators and molesters.
Identity theft is fast emerging as a threat.
Surveillance cameras and intrusive frisking have become a way of life, at airports, cinema halls, malls, hospitals, hotels, etc.
TV cameras and sting operations blur the line between individual privacy and public interest.
People encouraged and offered inducements to bare all about their lives on TV. Shows like Emotional Atyachar, Splitsvilla, Truth Love Cash play out individual dating rituals and infidelity games for the masses.
7 Steps You Can Take To Protect Yourself
Give out your mobile number cautiously, if at all; don't print it on the visiting cards you hand out generously. Give only your landline number if you have to, to avoid being constantly disturbed.
Be wary of filling in random forms at retail stores and restaurants, or the gift voucher you're offered in return for your friends' names and phone numbers.
Be alert while shopping with your debit or credit card. The retailer may be also swiping the card on his computer to feed your contact information into it.
Even though the Do Not Call facility has not worked for a majority of users, you lose nothing by registering for it on www.donotcall.gov. You can't complain about unsolicited calls unless you register.
Online, be cautious of the personal information you reveal, such as your date of birth and photographs, which make you especially vulnerable to identity theft. Use Google dashboard and the new Facebook privacy settings to protect yourself.
Get the latest browser that allows you to delete cookies-as-you-go, delete your browsing history regularly, learn to encrypt your e-mail.
Always read privacy clauses in bank and other forms, and on websites carefully, and remember to tick opt-out boxes if you don't want to be besieged with new product information.
For celebrities, the lines between the private and the public have always been blurred. But in a transforming India, ordinary people like Sneha, Raghav, Kuhu and Gaurang are finding themselves intruded upon in newer ways—from the trivial to the serious—and across varied platforms, from the mobile phone to the internet, TV to the surveillance camera. And, with citizens like them mostly dimly aware of how to safeguard, renegotiate or fight for their right to privacy—enshrined in the Constitution, but vaguely defined—in a changing world, and no effective laws to rein in those who violate it, the infringements and threats are set to increase.
Take telemarketing, perhaps the most insistent manifestation today of this marauding culture. It started out as an irritant, became a nuisance and is now a virtually unchecked invasion. "In the West, telemarketing is an unobtrusive experience thanks to opt-in services by which users get calls only if they ask for them. Moreover, governments discourage telemarketers through strict regulations. In India, it's a menace," says Supreme Court advocate Harsh Pathak, who has litigated against telemarketing calls and the sale of personal data to companies.
Indeed, you can chart an entire day in your life with these intrusions as markers. You get woken up with the SMS: "Hare Krishna. Today is Ekadashi. Fasting from grains and beens (sic). Chant Hare Krishna mahamantra 25 rounds (sic) and be happy. Hari bol." Through the day, they keep coming, both SMSes and human voices, trying to sell you everything from houses and farmland to hotel deals, sauna belts, equity tips and public speaking skills. And, if you happen to be even an occasional club-hopper, your phone could carry on beeping till two or three am, with SMSes announcing the next gig in town.
It's clear from this virtually round-the-clock barrage that our personal lives are up for sale in an aggressive marketing-driven environment. Be it telecom companies, banks, shops, credit card firms, DVD rental libraries, insurance, auto dealers, clubs or hotels, they all profit from sharing personal information—phone numbers, credit history, spending patterns, shopping preferences and much else—about their customers. "The irony is that the corporate world has no accountability or transparency in India but the public has turned transparent for them," says media analyst and columnist Sudheesh Pachauri.
Those often identified as the prime offenders in this game are quick to shrug off blame, or not respond, as Outlook found. ICICI Bank could not "participate in this story", Airtel declined comment while Vodafone did not respond at all. Rajat Mukarji, chief corporate officer, Idea Cellular, who did respond, said phone companies were unfairly blamed for unsolicited calls. "Such data is available everywhere now, you can buy it off the Net for Rs 150," he argued. HDFC Bank's chief information security officer Vishal Salvi also stoutly denies that databases are sold, and when asked why existing customers are deluged with new product and service offers, says: "It only happens on a need-to-know, need-to-do-basis." That's the theory, but in practice, many customers find that the "need" seems to be defined by the banks, not their clients.
So where does that leave the consumer? Well, says Bangalore-based freelance writer and photographer Darshan Manakkal, "On a good day, I plead with the telemarketer to never call me again. With the more persistent ones, I try a different approach, like putting them on hold while I go for a bath. On really bad days, I just abuse them." Others, like Chennai professional P.K. Pradeep, who shared with us pages upon pages of (extremely polite) e-mails to Airtel and Vodafone requesting them to halt unsolicited calls and SMSes, have been more persistent, but have achieved little beyond the robotic response, "We're looking into it."
Signing up, along with some 66 million souls, at the National Do Not Call (NDNC) Registry set up in October 2007, provided no protection to Pradeep, nor did changing phone numbers. "I got a new number from Vodafone recently, and would you believe it, the very next day I was bombarded with promotional messages. They had clearly passed on my number," he says. The NDNC of the Telecom Regulatory Authority of India (TRAI) is now widely acknowledged as a failure. There was a brief dip in calls, but they resumed with renewed gusto. You could get lost in the maze of explanations for why NDNC doesn't work; what's clear, though, is that it has no capacity to deal with telemarketers who fail to register with it—like all those unknown real estate companies who bombard you with SMSes—and little teeth to deal with those who do. Fines are laughably minuscule—ranging from Rs 500 to Rs 1,000—and the threat of disconnecting a telemarketer's line is an empty one when it can quickly sign up and assault consumers from another connection. In view of its failure, a Do Call registry has been mooted, on the more consumer-friendly principle that those who want to be called should opt in rather than opt out. Consultations are on but its future shape is still unclear, with telecom companies (no surprise there) opposed to it. "We have gone far with dnc. To now backtrack and try something new doesn't seem feasible," says Mukarji.
"The whole problem of unregistered telemarketers will continue and telecom companies will go on blaming them," S. Saroja, legal coordinator for the Chennai-based Citizen Consumer and Civic Action Group, predicts pessimistically. The group has tried, to no avail, to get phone companies to trace bulk SMSes, which she maintains are easily traceable. "Telemarketing is a Rs 50,000-crore industry and growing at 20 per cent every year. Nobody wants to upset it as everybody is making money out of it, including the government," says Supreme Court advocate Nivedita Sharma, who has fought her own battles against the sale of privacy.
Meanwhile, an expanding online world is throwing up its own challenges. By 2013, according to some estimates, India will have the third-largest internet user base in the world. Already, with 50 million-plus users and growing, it is a magnet for marketers, who as we know—without perhaps fully internalising the fact—avidly follow the telltale digital pugmarks and trails we leave on the Net as we e-mail, search, shop and obsessively communicate with each other on platforms like Facebook and Twitter.
These spaces on the Net, and their counterparts on other media, seem to be drawing us into an open, sharing, even confessional, culture, without our being fully aware of our vulnerability. We occasionally get intimations of it—like when our e-mail account is hacked into and bizarre mail sent out on our behalf; our Facebook pictures downloaded and their obscene versions floated on Orkut, as happened to two Delhi airhostesses recently; or vicious, revealing comments on our personal lives posted amid the banter on our favourite chat sites.
However, as media analysts point out, there is little push in the Indian environment to do what Western users of Facebook did recently: forcing it to change privacy policies and settings by protesting against its inadequate privacy controls. Here too, as with telemarketing, the regulatory environment is missing.
"In India, there are no regulatory bodies related to online privacy concerns like in the US and Canada where there are privacy commissions which force corporations to make changes in their privacy policy in the interest of citizens," says Sunil Abraham, executive director, the Centre for Internet and Society, Bangalore.
But individuals are to blame too. Saad Akhtar of naukri.com points out: "We don't even read the fine print on privacy policies on websites, not realising that a lot of the data we upload even on Indian social networking websites becomes their property, which they can share with advertisers."
Indeed, Akhila Sivadas of the Centre for Advocacy and Research, says that privacy issues are creating a cultural crisis of sorts, with no understanding of them, leave alone resolution. "Privacy is something that has been negotiated in a personal, intimate, micro universe. We have drawn our individual lakshman rekhas. But we have not debated on privacy norms as a society in a public space, which is very significant in the wake of how the mass media and social networking media is exploding in our country," she says. It's leading to an uneasy blend of the very closed and guarded, and the extremely open and no-holds-barred in our society. "There is no robust normative system in place, and corporate entities are exploiting that void," she says. "The market is primed to take advantage and exploit existing conditions for profit. We are allowing the market to overreach itself," agrees adman and social commentator Santosh Desai.
So what should be done? Obviously, the R-word—regulation—is critical, and hopefully, the cry for it from the ground will become stronger, as intrusions gather apace. But it would help for consumers to get smarter. Some of the questions to ask ourselves are: should I really be patronising a phone directory service, as Sneha did, that states that it shares information with third-party members and is not responsible for that information being misused by third parties? Should I hand out my visiting card, with my mobile number on it, to all and sundry? Should I reflexively press the "I agree to the terms & conditions" button while signing up for net services without reading the fine print? As Desai puts it, we need to be "mindful, suspicious and careful". Without, of course, descending into paranoia. The irony, getting sharper and sharper in our lives, is that the very platforms that are used to invade our privacy also enrich our lives in manifold ways.
Read the original article in Outlook