India: obscene pics of gods require massive human censorship of Google, Facebook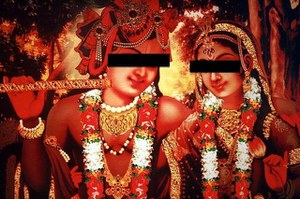 It's hardly the sort of Internet policy statement one hopes to hear from judges in major democracies. "Like China, we can block all such websites [who don't comply]," Justice Suresh Cait told Facebook and Google lawyers in India yesterday. "But let us not go to that situation."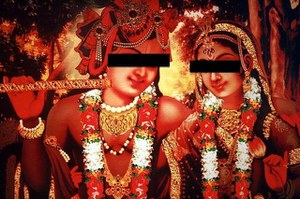 No, let's not. But it's what the government wants if Internet companies won't start screening and censoring all user-generated material on social network and user-generated content sites. And they'd better do their screening by hand, not with machines.
The New York Times reported last December that India's Telecommunications and Human Resources Development Minister, Kapil Sibal, has been battling hard with Internet companies on pre-emptive screening and censorship.
About six weeks ago, Mr. Sibal called legal representatives from the top Internet service providers and Facebook into his New Delhi office, said   one of the executives who was briefed on the meeting.

At the meeting, Mr. Sibal showed attendees a Facebook page that maligned the Congress Party's president, Sonia Gandhi. "This is unacceptable," he told attendees, the executive said, and he asked them to find a way to monitor what is posted on their sites.

In the second meeting with the same executives in late November, Mr. Sibal told them that he expected them to use human beings to screen content, not technology, the executive said.
The Internet companies insist that they can't possibly pre-screen everything that goes up. If something truly is illegal under local laws, they are generally willing to take it down when a court rules.
The main concern is obscenity (though criticism of government officials appears to touch a sore spot, too); in the current case against Facebook, Google, and others, the obscenity involves pictures of gods, goddesses, and Mohammed.
"At present it's obscene images of Gods and Goddesses, tomorrow it can be an image of someone in your family posted online. There has to be some control," Justice Cait said at yesterday's hearing. He allowed the case against the Internet companies to proceed.

Who's pressing for the court case? A journalist. NDTV has a new interview with him, in which the man presses for quick action. (Note: the actual interview portion is not in English.)
Can we censor dissent while we're at it? 
Between January and June 2011, India requested that Google remove 358 bits of content by filing 68 different complaints. One was from Google Maps (for "national security"); almost every other was from YouTube, social network Orkut, and Google's Blogger platform. Almost none came with a court order.
"We received requests from state and local law enforcement agencies to remove YouTube videos that displayed protests against social leaders or used offensive language in reference to religious leaders," Google explained.

"We declined the majority of these requests and only locally restricted videos that appeared to violate local laws prohibiting speech that could incite enmity between communities. In addition, we received a request from a local law enforcement agency to remove 236 communities and profiles from Orkut that were critical of a local politician. We did not comply with this request."

This is hardly an inspiring track record. While in public the companies are criticized for obscenity, Google's most recent records show only 3 requests to remove pornographic material. Government criticism and defamation were actually the two largest categories of requested material.
As the Financial Times "beyondbrics" blog notes, the Internet companies are coming under increasing attack for content they host, despite the vagueness of the demands for censorship. For instance, "Last month, a lower court had ordered the sites to remove all 'anti-social' or 'anti-religious' content by February 6. As Sunil Abraham, executive director of the Bangalore-based Centre for Internet & Society, told beyondbrics last month, it's difficult to establish exactly what is anti-religious: for example, the Hindu profession of belief in multiple gods is blasphemous to Muslims, Christians and Jews."
Photograph by Diganta Talukdar
The blog post by Nate Anderson was published in ars technica on 14 January 2012