Nothing unique about this identity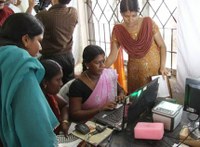 Officials enrol people for UID numbers at the district-level launch of the project in Kochi. — DC
Relying on the government to protect your privacy is like asking peeping tom to install your window blinds, opined, not long ago, the American poet and novelist John Perry Barlow once. The statement attains significance in the context of Unique Identification (UID) project which is being touted as a milepost in inclusive politics. Liberalisation evangelists see UID project as the most virtuous thing that can ever happen to the Indian people who find themselves excluded from the system.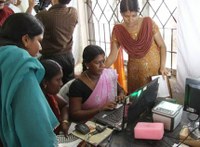 Officials enrol people for UID numbers at the district-level launch of the project in Kochi. — DC
So, their ingenious solution is a 12-digit Aadhaar number — a super identity — to help the common man in opening a bank account or ordering a cylinder refill. This is, besides, the existing identities like ration card, the driving license, PAN card and passport to mention a few.
Prima facie, it may all appear euphemistic initiative; for some even very bright and attractive. For, its proclaimed purpose supposedly is to deepen the democratic process.
However, when one talks to civil rights activists who've gone hammer and tongs against the project, one will realise the truthfulness of Shakespeare's observation that 'a fair exterior may hide a corrupt mind!'
This becomes evident from the fact that the UID project has become the biggest industrial collector of personal information which should frighten up any person still in sensibilities.
The project has already proved disastrous since the unfolding events prove its advocates have not applied much thought to the dangers posed by centralised data collection considering India's heterogenic population.
In fact, head of Unique Identification Authority of India (UIDAI) Nandan Nilekani had maintained UID enrolment was voluntary.
However, Chief Minister Oommen Chandy some two months back asserted his government would make UID mandatory unlike his predecessor V.S. Achuthanandan.
"Even in this basic thing, there's so much confusion. But, the truth is that it's voluntary. You can't be coerced into it", confirms a prominent anti-UID campaigner Usha Ramanathan.
She alleged personal information passed onto UIDAI passes through various outsourcing layers compromising safety. It recently happened in Bangalore where a delivery boy demanded a customer's fingerprint while delivering gas refill!
"Why should anyone give it to an unknown person? It shows the level to which your personal information could get disseminated", she says.
UID, in fact, is supposed to be foolproof. However, again in Bangalore, miscreants could easily fake an Aadhar number in the name of none other than Nandan Nilekani himself!
The fraud came to light when miscreants offered franchisee for UID enrolment for `2.5 lakh.
"Fake UIDs rackets confirm there's no monitoring. So, how can UIDAI protect your information?" wonders Usha. Nandan Nilekani wants to enroll 60 per cent Indian population by 2014 into UID. However, it's fast proving a chimerical target as the process involving agency-UIDAI-de-duplicating agency has started taking its toll.
"Initially, Aadhaar number was promised within a week. Now, it's taking anywhere between three to six months", pointed out executive director, Bangalore-based Centre for Internet and Society (CIS) Sunil Abraham.
The project faces problems on cash transfer whose aim is to dismantle public distribution shops (PDS) which once done would put the farmer and customer at the mercy of market for their selling/procurement needs.
For, the farmer won't be assured of a minimum support price (MSP) while for the customer there is no guarantee that the price would hold good till such time his account gets credited. Further, experts warn the Aadhar number-linked cash transfer will compromise safety. "Cash transfer using bio-metric is not safe. If it were otherwise, ATMs would've gone for it. Why didn't they do it?" asks Sunil Abraham.
Interestingly, a group of students recently did a research on the efficacy of PDS. The research covering nine States cautioned prime minister Manmohan Singh that PDS was better than cash, except in Bihar.
Professor Sridhar Krishnaswamy W.B. University of Jurisdical Sciences fears the Corproates could link one's Aadhar number to bank account to judge his or her behavioural pattern.
"It's not right. Instead of resorting to blanket surveillance, government should go in for targeted surveillance," Sunil said.
This article by T. S. Sreenivasa Raghavan was published in the Deccan Chronicle on August 5, 2011. The original can be read
here
.