The Niira Radia Tapes: Scrutinizing the Snoopers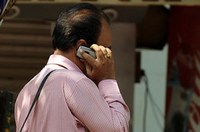 A report in the Hindu last week claimed that more than 5,000 Indian phones are being bugged daily, citing anonymous sources.
There's been plenty of outrage in India over taped phone calls between corporate lobbyist Niira Radia and local journalists, revealing what some people believe is evidence that star reporters at the country's newspapers and TV channels are too cozy with the subjects they're supposed to be reporting on.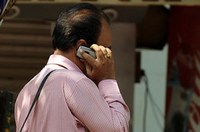 A report in the Hindu last week claimed that more than 5,000 Indian phones are being bugged daily, citing anonymous sources.
Amid that firestorm, though, there's been much less scrutiny of why and how the wiretaps happened in the first place, whether they were justified or a governmental overreach, and how these infamous tapes got from the government into the hands of media companies.
Here are just a few questions that merit more consideration: Who orders telephone surveillance in India and on what grounds? How often is it done? What protections are in place to ensure government officials don't abuse their surveillance authority to settle scores with journalists, corporate officials or ordinary citizens they have a beef with?
The quick answer to all of these: India trusts its bureaucrats to do the right thing. The central government's Home Secretary, along with some intelligence agencies and state officials, has the authority to approve wiretaps. Unlike in the U.S. and other countries, where investigators must generally obtain court warrants for surveillance to pursue matters ranging from drug-trafficking to insider trading, in India there is no such legal tradition or rule.
"There is no oversight infrastructure, either in parliament or in the judiciary," said Sunil Abraham, executive director of the Bangalore-based Center for Internet and Society.  There is only "post facto" protection in the sense that you can sue the government later if you feel you were wrongly wiretapped, he said.
According to local media reports, industrial giant Ratan Tata on Monday petitioned the Supreme Court over the leaking of the tapes, on which he is heard bantering with Ms. Radia (his lobbyist) about a range of topics related to the $70 billion Tata Group. The reports say he feels the episode violated his privacy and wants the leakers to be punished. (While there's no explicit constitutional protection of privacy in India, the Supreme Court in some cases has held it is covered by Article 21 of the Constitution, which says, "No person shall be deprived of his life or personal liberty except according to procedure established by law.")
A report in the Economic Times Monday said government is going to investigate the leak. A Home Ministry spokesman declined to comment on whether an inquiry has been launched but said India's system of allowing a handful of security and intelligence officials to approve or deny wiretaps sufficiently guards Indian citizens' privacy. "It isn't an unchecked kind of thing, that anyone can just do it," the spokesman said.
India draws its wiretap authority from a few laws, including the 1885 Telegraph Act and a separate information technology law enacted in 2000 and amended in 2008. The government can tap phones or intercept emails for reasons such as "any public emergency" or "in the interest of the public safety" – pretty broad language that gives a lot of leeway to bureaucrats, critics say.
A report in the Hindu last week claimed that more than 5,000 Indian phones are being bugged daily, citing anonymous sources. Mr. Abraham, of the Center for Internet and Society, says that breadth of surveillance in a country of 1.2 billion people wouldn't be unreasonable. But his organization is planning a Right to Information request to find out more about the scope of government wiretapping.
The government may have had good reasons to conduct the wiretaps of Ms. Radia, which local media reports say were done by the income tax department for two four-month stints in 2008 and 2009, during which time they reportedly logged 5,851 calls.
The income tax agency hasn't stated publicly what the rationale was and its officials declined to comment Monday.
Media reports suggest that the material was supposed to help probe the irregular allocation of mobile phone spectrum in 2008 to several Indian telecom firms. (The official in charge of that allocation, A. Raja, resigned as telecom minister Nov. 14 amid charges that he rigged the process to favor some companies over others.)
But much of the content in the several hours of so-called "2G tapes" that have leaked to Indian news organizations has little or nothing to do with taxes or 2G spectrum. There's talk of the billionaire Ambani brothers' natural gas pricing dispute, mining policy, a dog who is named Google because he is good at finding things, which corporate honchos are easy to get on the phone, and plenty of titillating exchanges between New Delhi's power brokers on the politics of cabinet appointments. Some pretty top-notch gossip, in other words.
To be sure, the content on the tapes does raise disturbing and serious questions about whether some elements of the Indian media carry water for particular government ministers or corporations. And it pulls the veil back on how the titans of Indian business and politics shape policy away from the public spotlight, as Siddharth Varadarajan explained in Monday's edition of the Hindu when he made a clever analogy to the movie The Matrix. (We've separately parsed the contents of some of the tapes for their potential significance.) 
But it's still worth asking tough questions about the legal and ethical foundations of wiretapping citizens, because, as Indian civil liberties expert Lawrence Liang said in an email, "if this can happen to a Nira Radia, then it can easily be used for a Nida Nobody."
Update, 5:09 p.m.: "A Home Ministry spokesman confirmed the ministry has asked the Intelligence Bureau and Central Board of Direct Taxes to conduct a probe into the leak."
Read the original in Wall Street Journal