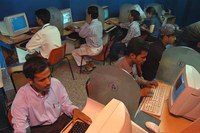 Bound Down Cyber cafes, for which strict rules have been framed, will be worst hit
New infotech rules infringe on freedom of expression, make net use near-impossible, writes Arindam Mukherjee. The article was published in the latest issue (May 30, 2011) of Outlook Magazine.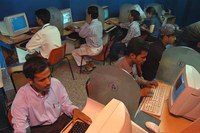 Bound Down Cyber cafes, for which strict rules have been framed, will be worst hit
If all goes according to plan, internet users may not be able to put up a strong message or comment about, say, the Congress on the BJP's website. A simple complaint from a Congress worker or, for that matter, any Indian citizen, can get the comment removed—it could even lead to the website being blocked by the host. Similarly, forceful comments on networking sites like Twitter and Facebook about individuals and on issues of national interest could soon also be history. If anyone wants, a simple complaint can get the comments—or even a user—removed from that network without informing him or her about it.
The new set of rules gives any citizen the right to complain against any content on any website that they consider objectionable. The new guidelines redefine the rules of the game for online intermediaries—Internet Service Providers, a website, a blog or a blog host, or the online edition of a media company with space for letters to the editor. These intermediaries, who are protected by the government against harmful content generated by third parties, stand to lose their protection if they do not comply and take off the objectionable comments within 36 hours.
As expected, there is a huge outcry in the online community and in civil society on the implications. Pranesh Prakash, programme manager, Centre for Internet and Society, says, "We are concerned about the overreach of the IT Act. These rules are unconstitutional and violative of Article 19(1)(a) of the Constitution. It is harmful to freedom of speech and does not go by the basic principles of natural justice because only the complainant is heard and not the user."

"These rules violate the Constitution, harm freedom of speech, go against the principles of natural justice."
Pranesh Prakash
Manager, CIS
The new rules provide that anyone can complain against any online content if he thinks it is objectionable and breaches any of the keywords provided under the rules (see graphic). Chakshu Roy of prs Legislative Research, an independent group, says, "The keywords provided under the rules are rather too open to interpretation. This might lead to potential legal complications for internet companies who derive value by allowing people to interact online."
The tricky part is that the government has said that all disputes over interpretation of the keywords can only be adjudicated by a court of law and that the government or its agencies cannot interpret it. So if your website or content is blocked, the only recourse before you is to knock at the court's doors. In sum, under the new rules, it would be absolutely impossible for any online entity to carry any comment without getting into some infringement under the new rules. "If internet platforms are held liable for third-party content, it would lead to self-censorship and reduce the free flow of information," says a spokesperson for Google.
Despite the government arguing otherwise, this is being construed as an indirect way to control the internet and online activity. The new laws will suppress public opinion at a time when the internet is developing into a primary medium to mould as well as express public opinion. Nikhil Pahwa, an avid blogger and editor of Medianama, says, "National security is one thing, but what about civil liberty? Isn't that being violated here? This is a veiled move to block all public opinion."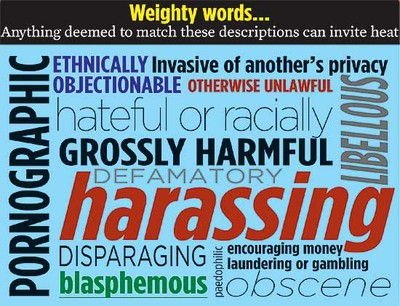 In recent times, 11 websites and search results have been blocked on the government's order, apart from over 1,400 requests to Google for removal or blocking of content. Soon, many more websites and portals could be in the firing line and face a block, censure or even closure under the new set of rules.
Online protagonists also feel that enough thinking has not gone into the framing of the rules. Subho Ray, president, Internet and Mobile Association of India (iamai), says, "The new rules are arbitrary as it is protecting the interest of one set of citizens while compromising upon that of others." Also, there is ambiguity in the rules on bulk sms carriers and telecom-based content, which should technically fall under user-generated content reaching the masses.
Perhaps the most bizarre are the rules regarding cyber cafes, which seek to define not just how the cafes conduct their business but also how a cyber cafe should look and even arrange its furniture. The new guidelines mandate that cyber cafes keep a photo ID record of all users apart from maintaining usage data of individuals—including logs of all websites surfed by them—for one year. The rules even go on to define the physical layout of the cyber cafes.
"Today a third of India's internet usage comes from cyber cafes. If you are putting requirements of photo ID and maintenance of logs of usage of every user, the crowd going to these cafes will move away," says Ray. He also feels that cyber cafes, which are already subject to harassment by local authorities, may find it even more difficult to survive under the new rules. Also, there are serious online security concerns over the functioning of cyber cafes under the new rules. "If you require all cyber cafes to maintain history of all websites visited by a user, including bank accounts and credit card transactions, it will be naive to think that such information will not be misused," says Prakash.
Significantly, the new rules also allow the government to access personal data and intercept any conversation or communication without judicial intervention. This, at a time when telephone intercepts by government agencies are being questioned, could lead to further complications. The government asserts that the new rules have been put in place looking at the "best practices" from across the world. But looking at the discontent—and the real danger of misuse—it needs to rethink these strategies.
Read the original published in the Outlook here