'Not mandatory' but maids, guards get fingerprinted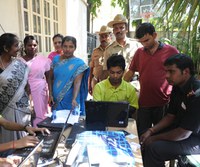 Several servants were perturbed about having to give their thumb impressions and photographs
The Cubbon Park police have begun profiling domestic help in their jurisdiction. Personal details will be stored in a database, which can be accessed by potential employers, writes Hemanth Kashyap in this article published in Bangalore Mirror on 9 November 2011. Sunil Abraham has been quoted in this article.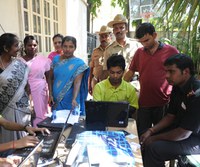 Several servants were perturbed about having to give their thumb impressions and photographs
It is the safety and security of the middle class versus individual rights of the 'lessers'. No guessing the victor in this battle. Recent crimes committed by household help seem to be enough justification for 'voluntary' profiling of maids, cooks, drivers, gardeners and watchmen. The brief of law-enforcing agencies is to keep the crime graph down, not get too involved in the procedural or sociological nitty-gritty. And in pursuit of this black-and-white objective, the city police have decided to go high-tech in this 'citizen-friendly' initiative.
Though the police say it is a voluntary exercise, the job prospects of those who demur will obviously be affected. To start with, the Cubbon Park police — with the assistance of a tech firm which operates a website, the 'us and them'-sounding hamarisuraksha.com — have visited a few buildings in their jurisdiction to profile the servants and security guards there. Personal details like the servant/guard's voter ID card, thumb impression and photograph have been fed into a database, which will be accessible to anyone. Cubbon Park inspector Badrinath is leading the exercise, which will be extended to other high-end localities in the central division.
According to the cops, the background details on the website will make hiring a domestic help easy and risk-free. The cops feel such a system will also help servants with a clean record land a good job, not just in Bangalore but anywhere in the country. Employers will have to register with the website — one login ID will be given to one apartment complex — after which they can access details of existing or potential domestic help. Employers will also have to inform the cops after hiring a help. 
According to the police, the problem of hiring a reliable domestic help is particularly acute in a city like Bangalore, where thousands from all over the country land up every day in search of a job. There have been numerous cases of theft, robbery and even murder where the accused have fled the city or disguised their identity and continued to work in other households. In the absence of a database, tracking the accused in such cases becomes difficult, say the cops.
Hamari Suraksha chief Ashwani Kumar Narula said, "It is a three-pronged effort involving the police, our website, and house, mall and security agency owners. The latter will give us the details of their employees and the info will be fed into a central database. A potential employer can, at the click of a mouse, do a background check before hiring a maid or watchman." 
On Tuesday, a camp was held at Vasvani Apartments on St Mark's Road, and hundreds of housemaids, security guards and drivers came forward with their personal details. As it was very new to them, many were perturbed about giving their thumb impressions and photographs. But the police and the website volunteers explained the rationale of the exercise and assured them their details would not be misused. 
"This is the first time I am facing this situation. We are working here for years and have not done anything wrong. I feel bad. But the police explaint why they were doing it and I was relieved," said Leena, who works in Vaswani Apartments. 
"I am not at all worried. Everything depends on our work. If I am in the right, there will be no problem. The police are doing this for our convenience," said Shobha, another housemaid. 
"I am fine with this. I read in the newspapers about the thefts committed by servants, and this exercise by the police will be helpful even for us. I am from Meghalaya and people here don't know anything about me. If my details are on the website, it will be easier to hire me," said Vanmaan, a housemaid in Vaswani Apartments.
'Employers are also potential abusers'
"It is a voluntary move," said a senior cop. But does refusal to be profiled immediately put a maid under suspicion or under the threat of unemployment, asked some. They were also worried about the leakage of such data.
Vijay Menon of the Citizen's Action Forum, a major body of residents across the city, said, "You can collect fingerprints only under a specific law, and not demand fingerprints just because of their profession. It almost amounts to discrimination. I will definitely not be taking my maid for any kind of fingerprinting. Secondly, how safe is the privacy of this information? Why would I want to replicate that information with various stake-holders, increasing the risk of it being leaked?"
Sunil Abraham, executive director, Centre for Internet & Society, said, "I am worried more about the unrealistic power balance it will create. To begin with, the law does not permit this kind of profiling. The only exception to this rule is the National Population Registry, and now the UID. Second, we have had instances of maids being physically abused by their employers too. If you work on the principle that household help can be dangerous and potential thieves (so you want their fingerprints), then you should be collecting fingerprints of employers too because they also can be potential abusers."
Residents' welfare associations were almost unanimously positive about the move. N Mukund of the Jayanagar Welfare Association said, "It's a good beginning because security has become a major issue for residents. Despite maids having built a rapport with their employers in many homes, we have had instances of thefts. But it makes no sense to have electronic data in place if it cannot be accessed by my local police station, which doesn't even have an email address."
Dr Radhakrishna of the Koramangala Residents' Welfare Association said, "Most of these people do not have a permanent address. How do you address that problem? "
Vivek Agarwal, of Mantri Sarovar Residents' Welfare Association, Sarjapur, said, "Already, the household help has to be registered in the jurisdiction police station. If the police want to take it to the next level, I have no problem with it. We live in a huge apartment complex. Many of us are working professionals who need reliable and safe household help."
'Enact a law'
C V Nagesh, expert in criminal law, said as per law (Criminal Procedure Code), police have no right to force a person or section to give their fingerprints to the police if they are not involved in crimes. He said the Cubbon Park police's effort may be a good cause, but police have no blanket permission to collect fingerprints of servants and others if they are not into any crimes. 





"Law should be enacted, making servant-profiling mandatory and then police or any other agency can collect these details. Then, it becomes legal. If somebody is giving details voluntarily, it is not illegal," said Nagesh.
T Sunil Kumar, Additional Commissioner of Police (Law and Order), said the police were not forcing anybody to give their fingerprints. "It's absolutely voluntary on the part of servants, watchmen and others to part with their details. If somebody says he is not interested, we will not force that person."

The officer said to check crimes involving these people, the police thought of having a database. So, they approached the resident welfare associations. "They (associations) are asking the servants to get the profile done. We are not asking anybody to come and mandatorily give details. But the law doesn't stop people from voluntarily disclosing their details. The response is massive and there are not many complaints," he said.

Recent crimes involving domestic help
October 7, 2011
Ashraf (26), a security guard killed Anasuya (42), a woman head cashier of a bank, by slitting her throat inside the lift of an apartment at Seshadripuram. He is absconding.
July 25, 2009
Senior High Court advocate S S Naganand's house in Sadashiv Nagar burgled, gold and diamond jewellery worth over Rs 80 lakh stolen. Police arrest his Gurkha watchman, Deerendar Bahaddur Thapa, and a gang of six Nepali guards and bust 44 cases in Yelahanka and surrounding areas.
June 26, 2009
Jewellery worth Rs 18 lakh stolen from the house of former Infosys director and iGATE CEO Phaneesh Murthy's upscale villa in Shobha-Lotus, a residential complex in Brooke fields area of Whitefield. 
Police arrest his domestic help Shivalinge Gowda (24) and complex electrician Mohammed Ali (24) and recovred the goods from Ali's sister's house in Shimoga.
February 16, 2009
Retired IISc professor and mathematician Purushottam Lal Sachdev, 71, his wife Rita, 62, and their son Munna, 35, are found murdered in their house on 80 Feet Road, RT Nagar. Police arrest his domestic help Deepak (36) his wife Suchitra (29) from West Bengal.
Read the original story published in Bangalore Mirror
here