Indian politicians yet to tap voters online: CIS's Abraham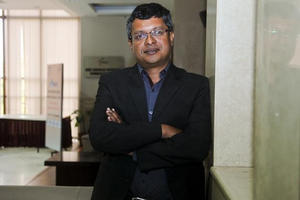 Sunil Abraham says traditional media is more likely to determine political outcomes in comparison to social media because most of the links that we see in social media are related to content that is created on traditional media. Photo: Rituparna Banerjee/
Sunil Abraham talks about the role online media will play in forthcoming elections and the behaviour of online readers of news.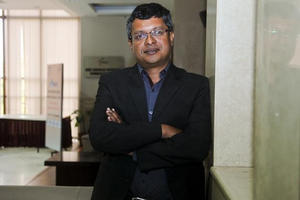 Sunil Abraham says traditional media is more likely to determine political outcomes in comparison to social media because most of the links that we see in social media are related to content that is created on traditional media. Photo: Rituparna Banerjee/
---
The interview (taken by Venkatesh Upadhyay) was published in Livemint on October 22, 2013.
---
Sunil Abraham, 40, is executive director of the Centre for Internet and Society, a not-for-profit research organization that works on issues related to freedom of expression and privacy. Abraham was in New Delhi to speak on the impact of media, social media and technology on governance and democracy, organized by the Observer Research Foundation together with the Rosa Luxemburg Stiftung. On the sidelines of the conference, he talked about the role that online media will play in forthcoming elections as well the behaviour of online readers of news.
Edited excerpts from the interview:
How important will digital media be for the forthcoming elections?
I think the Internet in India is very different from, say, the one found in the US. So, our capacity to read from similar experience in their elections is limited. If you take the extensive exposure that the (
Barack) Obama
campaign had on the online space and the manner in which it supposedly helped the campaign, I don't see that happening here.
Politicians and political parties very active on social media. You don't think that will have an effect on elections?
I think the missing part of the equation till now is that there has not been any devising—to my knowledge—of targeting of voters through
Facebook
or
Twitter
. Our digital footprint leads to immense big-data opportunities, which I do not see politicians in India being able to exploit. Again, to give an example from the United States, there were certain instances there from where if you were member of a particular community, you could be targeted by political campaigns. Here, I don't see that happening that easily.
Above: Sunil Abraham on the role of digital media in elections

So our politicians are wasting their time on social media?
Not entirely. In my view, one of the good things that the Internet does is that it has the capacity to democratize public opinion. One must also keep in mind that networks such as the ones available through social media are not homogenous. So nodes such as users who are opinion-makers and journalists are active on these networks, and so politicians can use these methods to reach out to more people.
Does the traditional media still have a role?
Of course. Traditional media is more likely to determine political outcomes in comparison to social media because most of the links that we see in social media are related to content that is created on traditional media. Now, of course, we can be sceptical of the role that traditional media plays in influencing the general mood of the country, but that is a different question.
Is there something peculiar about the manner in which readers interact with newspaper reports online?
I think one can usually see the comments section of some news sites littered with hurtful and hateful comments. So, some readers such as myself basically go through these comments to look at trolling and also sometimes for comic relief. But again, every news organization seems to be dealing with this differently. The Times of India, doesn't, in my view, regulate its comments section. But one can see, say, in The Hindu, that readers' comments are regulated and are usually very thoughtful.
Is there any particular reason why certain news readers respond the way they do?

Well, a part of the reason why people consuming news online comment and interact the way they do is that anonymity produces a level of freedom that allows people to be more brutal in their behaviour online.

At the same time, you can also see, in some instances, the chilling effects of surveillance, where people end up censuring their thoughts on issues. Of course, surveillance is not the answer. Societies need to deal with hateful threats on their own terms.
What will it take for politicians and public figures to get their message across, given the idiosyncrasies of the Indian digital media?
I think two components are crucial: trust and authenticity. For example, in the case of Wikipedia, there is an assumed amount of trust that the user has. The trust relationship between public figures who are active online and the public also is a two-way street. Politicians must also trust their common party members to use their social media presence as and when they want to. For example, why don't they allow each and every member of the political party to man their Twitter handle for a day?
As for authenticity, the human mind can say whether an act by someone online is authentic or not.
Finally, what is your view on the role that larger Internet monopolies such as Facebook and Google are playing across the digital plane?

The Internet has also changed over the past 15 years. It used to be a decentralized network. Everybody was hopeful that it would have democratizing potential and, therefore, techno-utopianism was born. Now, it is increasingly clear that a small proportion of websites have 90% of the traffic and large corporations such as Google and Facebook play a significant role in configuring the attention economy. They are now also beginning to take this role very seriously themselves. In the case of Google, increasingly Google is using its power over the attention economy to play a role in the electoral process in India. They have been holding Google Hangouts and what they have been able to do is bring the public to the politicians.
Other concerns such as Facebook and Twitter through their walled-garden arrangements with telecom companies also play a similar role in configuring the attention economy. One is more innocuous—like the manner in which their algorithms are structured determining who shows up in their feeds.