India believes in Complete Freedom of Cyber Space: Kapil Sibal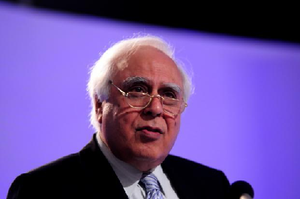 Kapil Sibal's statement assumes significance against the backdrop of a number of countries including India protesting the spying by the US National Security Agency on their missions in Washington and New York. Photo: Pradeep Gaur/Mint
The site of the impact of a cyber crime should determine jurisdiction, says information technology minister Kapil Sibal.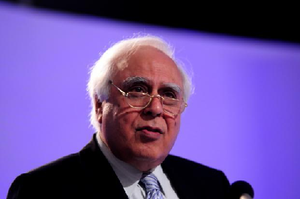 Kapil Sibal's statement assumes significance against the backdrop of a number of countries including India protesting the spying by the US National Security Agency on their missions in Washington and New York. Photo: Pradeep Gaur/Mint
---
This article by Elizabeth Roche was published in Livemint on October 14, 2013. Moulishree Srivastava also contributed to this story. Sunil Abraham is quoted.
---
Minister for communications and information technology Kapil Sibal said on Monday that if a cyber crime had an impact on India or the subject matter was Indian, India should have the jurisdiction to investigate the crime and mete out justice.
India "believes in complete freedom of cyber space", Sibal said, adding that the international community should arrive at a consensus on rules of jurisdiction and enforceability where cyber crimes are concerned. He was speaking at a conference on cyber security and cyber governance in New Delhi.
"Freedom of expression is central to our ideological stand on cyber space but at the same time there must be a de facto recognition of threats that are out there in cyber space and that we need to deal with those threats locally, nationally and globally and what we need is a consensus on those," the minister said.
He was asked specifically about the need for changes in the global Internet governance structure following a US admission that its National Security Agency listened in on communications from the embassies of allies such as France, Italy and Greece, as well as Japan, Mexico, South Korea, India and Turkey.
The site of the impact of a cyber crime should determine jurisdiction, the minister said.
He gave an example: if anything happens in an Indian mission located in New York, it should be governed by Indian law because the mission would be considered Indian territory.
"So as long as the source of the data is Indian and the impact is on India then the jurisdiction must be Indian and that should apply across the world," he said.
"If the harm has been caused to Indian citizens or Indian property then jurisdiction should be Indian," said Sunil Abraham, executive director at Centre for Internet and Society. "This principle has already been developed by Justice Murlidhar in Banyan Tree case. So this principle already has legal precedent."
But Abraham added that "even if Indian courts believe that it is their jurisdiction, foreign law enforcement agencies may not co-operate. This may be one of the biggest challenges in implementing this principle".
"This move could be seen as one enhancing cyber security, but since there is no universally accepted definition to cyber security and some government include speech regulation, surveillance, cyber crime and hacktivism a part of cyber security—there can be damaging consequences for human rights online," Abraham said.
The minister's statement assumes significance against the backdrop of a number of countries including India protesting the spying by the US National Security Agency (NSA) on their missions in Washington and New York.
According to many news reports, India was among the top five countries whose missions in the US were targeted by the NSA as part of a clandestine effort to mine electronic data. Reports of the US snooping has caused unease world wide.
German Chancellor Angela Merkel raised the issue with US President Barack Obama in June while Brazil's President Dilma Rouseff reportedly cancelled a summit with the US President in protest last month.
According to the ministry of external affairs in New Delhi, India raised the issue with the US embassy in New Delhi besides taking up the issue with the US state department in Washington. Both sides agreed to discuss the subject during their cyber security dialogue.
"That's the law in the country...if anything happens there (in Indian embassies) that is part of Indian jurisdiction and similarly if you apply the same example and establish jurisdiction then anything that relates to Indian data and the impact on Indian data, it's the courts in India that should have jurisdiction," Sibal added later.
"We are talking about a principle and the principle is wherever there is Indian data wherever anything is done to impact on Indian data, the source of which is Indian then the jurisdiction must be of Indian courts," the minister said adding that he was putting this view out as something the cyber security seminar should discuss.
India's national security adviser Shiv Shankar Menon added that what the minister had voiced was India's view but it was not a settled matter and that it had to be discussed at global forums.
With around 40% of the 120 million smartphone users in India accessing the Internet through mobile phones, network protection was an imperative. "The consequences of manipulation or distortion...can be potentially disastrous." Menon said recalling how morphed pictures of violence seemingly targeting a particular ethnic group, circulated on the Internet and via cell phones, had resulted in thousands of people fleeing home from their places of work last year.
On certification of hardware security, Menon said: "India has recently received authorizing nation status for IT products and testing labs in the country will now gain global recognition," adding that this was an opportunity for Indian industry.
Sibal, in his address, said the Internet had become a means of empowerment of people and most of this was due to the enormous freedom provided by the Internet. But "there can be no concept of sovereignty in cyber space because there are no territorial issues involved", he said.