Election campaign: parties draw battle lines on media platforms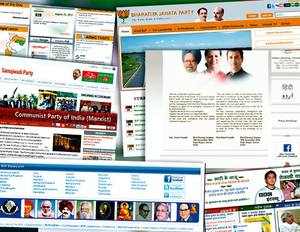 The official web pages of some of the political parties show links to social networking sites.
In the run-up to the 2014 polls, parties are drawing up media strategies that have a focus on young voters.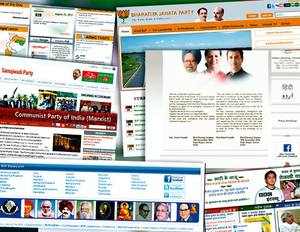 The official web pages of some of the political parties show links to social networking sites.
This article by Venkatesh Upadhyay was published in Livemint on August 26, 2013. Sunil Abraham is quoted.
---
Major national political parties have begun to sharpen and tweak their tools of public relations and media engagement in the run-up to the 2014 general election, with an eager nod towards a voters list that is expected to be packed by the young.
National parties currently in the process of shortlisting their advertising, public relations and mobile marketing agencies declined to share details.
"The advertising strategy will crystalize by January. We will go for multiple agencies," said Manish Tewari, spokesperson for the Congress as well as minister for information and broadcasting.
According to people familiar with the selection process, JWT, Crayons Communications and Dentsu India, among others, are all in the race for the Congress business. Home-grown Crayons has worked closely with the Delhi government and Congress in the past.
Refusing to confirm the names on the shortlist, Tewari said it was a line-up of the "usual suspects".
For social media, the Congress has engaged Delhi-based OMLogic, an online media marketing company, which helped create the website fekuexpress.com that seeks to highlight the supposedly braggart nature of the opposition Bharatiya Janata Party's chief campaigner Narendra Modi.
The website ran contests in which winners received film tickets. OMLogic was among three shortlisted agencies from 22 that competed for the same account, a person familiar with the bid said. According to others aware of the developments, senior Congress leaders such as Digvijay Singh and Deepender Singh Hooda helped select the agencies.
OMLogic helps clients enhance their brands across platforms and creates social media applications for them. The company declined to comment for this story.
"I believe these elections will represent the first time that political parties will have a conscious media strategy," said Sanjaya Baru, communications advisor to Prime Minister Manmohan Singh from 2004 to 2008.
"By conscious I mean that political parties have acknowledged the role of mass media in getting their message across to voters. TV has taken the space of political rallies."

Baru said the media strategy for the coming elections was essentially focused on TV and social media as "both these platforms allow parties to reach out to large parts of the urban and semi-urban demographic".

Close to 60 million new voters have been enrolled for the 2014 election, of whom 17.6 million are 18-19 year-old first-timers. A study by the Iris Knowledge Foundation and Internet and Mobile Association of India (IAMAI) estimates the number of urban social media users to be around 78 million. The main users were in the age groups of 18-24 and 25-34 years.
The Congress has already highlighted the role of social media in its communication strategy. The party held a special session on the use of social media by party members on 22 August that was addressed by minister of state for human resources Shashi Tharoor, and Manish Tewari. In a similar meeting last month, party members were briefed on how to comment on key issues, including the state of the economy, and personalities like Modi, who is also Gujarat chief minister.
It also launched an intranet software called Khidki (Hindi for window) for use by Congress members. According to party politicians, another important part of last month's exercise was to identify young members who would make up a cadre of spokespersons that would then participate across news channels.
The BJP, meanwhile, has drafted Internet entrepreneurs B.G. Mahesh and Rajesh Jain to help the party with its social media operations. Acknowledging the role of social media in the party's media strategy, BJP spokesperson Nirmala Seetharaman said, "Our exercise has already taken on board the position which the party enjoys on various social media. We only emphasized the content that such media ought to have," she added.
Prominent members of the party, led by Modi, have large followings on social media. Modi's Twitter account is followed by close to 2.1 million people.
Last week, the BJP launched india272.com that would "crowd source" suggestions by the electorate. It also launched a website where its members can upload "chargesheets" on the Congress-led United Progressive Alliance. Visitors to www.bjp.org/upachargesheet can also make use of different social media platforms such as Facebook, Twitter, YouTube and Flickr to register their complaints.
Some Internet activists are sceptical about such strategies. "The average Indian netizen is not that well equipped to critically analyse the content coming from so-called crowdsourced mechanisms," said Sunil Abraham, executive director of the Centre for Internet and Society, a Bangalore-based Internet policy research organization. "I believe that social media might be one step removed from actual voters and might be more oriented towards opinion makers. In that sense social media (in India) behaves very differently from the way it has been used in the US."
According to an online media expert familiar with the BJP's social media campaign, the interactive nature of social media helps build up an image of transparency while making the party more accessible to a young audience that has been switching off television news.
In addition, social media allows political leaders to gauge public response quickly.
Ajay Maken, Congress general secretary and the man who heads the party's communication strategy, pointed out in an article published this month that subjects that become influential on Twitter during the day tend to turn into full-fledged TV debates by the evening.
But political parties are not giving up on television channels just yet.
According to a report by consulting firm KPMG, the number of Indian households with TV sets is estimated to be 154 million, and is expected to grow to 173 million by 2017. TAM Media research estimated the number of TV households to be 123 million in 2009. Meanwhile, cable- and satellite-owning TV households has in the period 2009-2012 ballooned from 90 million to 126 million, according to TAM.
The Congress has issued guidelines to its members on how to behave on television. According to individuals familiar with the move, the party has also set up a research cell that informs Congress spokespersons about subjects that they are asked to speak on.
Congress members who participate in televised debates have been given strict orders to not go on air without a thorough understanding of the nuances of issues—provided to them by Congress researchers. For instance, spokespersons have been advised to rely on facts and be data-specific when confronted with the twin issues of Gujarat's high-growth economy and Modi's governance record.
In order to streamline the process, the party has come up with lists of speakers who are focused on specific issues. It has also constituted media cells in each state capitals with three units—spokespersons, social media cell and research —and a social media division for every urban centre with a population of at least a million.
The BJP has devised a similar strategy. Party spokespersons have been asked to mention chief ministers other than Modi if asked about the leadership for the 2014 elections. Arun Jaitley, in a interview to The Hindu, on 19 August had spoken about the possibility of there being close to 10 prime ministerial candidates in the BJP.
The BJP, which held a closed-door media workshop for party members last week, is also keen on research. "A lot of policy requires specialized understanding which is largely domain-specific. In that regard, members of our party will need to be prepared when they speak on such issues," said spokesperson Seetharaman.
The Congress has already begun a television ads-blitzkrieg to trumpet its record in government. Begun in May, these ads have sought to showcase the fruits of the welfare state, including schemes aimed at the poor, such as theMahatma Gandhi National Rural Employment Guarantee Act, as well a long list of rights-based laws. One well-known ad tells the story of a fictional young woman named Priya who lives in a village but makes use of opportunities in education and improved electricity connections to become a successful entrepreneur.