Issue of duplication of identities of users under control: Nilekani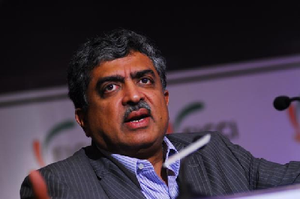 Nandan Nilekani, chairman, Unique Identification Authority of India (UIDAI). Photo: Pradeep Gaur/Mint
Nandan Nilekani says UIDAI system almost completely accurate, duplication of identities virtually negligible.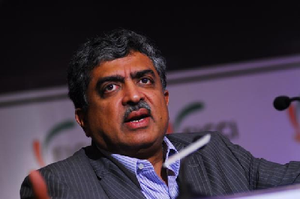 Nandan Nilekani, chairman, Unique Identification Authority of India (UIDAI). Photo: Pradeep Gaur/Mint
---
The article by Anirban Sen was published in Livemint on June 29, 2013. Sunil Abraham is quoted.
---
The Unique Identification Authority of India (UIDAI) chief Nandan Nilekani said the government agency was in preliminary discussions with some embassies to use the Aadhaar project to simplify visa application procedures and that the issue of duplication of identities of users was well under control.
In March, a UIDAI spokesperson told Mint that it had detected 34,015 cases where one person had been issued two Aadhaar numbers. The figures represented a little over 0.01% of the 290 million people who had been enrolled at the time.
Nilekani, who was delivering a keynote address at a three-day conference on the success and failures of information technology (IT) in the public and private sector at the Indian Institute of Management in Bangalore, said the UIDAI system was almost completely accurate and duplication of identities was virtually negligible.
"Knowing what we know now, we believe we have accuracy of upto 99.99%," said Nilekani, chairman of the Unique Identification Authority of India (UIDAI).
Nilekani, on Saturday, assured that the project was completely secure and user data and biometrics were safe in the hands of the agencies it works with and brushed aside any concerns on security of user data that have been widely raised by Internet security groups and activists.
"We're not giving any access to data, except when it is resident authorized. It is shared only when a resident participates in a transaction and authorizes the data which is shared," said Nilekani, who was one of the seven co-founders of India's second largest software exporter Infosys Ltd. He served as CEO of Infosys from 2002 to 2007.
"The system is also not open to the internet—the system has rings of authentications of service agencies. There are lots of concentric rings of security," he added. "The biometric data is not used except for enrolment, re-duplication and authentication."
Internet rights groups and activists such as Sunil Abraham of the Centre for Internet and Society (CIS), a research thinktank that focuses on issues of Internet governance, have often raised concerns over UID's overtly broad scope and privacy issues in the project.
"We don't need Aadhaar because we already have a much more robust identity management and authentication system based on digital signatures that has a proven track record of working at a "billions-of-users" scale on the Internet with reasonable security. The Unique Identification (UID) project based on the so-called "infallibility of biometrics" is deeply flawed in design. These design disasters waiting to happen cannot be permanently thwarted by band-aid policies," Abraham wrote in a blog post on the CIS website last year.
Nilekani also acknowledged that the department had faced several challenges, due to the sheer scale of the project that aims to cover the country's entire population of 1.2 billion.
"We have had lots of challenges on this project—we have backlogs of enrolment because we have more packets than we can process, we backlogs of letter deliveries because we cannot handle so many letters…but fundamentally notwithstanding those challenges, we believe we are on the right track," said Nilekani.
Both UIDAI and the census department under the National Population Register project are recording biometric data, which includes fingerprint and iris data. Even though both the agencies reached a truce after a cabinet decision in January 2012 and were allowed to co-exist, there have been several reports of duplication between the two agencies in biometric collection.
UIDAI is not just being used as the main platform for rolling out the government's direct cash transfer scheme, but is also being regarded as an important authentication scheme for financial transactions and other security measures.