The freedom of expression debate: The State must mend fences with The Web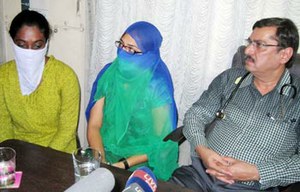 A picture of Renu Srinivasan and Shaheen Dhadha
A fortnight after her arrest, Renu Srinivasan spends her free time singing Ashley Tisdale's number Suddenly. The lyrics - Suddenly people know my name, suddenly, everything has changed - resonate with the story of her life ever since she 'liked' and 'shared' her friend, Shaheen Dhada's, 21, controversial post regarding Shiv Sena chief Bal Thackeray's funeral on Facebook on November 18 and got arrested for it.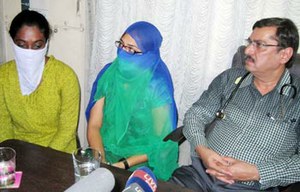 A picture of Renu Srinivasan and Shaheen Dhadha
---
The article by Rahul Jayaram was published in India Today on December 18, 2012. Pranesh Prakash is quoted.
---
She's now flooded with "hundreds" of messages on FB; some congratulatory, others abusive and gets at least a dozen friend requests on the social networking site. When Renu went to the doctor last week, two constables accompanied her.

"All of a sudden, there's too much attention on me," says the Botany graduate from Dandekar College and a budding singer who is making new friends in the virtual world. There's, however, a word from caution from her father P.A. Srinivasan: "Don't comment on controversial issues you don't understand."

Bloggers are careful. Krish Ashok, a well-known blogger is disappointed with the government's lack of engagement with India's surging online community. In a blog post in August 2010, he made fun of the Ramayana and the fact that women couldn't enter the Sabarimala temple in Kerala. A group called Hindu Janajagruti Samiti threatened to take him to court. Ashok spoke to his lawyer.

"I was amazed. She said no individual could take action against me. But a group or organisation could," he says. Since then, he has become more aware of his Internet rights.

Gursimran Khamba, who has over 30,000 followers on Twitter, kept his cool during Thackeray's death and funeral. When all the media went gaga over him, televising his family photo albums, Khamba, re-tweeted reports and accounts of the Shiv Sena's role during the Mumbai riots of 1992-93. "In my head, I am not courageous to say anything about it myself," he says. He didn't want to incite. He'd rather help his followers get a more nuanced picture of a venerated leader.

Palghar and after, has made Ashok think. "I would reduce the number of provocative posts I might make," he says. Khamba says he will stick to comedy and doesn't believe in offence for the sake of offending although "taking offence is our national sport."

It is a shame, for the Internet is growing in India like nobody's business. It's the medium of the age.

According to comScore, a company that measures Internet trends, India is the fastest growing online market in the last 12 months among BRIC nations. There were 44.5 million unique visitors in July 2011 and in July 2012 there were 62.6 million unique visitors. That is, a growth of 44 per cent in one year. The total Internet usage of 124.7 million users in July 2012, that is, a 41 per cent growth from last year (July 2011).

With 124 million users as of July 2012, India has an Internet penetration of 10 per cent. 75 per cent of India's online users are below the age of 35 making it one of the youngest Net-connected populations. 39.3 per cent of India's Internet population consists of females. It has the highest growth seen among 15 to 24 male and female segments. India has 56.2 million Facebook users and 4.1 million Twitter users. Facebook had 35.3 million users in July 2011 and it jumped to 52.1 million in July 2012. That's a growth of 47% in just one year!

Growth of the Internet is one thing. Freedom of the Internet is another. Freedom House, an American organisation that tracks political and civil liberties worldwide, is blunt in its assessment. India is third in terms of Internet penetration, after the United States and China. Before November 2008, government control over the Internet was limited. All that changed after the November 2008 Mumbai attacks.

Since then it says, "The need, desire, and ability of the Indian government to monitor, censor, and control the communication sector have grown. Given the range of security threats facing the country, many Indians feel that the government should be allowed to monitor personal communications such as telephone calls, email messages, and financial transactions. It is in this context that Parliament passed amendments to the Information Technology Act (ITA) in 2008, expanding censorship and monitoring capabilities. This trend continued in 2011 with the adoption of regulations increasing surveillance in cyber cafes. Meanwhile, the government and non-state actors have intensified pressure on intermediaries, including social media applications, to remove upon request a wide range of content vaguely defined as "offensive" and potentially pre-screen user-generated content. Despite new comprehensive data protection regulations adopted in 2011, the legal framework and oversight surrounding surveillance and interception remains weak, and several instances of abuse have emerged in recent years."

Over this year we have had the cases of cartoonist Aseem Trivedi being put in jail and later released in September. In April, Ambikesh Mahaptra of Jadavpur University in Kolkata was arrested for a cartoon poking fun at West Bengal chief minister Mamta Banerjee and Railway Minister Mukul Roy. In October, Ravi, owner of plastic packaging material factory was arrested and let off on bail for joking about Finance Minister P. Chidambaram's son, Karti. The list gets longer. The Web and the State are at loggerheads. Why?

Lawyers and bloggers haul up Internet laws. And for such a community, we have laws like Section 66 (A) of the Information Technology Act of 2000. The law states that "any person who sends by means of a computer resource or a communication device, any information that is grossly offensive or has menacing character," can be booked for online crime.

Legal experts think Section 66 (A) and the whole of the IT Act of 2000, needs revisiting. According to cyber lawyer Pavan Duggal, Section 66 (A) "is a vanilla provision that can be used for anything online."

Section 66(A) seeks to empower the police and the complainant. "The words 'grossly offensive' and 'menacing character' of Section 66 (A) have no definition given. Normal, legitimate bona fide conversation between boyfriend and girlfriend at noble times online is fine. Once relationship sours, and they are gone."

"It's not clear what the purpose of Section 66A is.  It's like having a single provision covering murder, assault, intimidation, and nuisance, and prescribing the same penalty for all of them," says Pranesh Prakash of the Center for Internet and Society, Bangalore. Terminology and the law's purpose are massive concerns.

"The extent of the ambiguity of Section 66A is worrying. Laws need to be very clear about what they want to achieve. If it is murder, then it must say murder. If its attempted murder, it must be clear it is attempted murder. Section 66 A is trying to do too many things at the same time. Its canvas is too vast," says Rajeev Chandrasekar.

As a country, we look to imitate the West, and often copy it badly. Some wonder if we need to mime the West. Pranesh Prakash thinks the Indian Constitution is stronger on free speech grounds than the (unwritten) UK Constitution, and the judiciary has wide powers of judicial review of statutes (i.e., the ability of a court to strike down a law passed by Parliament as 'unconstitutional').

Judicial review of statutes does not exist in the UK (with review under its EU obligations being the exception) as they believe that Parliament is supreme, unlike India. Putting those two aspects together, a law that is valid in the UK might well be unconstitutional in India for failing to fall within the eight octagonal walls of the reasonable restrictions allowed under Article 19(2).

Rajeev Chandrasekar thinks the Brits got it right. During the London riots of June 2011, "the UK government kept a tab on social media networking sites so as to check incitement, he says. It was a good example of clear legislation and effective execution, in an extreme scenario." To defuse online paranoia he wants the government to have a multi-stakeholder arrangement in fixing IT laws. This must involve users, IT companies, cyber cafe owners and the government. The State must mend fences with the Web.