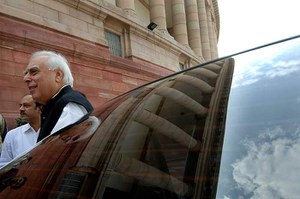 What next, sir? Sibal arriving in Parliament
If Kapil Sibal's attempts to police net content fructify, it may even lead to a reversal of some of the forward-looking provisions of the Information Technology (IT) Act, 2000. The new proposal, for instance, will reverse Section 79 which protects intermediaries (websites and carriers) from being prosecuted or made liable for any objectionable content published. Says Pranesh Prakash, programme manager, Centre for Internet and Society: "Unfortunately, what Sibal says turns this upside down as they would now be held responsible for e-content." Sibal wants to monitor content prior to publication.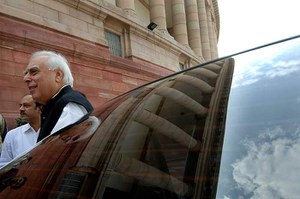 What next, sir? Sibal arriving in Parliament
The article by Arindam Mukherjee was published in Outlook Magazine on December 19, 2011. Pranesh Prakash was quoted in it.
While there are privacy concerns, any attempt to do real-time monitoring could pose serious legal complications. Says cyber law expert Pavan Duggal: "This proposition could be ultra vires of the Constitution which guarantees fundamental rights under Article 19, which is about freedom of speech and expression subject to reasonable restrictions." And the reasonable restrictions for monitoring, blocking and interception of internet content are already built into the IT Act.

Says Rajya Sabha MP Rajeev Chandrasekhar: "If Sibal was really serious about protecting people, he should have read the IT Act that has a section which allows a victim to legally pursue his/her claim of defamation. If Sibal has his way, DoT bureaucrats will decide what content is 'appropriate' or 'inappropriate'."
"If Sibal was really serious, he should have read the IT Act...it has a section on how victims can pursue defamation claims."
Moreover, the IT Intermediary Guideline Rules, 2011, though still provisional, mandate that once service providers receive instructions, they have to remove objectionable content within 36 hours. The Act also has other specific provisions like Section 69, which provides safeguards for interception, monitoring/decryption of information; Section 69A which gives procedures and safeguards for blocking access of information by the public; Section 69B for monitoring and collecting traffic data or information. There are also provisions for obscenity and defamation, with steep fines prescribed. Following these, the state has blocked 11 websites since '09
However, what Sibal and his men would have seen is the Act's inability to act on the content freely flowing in social media sites. Says Duggal: "The IT Act, 2000, was amended in '08, but doesn't talk about social media which came up only around that time. There is a need to bring social media within the ambit of the Act. What Sibal is suggesting doesn't exist anywhere in the world." Monitoring social media websites would also be a huge challenge as crores of messages and tweets are generated from India everyday.

And privacy? Experts say since India does not have dedicated legislation on privacy, the government could escape any attack on that front. Although some privacy elements were added to the IT Act in 2008, its scope is limited and the concept of data privacy is missing. In fact, the law doesn't even recognise a person's right to data privacy!.