The Centre for Internet and Society (CIS) joined the Global Network Intiative (GNI) in March 2012. Recently, GNI brought out its Annual Report. Sunil Abraham is quoted in it.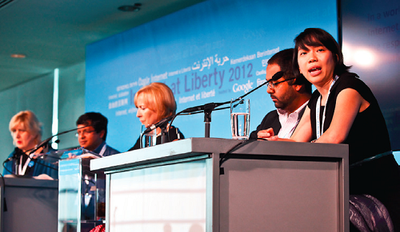 GNI participants Sunil Abraham - Centre for Internet and Society (second from left) and Cynthia Wong - Center for Democracy and Technology (right) at the Google Internet at Liberty 2012 Conference, May 23, 2012. Also pictured (left to right): Dunja Mijatovic´ - OSCE Representative on Freedom of the Media, Judy Woodruff (Moderator) - Senior Correspondent, PBS Newshour, Mohamed El Dahshan - writer, journalist.
Credit: Tony Powell
An increasingly global network
"Technological development happens too quickly for us to purely depend on govern­ment regulation. Self-regulation has an important role to play in keeping up with these rapid changes … we will influence GNI norms using our Indian perspective."
Sunil Abraham
A key objective for GNI is increasing its membership across all constituencies with a focus on developing countries and emerging markets. In 2012, GNI welcomed Azerbaijani press freedom organization the Institute for Reporters' Freedom and Safety as the global Internet governance community gathered in Baku, Azerbaijan for the Internet Governance Forum. Their participation, alongside other new civil society participant, the Centre for Internet & Society based in Bangalore, India represents a step toward further internationalizing the GNI network. Other new members include the George Washington University Law School and Christine Bader from the Kenan Institute for Ethics at Duke University.