Freedom debate takes a new course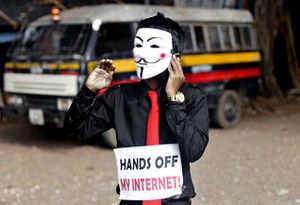 The focus is now on the dubious roles played by private entities on what goes online, says Deepa Kurup in this article published in the Hindu on July 1, 2012.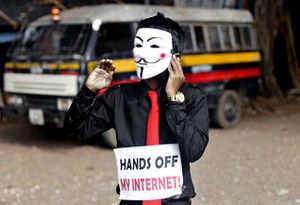 Deepa Kurup's article was published in the Hindu on July 1, 2012. Pranesh Prakash is quoted.
Debates on censoring the Internet, till recently, largely pitted the 'people', that is Net users, against the government which was perceived as seeking to stifle free speech on the Web, a medium that is believed to be vastly powerful and democratic. However, in recent weeks, the focus of the discourse has shifted from shrill anti-government stances to the dubious role that private entities — that often projected themselves as protectors of free speech in the earlier debates — play in controlling this important resource.

That there are various private interests — ranging from Internet service providers, Web companies to the entertainment industry — at stake here is a no-brainer. However, this came to the fore only last month, when two major Internet service providers, Airtel and Reliance, in a pre-emptive move to comply with a Madras High Court order seeking to curb piracy of regional films, blocked access to at least a dozen sites. The blocked sites not only included file-sharing sites but also legitimate Web businesses such as video-sharing sites Vimeo and Daily Motion, that largely host high-quality original videos, and bookmarking sites such as Pastebin.

What was noteworthy is that the High Court did not order the blocking of these websites, and merely ruled that piracy of regional films such as Dammu and 3 be curbed. The order was in response to a petition by makers of the Tamil film 3, yes, the same movie whose claim to fame was the viral Internet hit 'Kolaveri di', made popular because thousands of netizens freely shared and viewed the video.

Not limited to regional films, there has been a steady increase in the number of Indian movie production houses, such as Reliance Entertainment Ltd. and Viacom18 Motion Pictures, seeking ex-parte injunctions (popularly known as John Doe or Ashok Kumar orders against unknown persons) to curb piracy of their copyrighted material. Most recently, Viacom18 went to court seeking pre-emptive orders for last Friday's release, Gangs of Wasseypur, a move that in the context of increased awareness on such laws and their chilling effect on the Internet, drew much flak from netizens. Even in the past, ISPs and Web companies, eager to sidestep possible legal landmines, are known to have blocked entire sites in response to government requests.
Partial Relief?
Last week, the Madras High Court, ruling on an appeal filed by a consortium of ISPs, decreed that ISPs need only block a few specific URLs that carry pirated content, and not entire websites. Following this clarification from the court, ISPs unblocked the sites.

Though many rejoiced over the order, seeing it as an indicator of the success of campaigns — some overt and others more covert such as the hacktivist group Anonymous — others have been more guarded in their response to this.

Pranesh Prakash, lawyer and copyright expert at the Centre for Internet and Society, feels that the victory is only partial given that the court has endorsed partial blocking of Web links. He says: "Under Indian copyright law, ISPs cannot be liable for copyright infringement committed by their users. So while it is good that the court clarified that its order was limited in its scope, it is possible to read even this as going far beyond that which is allowed under the law." Mr. Prakash points out that the copyright law can be used for censorship, for instance, in the case of the Satish Seth video that Reliance Entertainment has gotten removed from YouTube by citing copyright infringement."
Hacktivist Exposes
The Satish Seth video was one among many links part of a list published by hacktivist group Anonymous India, on the blog Kafila. The group claimed to have hacked into the servers of Reliance Communication and found a list of 434 Web addresses that were blocked.
Not surprisingly, at least 45 of them were blocked on Reliance request and had little to do with government or court orders. While Reliance has denied the hack and said that list is not authentic, to the media, the list brought to the fore the uneasy role that private companies could play in who controls content on the Web.
Though it is unknown what the Satish Seth links originally contained, a simple search on the web reveals that Mr. Seth is a senior employee in the Reliance Group. These links were later unblocked.
Though some of the distributed denial of service (DDOS) attacks orchestrated by the group that calls itself Anonymous India targeted government websites, a major target have been these private companies.
In that sense, the contribution of Anonymous India has been interesting in changing the narrative of the discourse to include how private companies that have off late taken to sermonising on the merits of unrestricted freedom on the Web, could easily manipulate the system to further their own interests.

This uneasy equation was also exposed in a 'sting operation' conducted by the CIS in 2010, in which Web companies eagerly complied to unsubstantiated or dummy take-down notices sent out.

While the first round of activism focussed on the government's proposal to clampdown on what it called 'hate speech' on the Web by fixing intermediary liabilities (through guidelines it notified in April 2011), this round has dealt with the complex issue of copyrights. A difficult issue worldwide, like in the U.S. for instance where the controversial Bill SOPA sought to block sites that host copyrighted material, here too huge entertainment lobbies, backed by big business, are likely to play a bigger and more forceful role in this debate.

This is apparent even in the Google Transparency Report, released earlier this month, which shows the number of copyright removal notices received for Search (not including its other services such as YouTube and Blogger) in the past year is a climbing statistic.

In June alone, Google Search received 2,221,212 takedown requests from copyright owners and reporting organisations. Not surprisingly, though the list of requestors is topped by software major Microsoft, among other top contenders are all the major production houses.