IGF 2009 - Main Session: Emerging Issues: Social Networks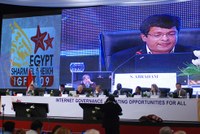 Sunil Abraham speaking during the Main Session of IGF 2009
Current laws don't seem to scale well to handle Web 2.0 issues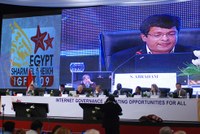 Sunil Abraham speaking during the Main Session of IGF 2009
Session description: Discussion was centered on the development of social media (social networks, user-generated content sites, micro-blogging, collaboration tools, etc.) in order to explore whether these developments require to new or modified policy approaches. Key issues explored include privacy and data protection, rules applicable to user-generated content and copyrighted material, and freedom of expression and illegal content. The session also addressed the importance of the "terms of service" of large platforms, how they are developed and their relationship with emerging business models that are based on behavioral analysis.

Participants in the discussion included: Sunil Abraham, director of policy, Centre for Internet and Society, Bangalore; Rebecca MacKinnon, co-founder of the Global Network Initiative; Grace Bomu, manager,  Kenya-Heartstrings and Fanartics Theatre Company, Kenya; Sergio Suiama, prosecutor, State of São Paulo, Brazil; Rachel O'Connell, VP of people networks and chief safety officer, Bebo.

November 18, 2009 - Sunil Abraham, an Internet policy expert from Bangalore, was a key panelist in this session who introduced the primary concerns tied to social networks today.

"I'm going to raise nine emerging issues about social media," he began, "and I categorize them into four categories: Intellectual property rights, morality laundering, the hegemony of the connected and the hegemony of text."

He noted that intellectual property law is completely outdated and cannot be applied in today's communications environment, saying it is "irrelevant." He added, "To take some examples, the right of the consumer to review, the right of the consumer to privacy, the right of the entrepreneur or enthusiast to make interoperable, complementary or competing products. All these rights used to be protected under the right to reverse-engineer. Issue 2 under IPR: On some corporate-mediated social media platforms, copyright takedown notices from one political party are acted on much more swiftly when compared to similar takedown notices from an opposing party. Issue 3, under IPR: Some rights holders, and in particular news organizations, use copyright takedown notices selectively to purge social media Web sites of content that opposes their editorial viewpoint. Issue 4 under intellectual property rights: The increased use of automated enforcement of copyright by rights holders is seriously undermining freedom of expression on the Internet, as in the case of the baby dancing to Prince's 'Let's Go Crazy.'"

He explained "morality laundering" - saying that, like policy laundering, it is "trying to impose a globally homogenized morality regime." He cited the example of breast-feeding photos on a social network being deleted because they were considered obscene. "Breast-feeding, I may remind you, is still a public activity in many southern countries," he said. "Photographs of public life on a beach in a country where nudism is the norm becomes child pornography in another country."

He said that religious traditions can sometime be reduced to a monoculture on community-managed social media platforms that "depend on editors to determine the truth," adding "That is because upper-crust and upper-class populations have greater access to the Internet. Literate communities will try to maintain their hegemony on the Internet. Community-managed social media platforms that depend on textual citation often ignore the knowledge of the oral communities of the global south."

Session moderator Simon Davies, director of Privacy International, asked Abraham if automated enforcement of social network policies should be outlawed. "I don't think it is possible for us to completely take out machine involvement in moderating content online," Abraham said, "whether it is from a freedom-of-speech perspective or a hate-speech perspective or from an intellectual-property-rights perspective. But I think the process has to become more transparent, so that the public will know what happened and why it happened and that there is due process and the possibility of appeal."

Davies had kicked off the session with a plea that participants try to think ahead in this discussion of social networks. "Our role today in this panel is to look to the future, and our mentors at the UN and at IGF have urged me to motivate, as much as possible, an imagining of the future," he said. "Our role, as we can see on the program, is to look at social networks and social spaces such as micro-blogging and Web 2.0, as we move through to the next - what are the issues that we're likely to confront. So our two goals, if I can suggest a focus, is: What have we brought out of this last few days that tells us something about the way the future will go? Particularly in terms of social interaction. And second, imagine that future."

Sergio Siuama, prosecutor for the State of São Paulo, Brazil, was asked to describe the privacy problem that developed there on Google's social network Orkut. "Social networks are the fourth most popular online activity, ahead of personal e-mail," he said. "Eighty percent of Brazilian Intenet users interact through social network sites. In Brazil as well in India and Pakistan, the most popular social networking service is Google's Orkut. More than 30% of Brazilian users access regularly use Orkut and about 25% of them are children and teenagers." He said many social networks accessed by people globally are transnational. "The most-accessed services in Brazil are provided by companies physically located in the United States," he said.

In 2005 Google set up a branch in São Paulo, but it was not enough to handle the business of 30 million users. Since 2004 Brazilian authorities have been receiving reports of cyberbullying, drug dealing, child pornogrphy and other human rights violations in Orkut's space. In 2006 the federal attorney's office started a collective lawsuit against Google. Google responded with a proactive plan. After two years of litigation, in July 2008, the parties settled on a collective agreement in which Google agreed, among other obligations, to comply with Brazilian legislation, to store traffic data for at least six months, to take down child-abuse images, to develop a proactive system of child-abuse images detection, removal and report to law enforcement, and to establish a customer-service office able to quickly respond to all users' complaints. Some of these obligations were adopted as standards for the whole of Latin America in a document - the memorandum of Montevideo.

Siuama raised several governance issues that arise from this case: Which criteria should be used to define the ability of a country to legislate over and sanction conducts committed on the Internet? Is it legitimate to enforce rules at a local company's office regarding a service operated from another country? What are the basic standards we should expect from ISPs to help cope with human rights violations on the Internet? Is any national law enforcement agency equipped to cope with crimes committed on social networking sites? Will it be necessary to ensure minimum levels of transparency and social accountability of networking services?

Panel member Rachel O'Connell, vice president of people networks and chief safety officer for Bebo, chaired the European Union's Safer Social Networking Cross-Industry Task Force - an effort by 18 social networking companies, including Facebook and Google, working with the European Commission and civil liberties, child welfare, law enforcement and parenting groups.

"We came up with seven principles that relate to education and ensuring that we have prominent and easily accessible safety messages and also addressing reporting abuse and providing people with the technologies and capabilities so they can use the Internet safely," she said. "We are doing a lot of filtering on the back end. We have moderation teams in place. We have very strong links with law enforcement. We look at the legal issues in each of the countries and the markets in which we operate and see how that ties up with being a US-based company. We're also aware of treaties like the multinational legal assistance treaty, in terms of working with law enforcement and investigators."

O'Connell said the industry has probably not been clear enough about how these procedures are implemented. She expects that the principles set out by the task force will make things more clear. "The number of signatories was 18 and now it's up to 23, and part of my role is to encourage companies to become signatories," she said. "It means you need to self-declare how you have implemented the principles and each of the substantive recommendations. These self-declarations are being reviewed by independent researchers, and their report will be released to coincide with Safer Internet Day in February."

She added that U.S. attorneys general have asked social networking companies to begin being more transparent and accountable. "Facebook has an internal auditor to ensure that they are meeting the requirements outlined by the attorneys general, and similarly MySpace has an agreement, so there is an incredible amount of work going on," she said. "That said, there is still a log of work to do, as there always will be. For example, AOL has been working closely with the National Center for Missing and Exploited Children and are diligent about working with law enforcement in other countries to ensure we can facilitate the investigative process. We also have a filtering process we run on the back end."

Grace Bomu, manager for Kenya-Heartstrings and Fanartics Theatre Company, Kenya, was on hand to talk about the positive influence of social networks. Her creative troupe uses them to do marketing, research and concept development. "From our Facebook page," she explained, "we're able to tell which issues the youth in Kenya are facing, and from those issues, we are able to develop a concept and sell our plays. On our Facebook page, people propose lines, other people propose they be actors, and this has really changed the way we do business. It's the actors who write the script, and our friends help us in writing the script.

"Another way the Internet helps us is using the mobile money payment systems. Our management uses a mobile phone to update the page, to make comments and so on. Friends came up with the idea that they could pay to attend plays using mobile money payment systems."

She said there are some negatives. Anonymous respondents and competitors write negative comments on the troupe's page, politicians sometimes try to use the page to advance their goals, "and we have had  problem of balancing what some people call abusive language with what others say is artistic expression."

"We'd say that these tools have really helped news opening up culture, in growth of urban language and also in the contribution of topical issues," she concluded. "Tools are helping us to expand freedom of expression rather than caging it. So what we have done as a company is that we are coming up with - slowly, we are coming up with a code within us that we shall follow in balancing the competing interests."

Rebecca MacKinnon, Open Society Institute fellow and co-founder of the Global Network Initiative, noted that throughout the sessions of IGF-2009 people have been speaking out about the power of social networks as spaces where individual citizens can speak truth to power. "Spaces that help to make governments and other institutions more accountable to individuals," she said. "This is happening all over the world, across a range of political systems. But there are trends that are counteracting the potential of social networks to be a force that can truly help citizens participate in public life. This may be contributing to social networks acting as more opaque extensions of incumbent power in some situations, rather than as transparent conduits between citizens and institutions."

MacKinnon raised four key points. The first is the level of liability governments place on social networking services in regard to user-generated content.

While it is part of the groundrules for IGF that participants are encouraged to avoid singling out people or nations when meting out criticism, it was clear that she was referring to China when she said, "In some jurisdictions, international social networking sites end up being blocked because the sovereign government is not happy with some of the content being posted on the sites. And in some of those jurisdictions, what then ends up happening is that a robust set of domestic social networking sites evolve. And the social networking sites that are hosted domestically are held liable for all the content that their users are posting on the site. And so in order to comply with government requirements and the particular government's definition of what constitutes legal speech, these social networking sites end up having to develop large departments of people whose job it is to police content. international social networking sites that want to act - want to operate in certain jurisdictions have to make a choice, either to be blocked to users in that country because users may post things that the local government objects to, or agree to develop a locally hosted site in the local language which would then be subject to greater local jurisdiction and agree to police it. And there have been some cases where certain - and I have again been asked not to name and shame - but where certain companies have chosen to host locally and comply with government requests for political censorship in that regard. And so this is one challenge that social networking companies around the world are facing, is how to deal with this."

Other points she outlined were:

- Social network users are often not allowed to be anonymous. "There's at least one country where now anybody who uses a social networking site or Web service over a certain size has to register with their national ID number," she explained, "and many human rights groups have expressed concerns about some users who have been traced for political speech. At least one international social networking service decided to disable the local uploading of videos and comments onto its service, so  people in that country have to use the international version of the service rather than the local service - so that this particular social networking site would not be in the position of handing people over for speech that might arguably be political."

- Administrators of social networking sites will sometimes perceive that something is going against the terms of service when the content has a much different intent. "There are political activists from a range of countries who found their Facebook accounts frozen because their pattern of activity resembled spamming," she said, "and this had an impact on their ability to conduct political activities. And there have been situations where activists in various countries post images of abuse by authorities against citizens and these are quite graphic and are deemed to be against terms of service. And the people concerned feel that 'if these sites do not let me speak truth to power, then were can I go?' So that's another sort of human-rights issue."

- A new multistakeholder group, the Global Network Initiative, is being co-founded by MacKinnon and others to protect and advance freedom of expression and privacy in ICTs. "Our approach recognizes that a lot of these issues are difficult to legislate for because they involve very nuanced contextual situations that differ greatly," she said. "Companies do feel there is a need to have some kind of assistance in doing the right thing. How can social networks fulfill their potential and serve their users so they feel they can use these services without becoming victims of oppression in various ways? The Global Network Initiative combines companies who have signed on as well as human rights groups, socially responsible investment funds and some academics to help companies proactively figure out how to anticipate free-expression issues in order to avoid problems and assist in making choices about how to structure businesses."

Pavan Duggal spoke from the floor of the session about the formation of a dynamic coalition on social networks, which came together after a session on legal issues and social media earlier in the day. "These issues not only relate to data protection and privacy," he said. "They also relate to the issue of jurisdiction and ownership, storage, retention and transmission of user-generated content. Do we have the right to be anonymous? Do we have a right to oblivion? Can there be a right to delete in the context of social media? Is there a right of purging children-generated content? Can there be a right to forget and to forgive in the context of information? We also discussed how the deadly cocktail mix of social media and cloud computing is venturing us into a wild, wild west as far as jurisprudential rules and principles are concerned. Which country, what data, which server, which law would apply, which would be effective remedy, which would be the relevant court and how would the ultimate adjudication be done?"

He said it is expected that national governments will try to legislate in this area. "While the Internet has made geography history, the fact still remains that national governments will try to legislate," he said. "It is time that respective stakeholders must come together, not just the players, the users, but also the industry, the government, the lawmakers, law enforcement."
For the UN video, click here
For the UN transcript, click here
For the original article, click here