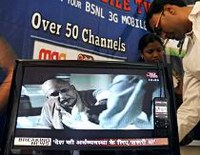 'Mobile Television' being demonstrated at
Is 3G the next twist in the mobile phone growth story?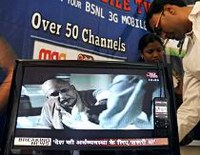 'Mobile Television' being demonstrated at
The ubiquitous mobile phone is the story of the decade that just passed us by. Now with the superfast 3G technology set to storm the market, consumers are eagerly awaiting faster data access and multimedia services, and it isn't time to hang up on the Indian telecom story.
From a clunky walkie-talkie like device that was nearly as exclusive as the landline, to an "anywhere, anytime" device that doubles as your computer, browser, map or even digital cash, the mobile phone has taken rapid strides in recent years.
In early 2000, Karnataka and Maharashtra led the mobile phone growth. However, experts often differ on when exactly the cellphone "explosion" began and what triggered it. Is it low-cost, mass market handsets that made it possible for just about anyone to "be connected" or the sophisticated smart phone that brought hitherto unforeseen experiences onto the mobile? Further, like mobile phone manufacturers, service providers too have been involved in a fierce price war to woo customers.
Sustained growth
According to an April 2010 TRAI report, there are 601.22 million wireless phone connections in the country and a teledensity (phones per 100 people) of over 50.98.
While wireless connections are growing by nearly three per cent every month, wireless connections declined by 0.4 per cent in April.
So what will 3G do that will change the way we connect to our devices?
Currently, our mobile phones are devices that we use to talk, stay connected — even feel safe in this instant connectivity — click or transfer pictures, listen to music or capture videos. "The future will be about livelihood applications.
Services, which have thus far focussed on how to get money from consumers' pockets, will move towards evolving ways to put money back in their pockets," says S.R. Raja, president and co-founder of Mobile Monday.
Mr. Raja alludes to services in the agricultural sector or existing commerce-based applications that will get a boost once 3G enters.
For instance, he points to a Sasken Technologies pilot initiative in rural Tamil Nadu which helps women's self-help groups sell their produce by providing access to pricing details, thereby eliminating middlemen.
While larger services and societal applications in the field of e-learning and telemedicine are likely to pick up, for the common user it means access to live video and multimedia content. The 3G rollout will transform the way we use our cellphone, experts say.
Scepticism
However, others are sceptical and far less optimistic about this "radical change" and believe that the 3G take-off may not be as smooth as people would like to believe.
"3G may not deliver in the short-term for the ordinary Indian. Smart phones are still expensive. Data services will be expensive as telecom operators will try to recoup what they spent on the spectrum auction," says Sunil Abraham, researcher and director of the Centre for Internet and Society.
The Government should start considering spectrum a public good and additionally consider open or shared spectrum to lower costs for projects run by public institutions or non-governmental organisations. Only then will the poor of India transcend SMS, he adds.
Read the original article in the Hindu